Big-hitting golfers bring their power to Mesquite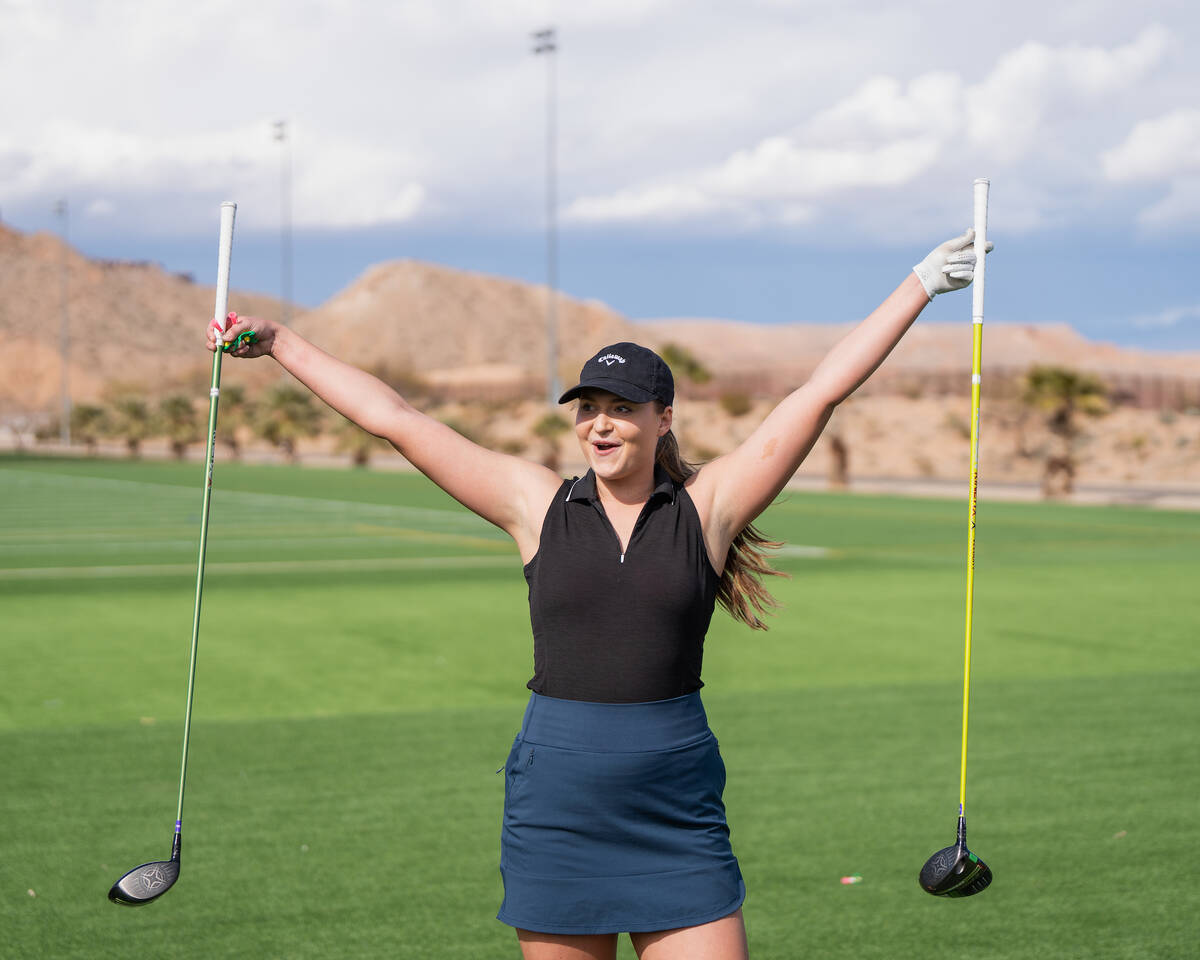 Golfers in Mesquite were ready to let the big dogs eat over the weekend as the biggest hitters on the planet came to Nevada.
Defending world champion Martin Borgmeier won the World Long Drive Mesquite men's title, topping out at 408 yards in the finals against Reid Russell, who failed to land a ball in play in the round. Borgmeier was lucky to even make it to the final, after he edged Josh Koch by 1 yard with his final ball in the semifinals at 418 yards.
In the women's division, Monica Lieving won the title with a drive of 350 yards in the finals, where she easily outdrove six-time world champion Sandra Carlborg by 30 yards.
Jeff Gavin won the senior title with a drive of 417 yards, while Jay Heath was the amateur champion.
The Mesquite event was the first of 12 domestic events on the World Long Drive schedule, with participants battling for $1.1 million.
Harmon misses out
The seven remaining co-founders of the LPGA not already in the Hall of Fame will join five other inductees into the World Golf Hall of Fame's Class of 2023.
Major championship winners Padraig Harrington, Tom Weiskopf, Sandra Palmer, Beverly Hanson and Johnny Farrell round out the class being inducted.
But one person who stunningly won't be there is Las Vegas-based golf instructor Butch Harmon, a finalist for this year's class who didn't make the cut.
It's almost hard to believe Harmon isn't already in the Hall, let alone unable to make it through this year. He is considered the greatest golf instructor of the modern era, molding the careers of Tiger Woods, Greg Norman, Phil Mickelson, Dustin Johnson and other legends, along with current stars such as Danielle Kang and Rickie Fowler. Golf Digest has named him the top instructor in the country every year for more than two decades.
So why isn't Harmon in the Hall of Fame? The best clue can perhaps be found in the current roster of inductees. Of the approximately 170 members, Harvey Penick is the only instructor in the Hall, and his induction came seven years after his death.
SNGA Tournament of Champions
Matt Mitchell eagled the finishing hole to overtake Craig Erickson and win the SNGA Tournament of Champions on a difficult scoring day at Spanish Trail. Mitchell shot a 2-over 74 for the one-stroke victory with a scorecard that reflected the conditions: six bogeys, two birdies and the closing eagle.
Steven Fink won the senior division by four strokes with a 2-over 74, while Tom Hyland took the silver title after finishing in a three-way tie with Gary Carpendale and Jeffrey English at 4-over 76. Ronda Henderson shot 80 to win the women's division and add to her massive collection of trophies.
Winners in the net divisions included Allen Grant (championship), Joe Wilkerson (senior), Tom Richardson (silver) and My Paulsen (women).
Burning money
How costly were two finishing holes for Taylor Montgomery at The Players Championship on Sunday?
Montgomery was tied for fifth when he made double bogey on the 16th at TPC Sawgrass, then put two balls in the water during a quadruple bogey on the island green 17th. The finish dropped him into a tie for 44th and a paycheck reduction from about $1 million to about $75,000.
At least Montgomery got to play. His UNLV teammate, friend and fellow PGA Tour rookie Harry Hall was the tournament's first alternate and waited three days to see if somebody would withdraw. It never happened, which isn't hard to imagine with a $25 million purse on the line.
Greg Robertson covers golf for the Review-Journal. Reach him at grobertson@review-journal.com.
Pro schedule
PGA Tour
Event: Valspar Championship
When: Thursday, Friday, 11 a.m.-3 p.m. (TGC); Saturday, Sunday, 10 a.m.-noon (TGC), noon-3 p.m. (KSNV-3)
Where: Innisbrook Resort (Copperhead), Palm Harbor, Fla.
Purse: $8.1 million
2022 champion: Sam Burns
Champions Tour
Event: Hoag Classic
When: Friday, 3-5 p.m. (TGC); Saturday, Sunday, 1-4 p.m. (TGC)
Where: Newport Country Club, Newport Beach, Calif.
Purse: $2 million
2022 champion: Retief Goosen