Boulder Creek tough test of skills
November 25, 2009 - 10:00 pm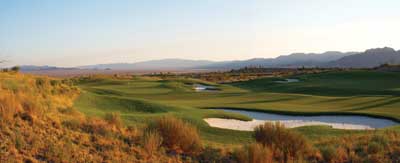 Last week, 120 of Southern Nevada's most accomplished golfers descended upon Las Vegas' Mayberry-esque neighbor, Boulder City, to test their skills and vie for the Southern Nevada Golf Association's Clark County Amateur Championship. The course selected to separate the contenders from the pretenders was Boulder Creek Golf Club, a top-shelf facility featuring 27 challenging holes.
It would be difficult to find a more appropriate track for such an exam, because Boulder Creek demands power, finesse and strategy in equal measure. While not a target course, any drives that stray more than a few yards from the fairway will likely be swallowed up by desert grasses or wildflowers. Six sets of tees make it playable for a wide range of players, at least those willing to acknowledge their limitations. However, from the tips this is one of the most difficult courses most amateurs will encounter.
Of the three nine-hole tracks, Eldorado is clearly the most forgiving. To be sure, there is plenty of trouble available for those whose big dog gets off the leash. However, it at least creates the illusion of wide fairways and doesn't exert the same pressure on every shot as the Desert Hawk and Coyote Run nines.
Naturally, the latter duo are most often paired for an 18-hole round. From the back, they play an offensive 7,628 yards with nary a relaxed swing. Most mid-handicappers play from the blue tees, which still stretch nearly 6,600 yards.
Desert Hawk opens with a 437-yard par 4 that doglegs left nearly 90 degrees around a lake. Cutting the corner is discouraged by a long stretch of beachfront property that skirts the water's edge. A pair of tall palm trees stands in the middle of the fairway, which can produce a frustrating result for those who find the short grass just behind them. The ideal drive starts at the trees and works left, setting up a short iron approach to a wide green protected by a solitary bunker.
While many of Boulder Creek's holes are visually stunning, few are more emblematic of the course's design than No. 5, a serpentine 533-yard par 5 that requires self-control as well as brawn. A strong drive is critical to set up the second shot, but big hitters must beware a shallow ravine that crosses the fairway. Those who successfully execute the first shot face a critical decision: Play an iron out to the right, setting up a pitch to a tucked green, or challenge the deep chasm that fronts the putting surface. Only the most accomplished players should even consider the latter option.
At a mammoth 487 yards, No. 7 is a three-shot hole for many players. With a split fairway, it too offers a choice: To the right, players face a blind tee shot with a forced carry of about 240 yards over desert; to the left is a more inviting target but one that lengthens the already obscene hole and requires the approach to carry a greenside bunker. It is no surprise that this piece of real estate is Desert Hawk's most daunting challenge.
After a breathtaking par 3 played across a grassy valley to an elevated, well-protected green, Desert Hawk closes with a hole that many consider even tougher than No. 7. Weighing in at 480 yards, No. 9 features a narrow fairway pinched between desert and water, followed by an approach that must carry a creek and find a green wedged between yet more water and a large bunker. Anyone who hits a marginal drive is faced with the frustrating prospect of laying up short of the creek.
Although Coyote Run's opening hole portends easier times, the respite is short-lived. No. 1 plays a modest 419 yards, but the water bordering the fairway's right edge is definitely in play. The more conservative route is complicated by one bunker that sits midfairway and another that serves as a backstop for particularly well-struck drives. From the safety of the short grass, all that remains is an approach to an elevated green barricaded by a trio of bunkers with another lurking behind for good measure.
The 204-yard, par-3 third hole, on the other hand, is a birdie hole in disguise. Numerous bunkers, both in the fairway and bracketing the green, make the shallow putting surface look even smaller, but a well-struck iron will find a receptive target.
While many players consider the No. 1-handicap 455-yard fifth hole to be Coyote Run's greatest challenge, one could make a strong argument for No. 7, a par 5 that spans a ridiculous 635 yards from the tips. This hole requires three solid shots — from a rifle. The drive must thread between desert and a pair of bunkers. Those who survive the tee shot face the choice of the safer left-hand fairway, which brings the greenside bunker into play on the approach, or the treacherous direct route, which requires a forced carry over a ravine. Most par 5s represent a scoring opportunity; this isn't one of them.
An exhausting round ends with Coyote Run's ninth hole, a 469-yard par 4 that features water hazards on both shots. While longer hitters are tempted to carry the creek in order to reach the left fairway, such a decision both invites trouble off the tee and complicates the approach by bringing a massive greenside bunker into play. Playing down the right side extends the hole's length but creates the best angle and allows players to run up the second shot.
Many people are surprised at Boulder Creek's extensive practice facilities, which include two putting greens, a large pitching and chipping area and even a zone for practicing fairway bunker shots. After one round on this behemoth, however, these elaborate accommodations make perfect sense. This is one course that doesn't grade on a curve.
Boulder Creek Golf Club is located at 1501 Veteran's Memorial Drive in Boulder City. For more information or to reserve a tee time, call 294-6534 or visit www.bouldercreekgc.com.