Distance control is main difference between amateur, pro golfers
February 24, 2016 - 10:38 am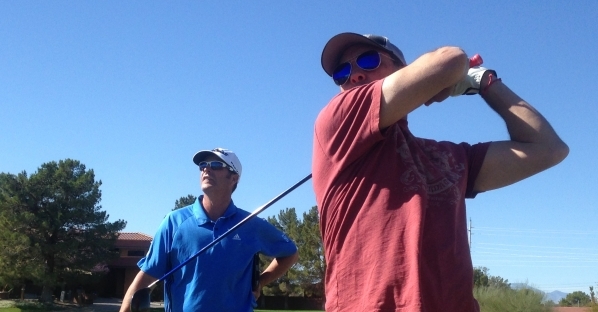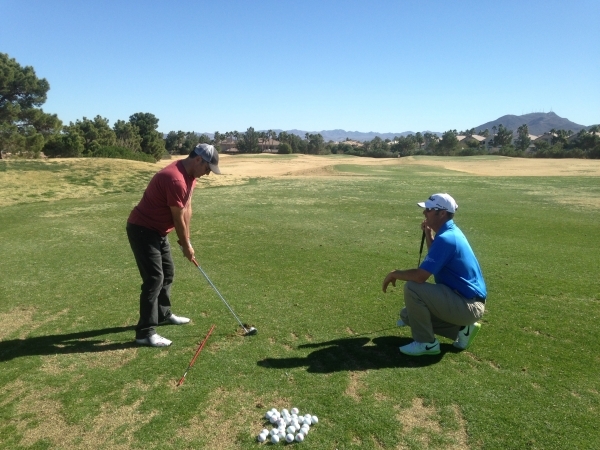 Jeff Gallagher, a PGA Tour Champions player who also teaches the game out of Legacy Golf Club, says distance control — or lack thereof — is one of the biggest differences between pros and amateurs.
"The distance control of a professional golfer is phenomenal and a difference maker," Gallagher said shortly after giving a lesson to UNLV men's golf mental coach Mark Guadagnoli. "Amateurs can make huge improvements if they take the time to determine how far they hit the ball with each club.
"Everyone wants to think they hit it a lot farther than they do, but the average amateur really has no idea how far they hit it."
Gallagher helps golfers learn by feel and technology. He utilizes the Flight Scope to pinpoint distances for students, and it has become an invaluable overall teaching tool. He can program the Fight Scope with targets and skills challenges to help players.
Gallagher, who grew up in Indiana playing at Meshingomesia Country Club, where his father was the head professional, plans to try to qualify for several PGA Tour Champions events this season, but also enjoys giving lessons.
"I love teaching, and my goal is to make it fun for the golfer," said Gallagher, whose brother, Jim, and sister, Jackie, also played golf professionally. "I believe people will play better if they are enjoying it more. I have found that is now also true for me when I compete in a tour event. I am enjoying the journey and process much more than I did when I was younger."
Gallagher also played on the PGA Tour. He is available for lessons by calling 702-683-6895.
Junior series
The Las Vegas Junior Golf Association offers a special Saturday Series at executive golf courses Desert Willow and Durango Hills. The series is aimed mostly at kids new to the game but is open to all. The shorter courses are perfect for young players. The schedule is available at LVJGA.org.
The world is here
The Las Vegas World Amateur is in full swing this week and culminates with a championship round Friday at Bear's Best Las Vegas. The course is home to 18 replica holes from courses Jack Nicklaus has designed around the world. About 150 golfers representing 30 states and four countries also played Angel Park, Revere, Desert Pines and Painted Desert during the week.
Deals of the week
* The Golfstream, created by NASA scientists, is the "first indoor laser golf course" and is available to play at TaylorMade Golf Experience for $10 per hour, per player through March 6.
* Play the newly branded Chimera (formerly Tuscany) for $55 on weekdays.
Stars on course
NFL Hall of Famer Jonathan Ogden recently played Anthem Country Club. He's a member and an avid golfer with a solid game.
Losing a Hall of Famer
The Las Vegas golf community lost a legend with the death of Dick Huff. "He was the best and integral to golf in Southern Nevada in so many ways," said UNLV golf coach Dwaine Knight, who added that Huff was a very good player.
In 2004, Huff was inducted into the Las Vegas Golf Hall of Fame and also earned a lifetime achievement award from the Southern Nevada PGA of America chapter.
You are wanted
The Southern Nevada Golf Association is seeking volunteers for a variety of duties from assisting with rules to helping with junior golf to representing the organization at events and tournaments. If interested, call 702-499-2139.
The golf notebook appears Thursday. Freelance writer Brian Hurlburt is a two-time author who has covered golf in Las Vegas for more than two decades. He can be reached at bhurlburt5@gmail.com. Follow him on Twitter: @LVGolfInsider