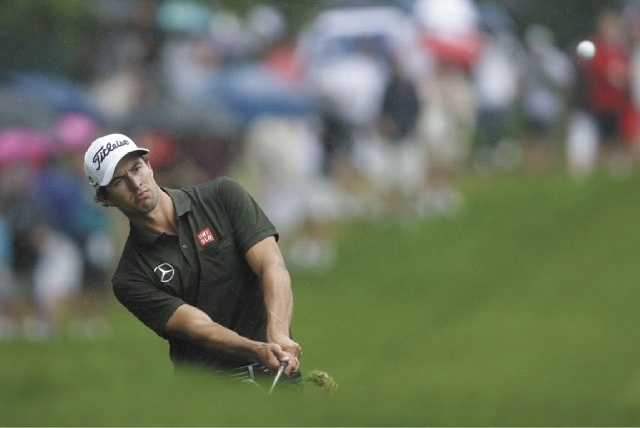 JERSEY CITY, N.J. — Two snapshots from Liberty National could illustrate the fortunes and future at the top of the world golf ranking.
One was of Tiger Woods dropping to his hands and knees with back pain after hitting a shot so far left that it landed in a pond on the other side of an adjacent fairway. The other was of Masters champion Adam Scott swinging his driver, a beautiful blend of balance, rhythm and power.
Scott, the former UNLV standout, went on to win The Barclays on Sunday, partly because of his bogey-free 66, but mostly because the other contenders fell apart down the stretch. No apologies were necessary. Woods has won plenty of tournaments that way.
"I feel like I've been given a bit of a gift," Scott said. "But I'll take it."
Woods finished one shot behind, unable to atone for three bad swings that led to bogeys on the back nine.
The big picture was Monday morning. Scott moved up to a career-best No. 2 in the world, but he's really no closer to Woods than he ever has been.
Even if the Australian were to win the next three FedEx Cup playoff events — about as easy as winning four straight majors — he still wouldn't replace Woods at No. 1. That's how big the gap is between Woods and the rest of golf.
Woods hasn't won a major in five years, but he's still winning against strong fields. And even though nagging injuries seem to be piling up, he's winning more than anyone else.
That's what Scott will have to learn to do if he wants to be the best in the world.
This is only the second time Scott has had a multiple-win season on the PGA Tour. The other was in 2004, when he won The Players Championship and the Booz Allen Classic at Congressional. Around the world, he has won at least once in each of the last 13 seasons, but never more than twice in any season.
Scott now has 21 wins worldwide, leaving him 70 behind Woods.
Woods is never a fair comparison for anyone. Scott said as much seven years ago when asked what it was like to grow up dreaming about being the best in the world and being stuck in the same generation as a guy like Woods.
"The hardest thing now is for young kids to realize this Tiger benchmark is out of most everyone's league," he said at the end of the 2006 season, when Woods had won six straight PGA Tour events.
He jokingly said he would have to wait until Woods went through another swing change. That time has come and gone.
Scott at least entered the conversation for PGA Tour player of the year with his win at The Barclays, though that depends on the next month. Winning another FedEx Cup playoff event would give him three victories, including a major. Is that enough to trump five wins and no majors?
To see Scott swing a club is to ask why he's not winning more often. Scott prides himself on consistency, but since his playoff win at Augusta National, he had only one serious look at winning this year until The Barclays. That was at the British Open, where he had the lead on the back nine at Muirfield until making four straight bogeys as Phil Mickelson finished off one of the great final rounds in a major to win the claret jug.
Vijay Singh hit his stride in 2004 and won nine times. Rory McIlroy took over at No. 1 last year when he won five times.
That's where Scott needs to be. Perhaps this is a start.
"To have multiple wins on the PGA Tour is a pretty good accomplishment, I think," Scott said. "There aren't too many guys doing it regularly, and I'm not, either. But I'd like to. I'm trying to jump off that springboard and win more regularly, and I think I'm going about it the right way."
One thing Scott and Woods have in common is their schedule. Neither plays a lot of tournament golf. Scott has 41 events on his world ranking ledger over the last two years while Woods has 39. That's by design. Scott is playing less and getting more out of it. The weeks at his home in the Bahamas are spent on quality practice.
It's working. He's the Masters champion. He's No. 2 in the world. He is playing the best golf of his career.
"(I have) kind of developed my game into being more consistent, performing in the big ones," Scott said. "And now I'm trying to adapt that to be a winner on a more frequent basis."
Only when that happens — if it happens — will the No. 1 ranking come into view.