Golfer Kaylee Benton continues family's winning tradition
February 14, 2016 - 1:11 pm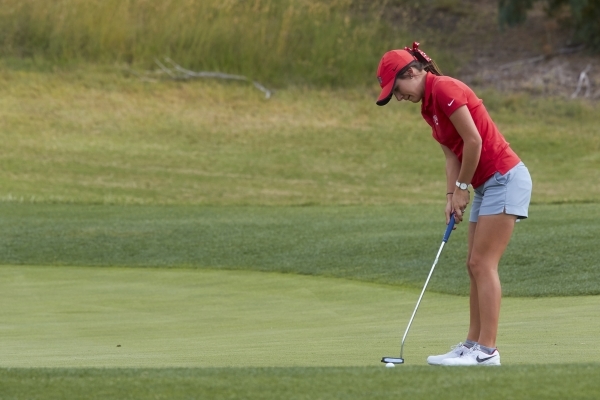 UNLV freshman golfer Kaylee Benton is the latest in a long line of elite athletes in her family.
Her great-grandfather, Jim Benton, is a member of the NFL's All-Decade Team of the 1940s who held the league's record for receiving yards in a single game, with 303, for 40 years. Kaylee's grandfather, Bob, played basketball at Ole Miss, her father Jeff played baseball at Central Arkansas and her two brothers, Nicklaus and Colby, played golf at Arkansas Little-Rock.
"My dad's side of the family is very athletic," Benton said. "My dad taught me golf and I was definitely inspired by my two brothers to play."
Kaylee's brother, Nicklaus Jordan Benton, was named after Jack Nicklaus and Michael Jordan.
"I think my mom named me," cracked Kaylee, 18.
Kaylee Benton has quickly made a name for herself on the No. 21 UNLV women's golf team, leading the Rebels in three of five tournaments this season and placing second on the squad in the other two.
After choosing UNLV over eight other schools, including Arkansas — where her great-grandfather was an All-American — Benton started strong for the Rebels, earning Mountain West Co-Women's Golfer of the Month honors for October. She fired a season-low 68 in the opening round of the Las Vegas Collegiate Showdown en route to an 8-under 208 to tie for 13th place individually and help host UNLV tie Vanderbilt for the team tournament title. She also tied for 10th place at the Betsy Rawls Invitational, where the Rebels placed third.
In the spring season-opening Northrop-Grumman Regional Challenge, which ended Tuesday, Benton paced UNLV with a 16-over 229 (79-77-73) in a loaded field at Palos Verdes (California) Golf Club.
Ranked the nation's No. 39 player by Golfstat.com, Benton has helped fill the void left by Dana Finkelstein, the All-American and three-time MW Golfer of the Year who led the Rebels to their fourth NCAA Championship appearance last season.
"She's a fierce competitor who wants to do anything to get the golf ball in the hole," UNLV coach Amy Bush-Herzer said. "The last person we saw that from was Dana. She's fun to watch, she hits the ball consistently and she's a very good putter. That's what you need to do to be one of the best players in the country."
The Rebels also are led by sophomores Mackenzie Raim, ranked No. 92 in the nation, and Harley Dubsky, last season's MW Freshman of the Year, as well as junior transfer Alexandra Kaui, a Green Valley High School product who previously played for Oklahoma.
UNLV features six newcomers overall and no seniors.
"That makes a happy coach. No seniors," Bush said. "We were really fortunate with our incoming class. These ladies came in ready to play."
The Rebels, who will tee it up Sunday at the Westbrook Invitational in Phoenix, Arizona, placed 16th at the NCAAs last season and have their sights set on returning to the tournament this year.
"This team is loaded with talent and the work ethic you see at practice is incredible," Benton said before playing a practice round at Henderson's DragonRidge Country Club. "It has really inspired me individually to get better. With the team dynamics we have, we can accomplish anything."
ON RIGHT TRACK — UNLV swept the MW Track & Field Athletes of the Week awards as Auzsane Crowe-Carter claimed the track honor and Kaysee Pilgrim earned the field honor after recording wins in their respective events at the recent New Mexico Collegiate Classic & Multis in Albuquerque, New Mexico.
Crowe-Carter, a senior from Hesperia, California, ran an altitude-adjusted time of 2 minutes, 8.13 seconds to win the 800-meter run. Her time ranks first in the conference this season.
Pilgrim, a junior transfer from Pima Community College in Tucson, Arizona, won the high jump with a height of 6 feet to set UNLV's indoor record for the second time this season. Pilgrim's personal-record jump is the best in the conference this season and 11th in the country.
STELLAR STUDENTS — UNLV had 34 student-athletes named to the Fall 2015 Academic All-Mountain West Team. The Rebels women's soccer team led the way with 13 honorees, the volleyball squad supplied 11, the football team featured nine and the cross country squad added one from the four UNLV fall sports that compete in the MW.
To be eligible for the Academic All-MW Team, student-athletes have to maintain at least a 3.0 cumulative grade-point average and be a starter or significant contributor on their team.
Contact reporter Todd Dewey at tdewey@reviewjournal.com or 702-383-0354. Follow him on Twitter: @tdewey33