Good luck charms look to deliver Faith Lutheran region golf title
October 8, 2018 - 4:11 pm
Updated October 8, 2018 - 4:25 pm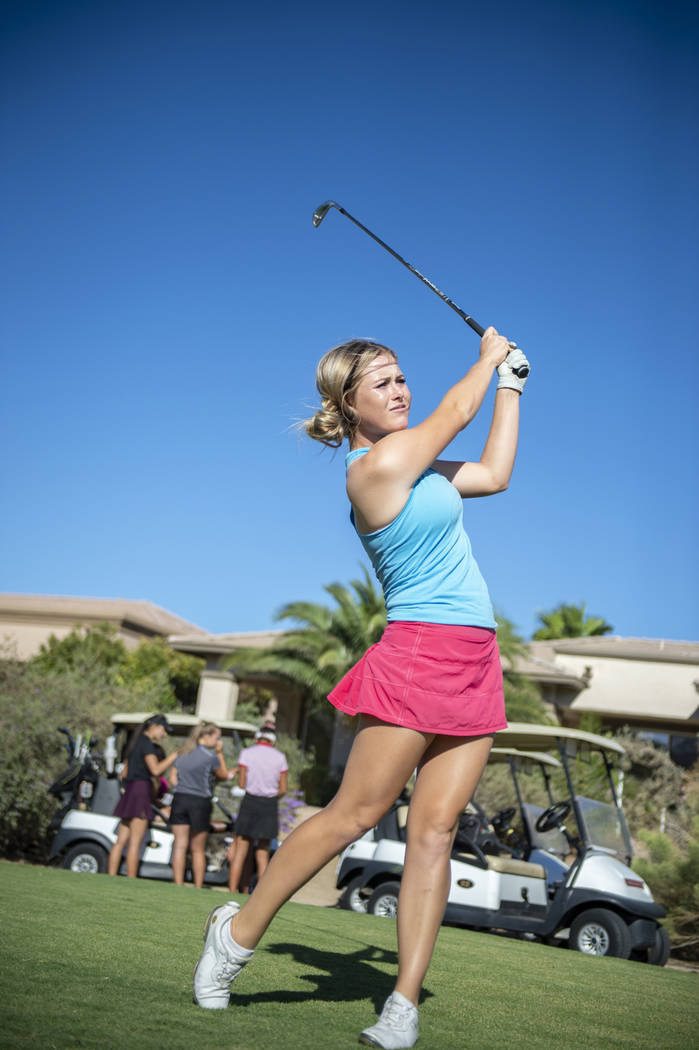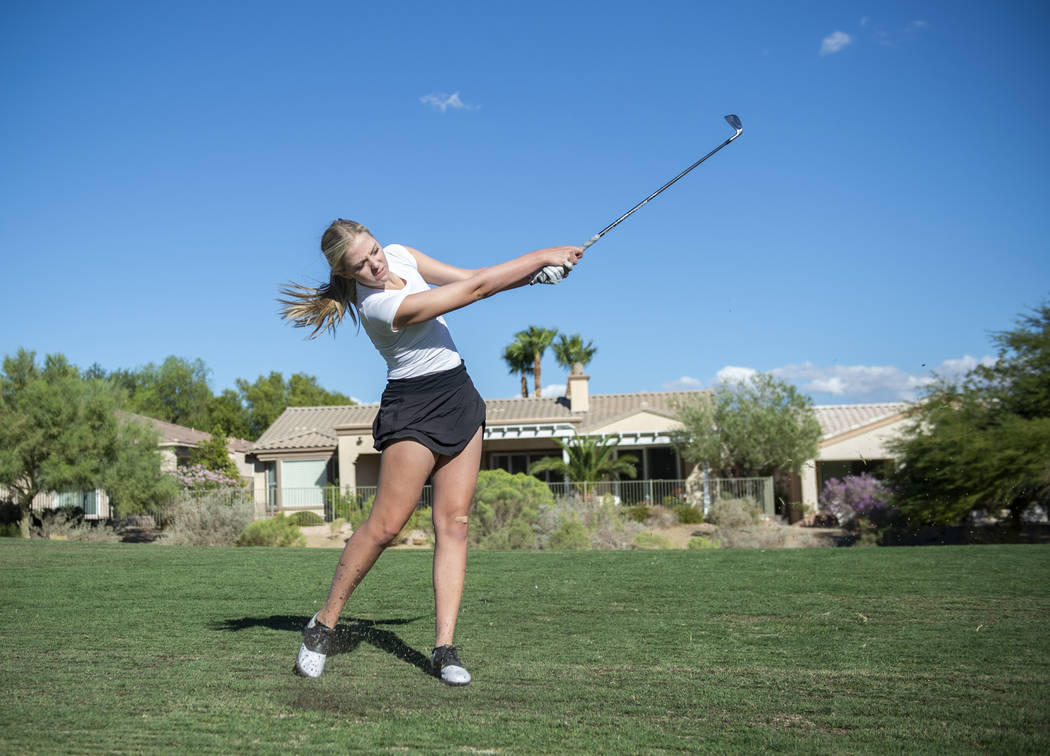 Paul Brown didn't know quite how good his team was going to be this year. The first-year coach of Faith Lutheran girls golf likes to say he stumbled upon two major strokes of good luck.
The first is Morgan Goldstein, an Iowa-committed senior who decided to return to the school golf team for her senior year. The second is Gracie Olkowski, a sophomore transfer from Colorado who considered attending rival Palo Verde before settling on Faith Lutheran.
Both have won a Northwest League match this year, and the Crusaders will rely on them to help deliver the Mountain Region title when the two-day tournament begins Tuesday at Siena Golf Club.
"Things just fell in place," Brown said. "If I didn't have this one-two punch, it would be a whole different ball game for us."
Faith Lutheran was once the pride of Division I-A (now Class 3A), winning four consecutive state championships from 2012-15. As a Class 4A member the three years before that, the Crusaders won the Sunset Region and finished as the state runners-up each time.
Since its return to the 4A ranks two years ago, Faith Lutheran as not been as dominant. The Crusaders finished third in the Sunset Region tournament in 2016, then missed the cut last year.
So this year, armed with a new coach and two good-luck charms, the Crusaders are eyeing a return to glory.
"If we can all play the best we can possibly play, then we will hopefully win," Goldstein said.
Goldstein wasn't going to play for Faith Lutheran this year. She didn't love playing high school golf after freshman year and left to focus on individual training. She met Olkowski last spring and trained together this summer, and when Olkowski decided to attend Faith Lutheran, and when Brown became the coach, Goldstein was sold.
"If I didn't play, I wouldn't get this experience," Goldstein said. "I usually play solo and travel with my dad to California or places like that, but now that I'm with Gracie and stuff like that, it's more team style of golf, and I like it a lot better."
Faith Lutheran's biggest weakness this week will be its depth. Goldstein and Olkowski, junior Fiona McCombe and sophomore Faith McKinney make up the entire team. In a sport that scores the top four finishers, it gives the Crusaders quartet no margin for error.
It doesn't help the Crusaders that the Northwest League is arguably the most competitive division in the sport this year, and that makes up the Mountain Region along with the Northeast League. Faith Lutheran won two of the league's matches, with Centennial taking the other three, and Palo Verde finishing third each time.
As for the individual title, there are a half-dozen golfers with a legitimate chance, including Goldstein and Olkowski, Arbor View's Kyndall Newman and Centennial's McKenzi Hall, all of whom have Northwest wins under their belt.
It's truly anyone's game. And with last year's realignment and this being the Mountain Region's inaugural year, it's also a chance to stake a claim on region supremacy for years.
"We battle with Centennial a lot, and they're always that team we look forward to beating," Olkowski said. "But it's also just you and the golf course, so you have to go out there and play."
More preps: Follow all of our Nevada Preps coverage online at nevadapreps.com and @NevadaPreps on Twitter.
Contact Justin Emerson at jemerson@reviewjournal.com or (702) 387-2944. Follow @J15Emerson on Twitter.
Southern Nevada region tournaments:
Mountain Region
Tuesday at Siena, 12:50 p.m.
Wednesday at Stallion Mountain, 12:30 p.m.
Desert Region
Tuesday at Siena, 11:30 a.m.
Wednesday at Stallion Mountain, 1:15 p.m.
Class 3A Southern Region
Tuesday at The Palms, 11 a.m.
Wednesday at CasaBlanca, 11 a.m.