Healthy Las Vegas golfer back in the swing on PGA Tour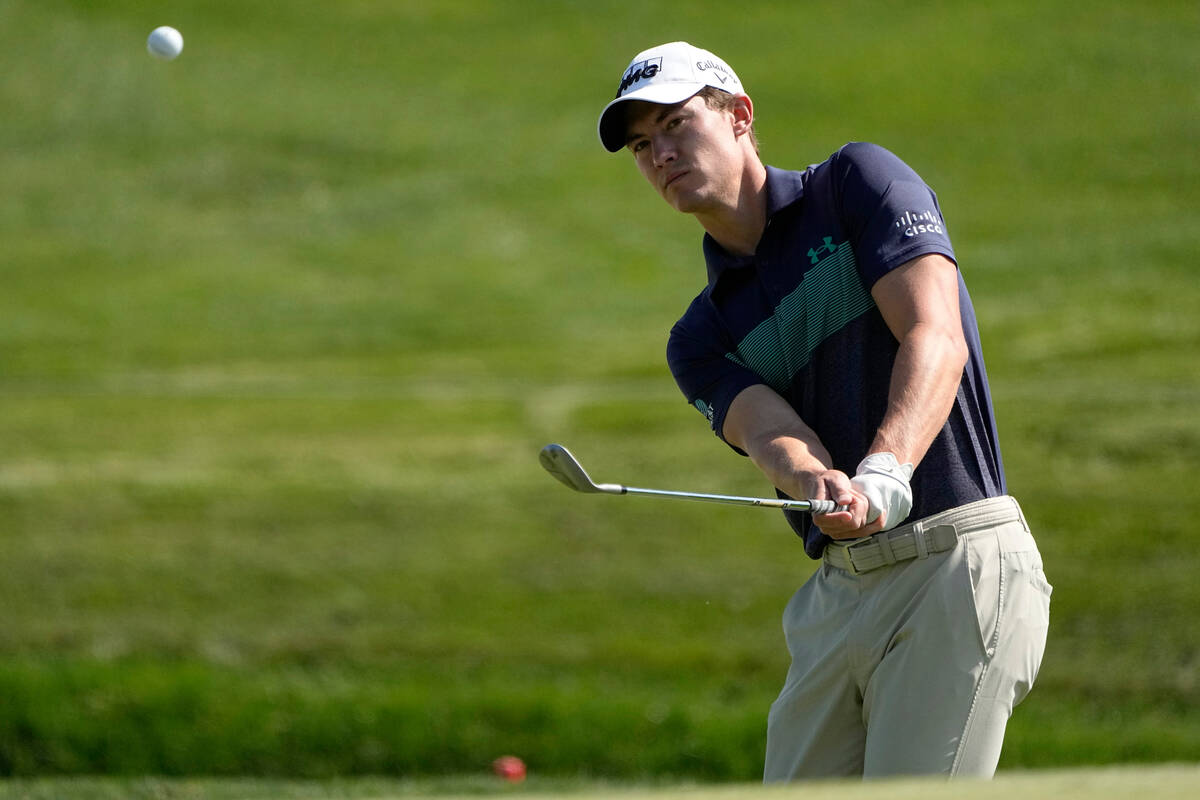 Maverick McNealy's fast start to the 2023 season got derailed by a shoulder injury that couldn't have come at a worse time. Sidelined for a month with what the Las Vegas golfer called an SC joint issue, he's back on the course looking to pick up where he left off.
Coming off a seven-tournament stretch that included three top-10 finishes, McNealy's physical problems cropped up the first week of February at Pebble Beach, his favorite tournament on tour and the event where he has come closest to that elusive first win.
He pulled out of the event midway through, then tried to play the following week in Phoenix. That lasted one round before a second withdrawal and a decision to shut it down for the remainder of the West Coast swing.
Tough call for a California kid who plays his best golf near home.
He returned two weeks ago with the daunting task of The Players Championship and Valspar Championship on two of the toughest courses players see all season. McNealy made the cut in both events, a sign he sees as a huge positive.
"I really didn't have any expectations (at The Players)," he said. "I thought if I got to play four rounds of golf, that would be a huge win. Obviously you make the weekend and your expectations start to get a little higher."
He found himself one shot back after the opening round at Valspar and gave credit to his short game, which is among the best on tour.
"I've been putting and chipping it really well coming in," he said. "I was really happy to see that those tools have stayed sharp for me."
Now that he's getting some reps back on the course, McNealy hopes to put the injury in the rearview mirror and focus on the task at hand each week.
"I've been just really, really grateful to be back out and playing and having a ton of fun with it," he said.
Local pro honored
Robyn Lorain, the head professional at The Summit Club, has earned PGA Master Professional status, the highest honor available from the PGA of America.
Lorain has been at The Summit since its opening in 2019 and was elevated to head pro in January 2021. She came to Las Vegas from the Pacific Northwest, where she had spent her entire career, including nearly 10 years at Meridian Valley Country Club in Kent, Washington, and two years at Willamette Valley Country Club in Canby, Oregon. She also worked with the First Tee in Oregon and was director of junior golf for the Oregon Golf Association.
Lorain called the Master Professional designation a personal goal and something she had been aspiring to reach for quite some time.
The program is available to any PGA pro with at least 10 years of PGA membership who has achieved advanced certification in three areas of golf course operations.
She feels lucky to be at Summit, which hosted the PGA Tour's CJ Cup in 2021 and called the course and her surroundings unbelievable and completely different from the Pacific Northwest. She enjoys the casual environment at the course and that most of her work is outside in Las Vegas.
As for her favorite part, that's an easy answer, she said.
"The opportunity to share my passion for the game with others," Lorain said.
Chip shots
* Painted Desert is hosting five weeks of Nike Junior Golf camps for players ages 7 to 16. Sessions will be from 4 to 7 p.m. for four consecutive days the weeks of June 5, 12 and 19 and July 10 and 17. Director of instruction Ruston Smith will lead the sessions, which will focus on all aspects of the game. Cost for each week is $250.
* Winners of the SNGA Tour Series event at Boulder Creek last week were Nic Jensen (championship), Gordon Schiring (senior), Bruce Chamberlain (silver) and Robert Taylor (net).
Greg Robertson covers golf for the Review-Journal. Reach him at grobertson@reviewjournal.com.