Henderson golfer reaches peak of amateur ranks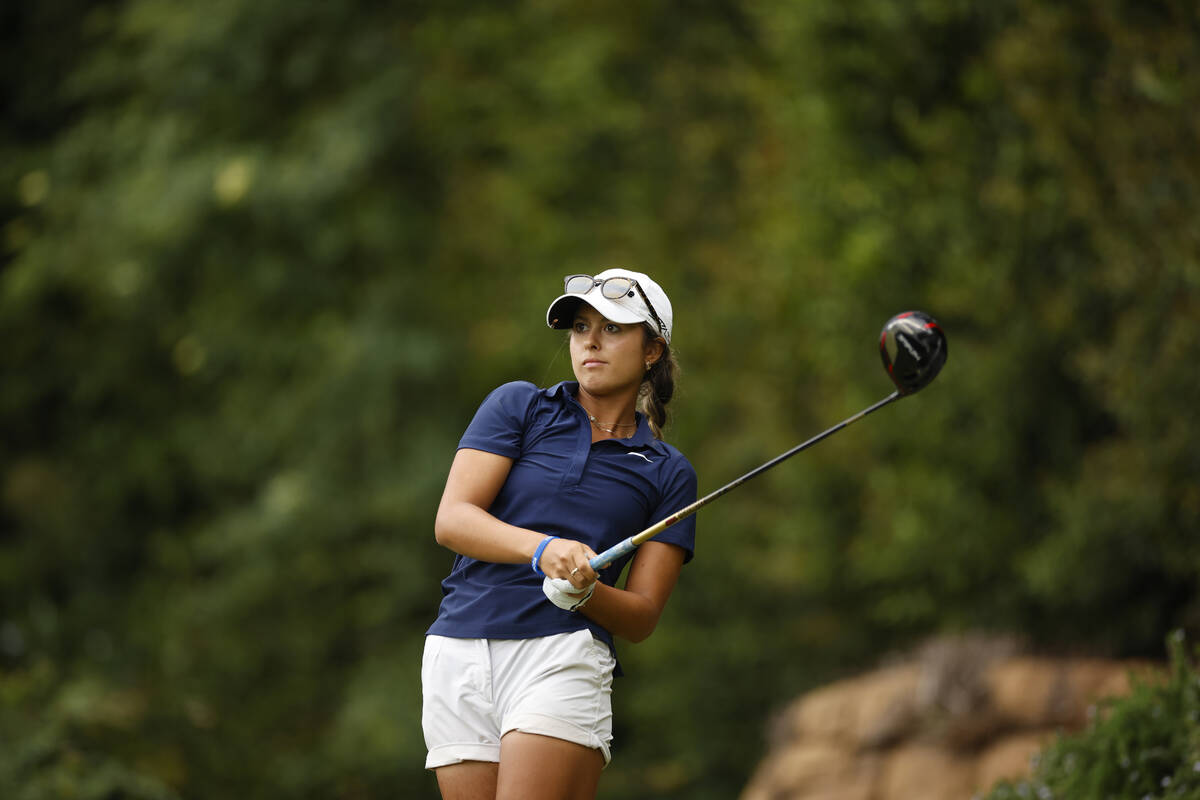 It's been a dream year for Yana Wilson on the golf course, and it just keeps getting better.
The 17-year-old from Henderson has played the U.S. Women's Open at Pebble Beach, advanced far in the U.S. Women's Amateur, played the Augusta Women's Amateur on the hallowed course in Georgia and teed it up with the LPGA's best at the Mizhuno Americas Open.
She's also added to her win total, which has surpassed 120 junior events. Now ranked second in the nation, she heads off to Europe in September as a member of the United States Junior Solheim Cup in Spain and the United States Junior Ryder Cup team in Italy.
"I wouldn't say it's mind blowing," Wilson said of her year. "As a little kid, I always envisioned my 16-year-old self to be playing in majors and be winning really big tournaments. So it's kind of what I've been working for my whole life."
That would be 10 years of golf. She took up the game at the age of 7 or 8 when she tagged along with her dad, Jim, who was an avid golfer.
"I wanted to know kind of where he was going when I was little, because he'd always leave the house to go to the golf course and practice," she recalled. "And so one day he took me with them. I wasn't very good at first. I couldn't even hit the ball for a couple months, but I kind of fell in love with the game."
Love quickly blossomed to obsession, and her natural skill took hold. Wilson became a dominant junior player, working her way up the Amateur Junior Golf Association rankings.
She twice won the Drive, Chip and Putt competition at Augusta National, captured the Nevada state high school title in 2021 and a series of high-profile national events. Wilson's star really took off in 2022, when she won the U.S. National Girls Junior, a victory that opened doors for her 2023 season.
"My first couple years of competitive golf I wasn't very good," says Wilson, who is home schooled to allow for her busy golf schedule. "There's a lot of girls in the state of Nevada that can recall beating me a lot of times. I kind of learned from those mistakes and learned from those losses, and over the years, and I just got better from it."
That U.S. Junior title got her into the U.S. Women's Open at Pebble Beach in July."I'd never been to Pebble Beach and it honestly exceeded my expectations," she said. "Just the way we're treated over there, and the course we got to play and the way the crowds respected everybody was just so nice. It was just like a dream, especially for my first one I think."
It also put her around the best players in the world, something she experienced a month earlier at the Mizhuno Americas Open, where the best junior amateurs were paired with LPGA players for a coinciding event. Wilson not only won, but she played the third round with her favorite player, Minjee Lee, the 2022 U.S. Women's Open champion.
"What are the odds of playing with your favorite player?" Wilson said. "We did both quite well. But yeah, that was just really cool because I've looked up to her ever since I was a little kid since I was maybe about eight. I watched her a lot growing up and just to be able to play alongside her was just really special, and hopefully I can do that a lot more in the future."
If those experiences were sweet, the U.S. Women's Amateur left a sour taste. Wilson cruised into the round of 16 but let a 5-up lead slip away in a loss to eventual runner-up Latanna Stone, something Wilson said is completely out of character for her.
"It was a tough loss. I couldn't sleep for like two nights," she said. "It was tough, but you know, it's something that you live and learn from and I'll be sure to never do that again."
Wilson has put it behind her and is looking ahead to the rest of the season. A few big events remain to give her a chance to finish the year at No. 1 and earn a spot in next year's Evian Championship, an LPGA major played in France. She also has the Junior Solheim Cup and Junior Ryder Cup ahead, her first events overseas.
"I think Spain and Italy will be a ton of fun,"she said, pointing to playing for her country and playing with instead of against her friends as highlights. "I have no real expectations for how it's going to be because I've heard that adjusting to the time change is hard and stuff. So I'm excited. I'm gonna try my best."
After that remains up in the air. Wilson is verbally committed to play at Oregon in 2024, but she may bypass college to turn professional. That's a decision still to be made.
"It's been a dream of mine since I was little to to go pro immediately," she said. "College was pretty much like a Plan B or like a backup plan. So yeah, I guess we're still kind of deciding on that now."
Greg Robertson covers golf for the Review-Journal. Reach him at grobertson@reviewjournal.com.