Inbee Park's run to greatness began as Las Vegas teenager
August 24, 2016 - 11:25 pm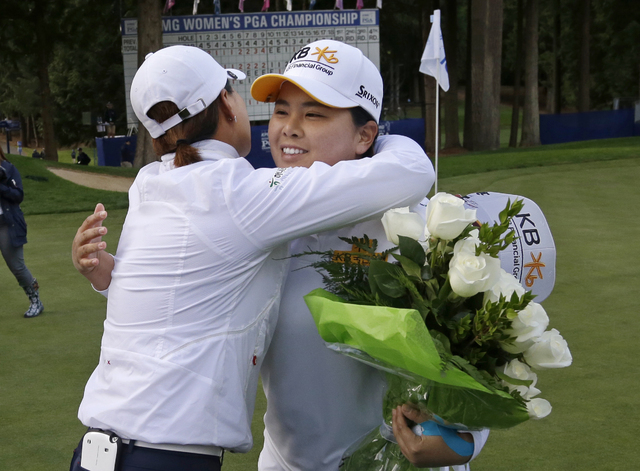 Inbee Park left Rio de Janeiro last weekend wearing the Olympic women's golf gold medal. That probably doesn't come as a surprise to those in the Las Vegas golfing community who knew the 28-year-old when she was a teenager.
Let's take a look at some of Park's highlights in Southern Nevada:
• She spent her formative golf years working with Butch Harmon School of Golf professional Shawn Callahan. Attending Bishop Gorman during that tutelage, she won high school individual state championships in 2004 and 2005, contributing to the Gaels' streak of four team titles from 2003 to 2006.
• She rose to national prominence as an amateur, being named the American Junior Golf Association Player of the Year in 2002, the year she won the U.S. Girls Junior Championship. She also was a semifinalist at the U.S. Women's Amateur in 2003.
• She played her first LPGA Tour tournament in Las Vegas. As an amateur, she received sponsor exemptions into the Takefuji Classic at Las Vegas Country Club from 2004 to 2006. She finished in the top 10 twice, including fifth in 2005.
Park is known by a few nicknames on the LPGA Tour. Her personal favorite reportedly is "Silent Assassin," but others prefer "Queen Bee," a nod to her first name translating to queen in English. Both appropriately describe her dominance during a career that includes seven major titles, the 2013 Rolex Player of the Year award and more than $12 million in earnings.
Park, who qualified for the LPGA Tour Hall of Fame in June, is gaining acclaim as one of the best players ever. Golf Magazine writer Alan Shipnuck recently wrote, "Park is already the most dominant player of her generation … and entering the conversation of the best players ever."
Park is as nice off the course as she is great on it, said Lee Smith, general manager at TPC Summerlin, where Park is a member.
"From what I've ever observed about Inbee is that her golf swing emulates the way she goes about her life, and I mean that in a very good way," Smith said. "She has that long, slow and smooth swing, and whenever she's here, she's very laid back and has built friendly relationships with our staff.
"We are very proud as a PGA Tour facility to also have one of the best LPGA Tour players in the world as a member."
A banner was hung this week at TPC Summerlin to celebrate member Ryan Moore's win at the John Deere Classic on Aug. 14. One soon will go up to recognize Park's gold medal.
It's customary for the club to fly a banner to honor a tour win by any member. But the current pace has Smith worried.
"At this pace, our club may go bankrupt due to banner expenses," he said jokingly.
SIMON SAYS PLAY GOLF
Former UNLV soccer player Simon Keith, the first person to play professional sports after undergoing a heart transplant, will host his annual tournament Oct. 7 at Siena to raise funds for his foundation. Keith is one of the longest-living heart transplant recipients in the world. For more information, see SimonKeithFoundation.com.
GAME, SET, MATCH
Former UNLV All-American Edward Fryatt has had a good couple of weeks. First, he qualified for the U.S. Mid-Amateur, then last weekend won the Nevada State Match Play at Somersett Country Club in Reno, rallying to defeat Steve Sear 2 and 1.
DEAL OF THE WEEK
Clark County residents can play Wildhorse for summer rates of $21 to $40. Henderson residents receive additional discounts.
STARS ON, OFF COURSE
PGA Tour star Rory McIlory celebrated with UFC star and fellow Irishman Conor McGregor at Intrigue Nightclub after the fighter's win over Nate Diaz on Saturday at T-Mobile Arena.
The golf notebook appears each Thursday. Freelance writer Brian Hurlburt is a two-time author who has covered golf in Las Vegas for more than two decades. He can be reached at bhurlburt5@gmail.com or @LVGolfInsider.
RELATED
Bishop Gorman alum Inbee Park captures women's golf gold at Rio Olympics
Las Vegan Inbee Park silences doubters with gold medal in Rio