Las Vegas golf community has fond memories of Arnold Palmer
September 26, 2016 - 11:24 am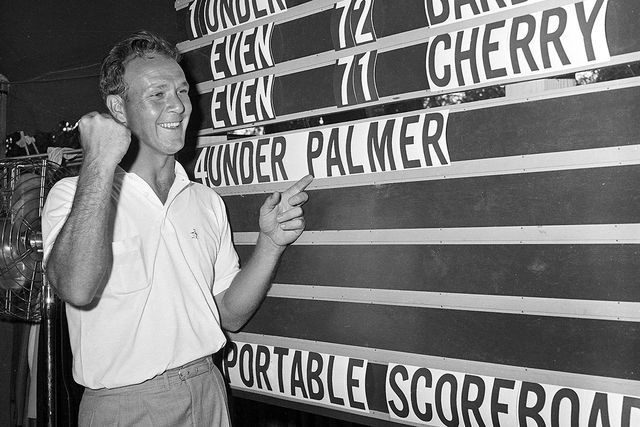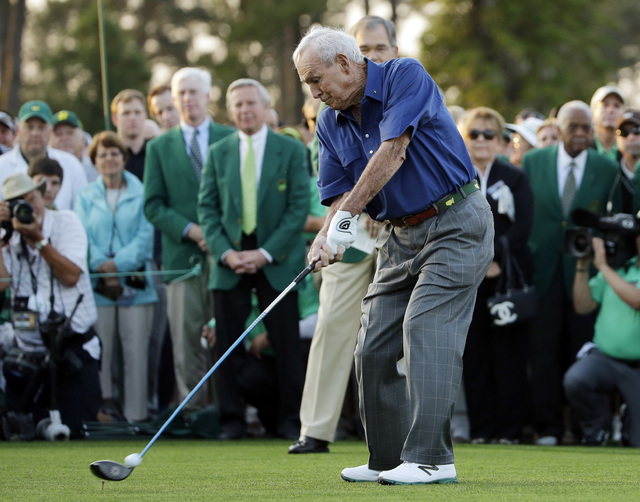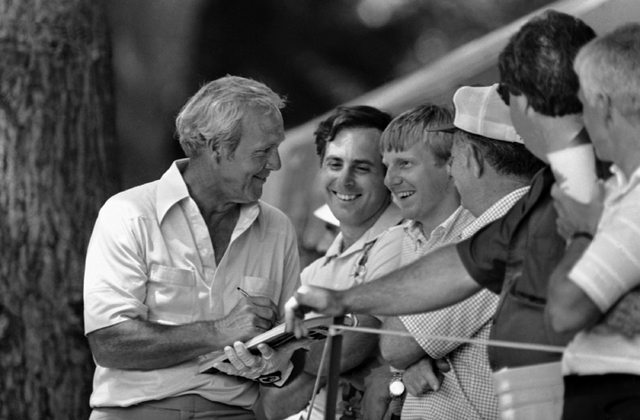 Among the numerous honors and awards that line the walls of Dwaine Knight's offices, both at UNLV and his home, is a framed letter congratulating him on his induction into the Golf Coaches Association of America Hall of Fame in 2002.
The letter-writer?
Arnold Palmer.
"It's among my most treasured mementos," said the longtime Rebels men's golf coach. "He was such a gentleman. He was so gracious."
Sunday should have been an evening for Knight to celebrate. One of his former players, Ryan Moore, had just been selected for the USA Ryder Cup team. But as happy as he was for Moore, the third player to represent UNLV in the Ryder Cup (Chris Riley and Chad Campbell are the others), Knight also felt sadness for the news that Palmer had died at age 87 earlier that evening.
"I met him in 1962 when he played a round at Eglin Air Force Base in Florida with my dad after he won the Masters," Knight said. My dad was stationed there as a pilot and after the round, he asked my dad if he could fly with him in his jet.
"I was 15 at the time and I caddied for my dad that day. It was magical to walk the 18 holes with him. I didn't realize then how popular he truly was."
Palmer took the ride into the wild blue yonder and he remembered the kindly gesture from Knight's father.
"I got to play with him on the (PGA) Tour and he remembered me from when he played with my dad," Knight said. "That was a special feeling."
Palmer had a knack for making people feel special. Longtime local golf pro Jerry Roberts tells the story of the time Palmer was in Las Vegas and walked into the pro shop at the then-Sahara Country Club and was looking for a sand wedge. Roberts brought out a couple of models along with his own personal club for Palmer to test drive.
Palmer liked Roberts' club the best. And Roberts was willing to part with it.
"I walked into the office next day and there it was," Roberts said. "He loved to tinker with his clubs and as much as he liked my sand wedge, he had too much respect for the club to change it. That shows you the kind of person he was."
Palmer, who had 62 PGA Tour victories and seven major titles, won the Tournament of Champions three times — all at the Desert Inn Country Club. In 1962, he birdied the 72nd hole to beat Billy Casper by one shot, earning $11,000, which was paid in silver dollars that was wheeled out to the 18th green in a wheelbarrow.
In 1965, he won by two strokes over Chi-Chi Rodriguez, this time winning $14,000. The following year, he beat Gay Brewer in an 18-hole playoff and also overcame the strong winds that swept through the course. That victory earned him $20,000.
Dave Johnson was there in '66. He would go on to be the Desert Inn's Director of Golf from 1976 to 2000. And among his most cherished memories was his friendship with Palmer.
"He loved Las Vegas," Johnson said. "I remember watching him win and when they came out with the wheelbarrow, he was flipping the silver dollars in the air.
"We got to be good friends. He was such a gentleman and a great ambassador for the sport. He was so genuine and thoughtful. It's like losing a member of the family."
Palmer returned to the Desert Inn in 1986 for the inaugural Las Vegas Senior Classic. He played in the event's first two years to help generate some fan interest and though he didn't win either year (he finished tied for ninth place in 1986, and fifth in 1987), his mere presence on the grounds made it feel like something special was going on.
"I'd see him at the driving range and he was so accessible," Johnson said. "But I also remember how he was always fiddling around with his clubs. He was always changing the grips and doing other things."
Local golf historian Jack Sheehan recalled the time Palmer scolded Sheehan's best friend and former University of Oregon teammate Peter Jacobsen for having a sloppy signature after a fan asked Palmer to autograph the cover of a program that Jacobsen had already signed when the two appeared at a charity event in Portland, Oregon.
"He said to Peter, 'Jake, you look like you signed that falling down the stairs,'" Sheehan said. "From that point on, Peter was much more meticulous when it came to signing autographs. That's the kind of impact Arnold Palmer had."
Palmer's legacy remains in Las Vegas. He designed the courses at both Angel Park and Red Rock Country Club. For years, he had a dry cleaning establishment on West Sahara Avenue near Valley View Boulevard. He also had a driving range and miniature golf course on Decatur Boulevard in the 1970s.
For Knight, one of his greatest achievements as a coach came in 1997 when he was the USA team's captain for the inaugural Palmer Cup which was played at Palmer's course at Bay Hill, Florida. The event was a competition between the top American collegiate players and their counterparts from Europe.
Knight had reached out to Palmer prior to the event and asked if he would address the team.
"He said he couldn't do it because it wouldn't be fair to the other team," Knight said. "But he said, 'I'll be glad to talk to your guys after you win.' So he put the pressure on us. But we won and he did talk to our guys, which was very special.
"But that shows you the kind of person he was. He always put the game first. And I think that's why people loved and respected him."
Contact Steve Carp at scarp@reviewjournal.com or 702-387-2913. Follow on Twitter: @stevecarprj
RELATED
Arnold Palmer dies at 87, made golf popular for masses
Presidents, friends and other golfers react to Arnold Palmer's death