Local golfers keep US Open dream alive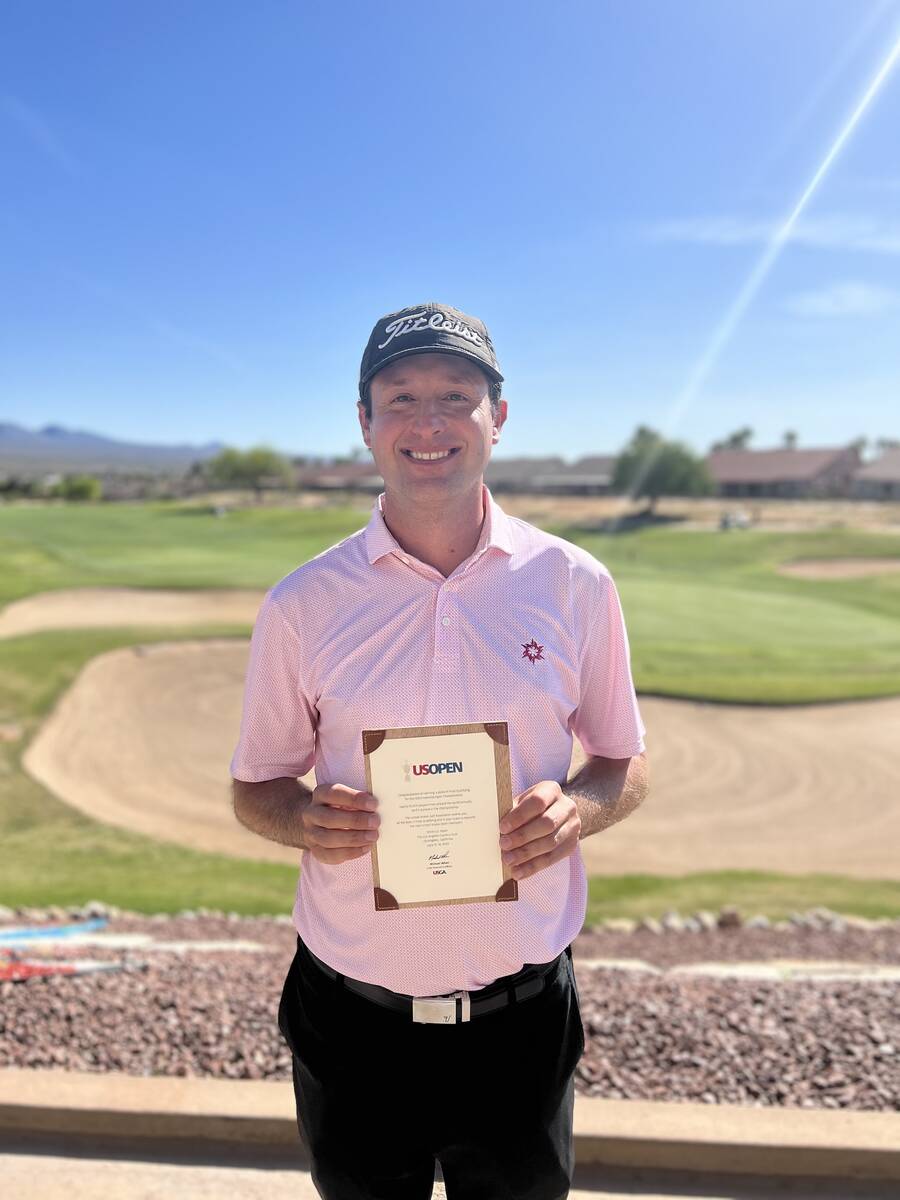 Jack Trent won two state boys golf titles while playing for Palo Verde, then had a solid career at UNLV. Now he's one good day away from playing on golf's biggest stage.
Trent took a big step in his fledgling pro career last week as one of four players to make it out of local qualifying in Mesquite for this year's U.S. Open. And he showed he can handle pressure.
Trent survived a six-man playoff for the final spot, making birdie on both playoff holes to earn a trip to final qualifying in a few weeks in his quest to reach the U.S. Open at Los Angeles Country Club in June.
After six players tied for fourth with 1-under 71s, four of them were eliminated on the first playoff hole when Trent and Bryson Anderson made birdies.
"It went from six to two pretty fast," Trent said.
It went from two to one even quicker, as Trent reached the par-5 finishing hole at CasaBlanca Golf Club in two, then two-putted for birdie and the win. His approach in windy conditions to 15 feet was the key, but Trent said there wasn't a lot on his mind when he hit it.
"I was just trying to blank my mind," he recalled. "I've had some good experience with pressure stuff, so I actually felt pretty comfortable with it."
Trent, who finished his career at UNLV in 2021, joins medalist Rhett Rasmussen (65), Max Marsico (69) and Corey Pereira (70) as qualifiers at CasaBlanca.
Marsico, a Chicago native who now makes his home in Las Vegas, was among the first finishers and had to wait around to see if his score was going to hold up. That, he said, was more difficult than playing.
"It's just stress," he said of the wait. "I thought like last year I think 5 under was a playoff, and I thought the weather was a little better this year, so I kind of assumed 5, 6 under was again going to be around the number."
But his guess was way off, and Marsico's dream of making the U.S. Open field lives on.
"Just playing in a major championship is a dream come true, let alone winning it," said Marsico, 32. "That's why we're playing. But for me, I haven't gotten there yet, so it's worth still chasing for me."
Trent has similar feelings, although his professional journey is only a little more than a year old. He does have status on the Canadian Tour this summer, but playing the U.S. Open is the big dream.
"It would be awesome," he said. "It's down in L.A., so it's close, it's on the West Coast, so I don't have to travel too far. I might have a few of my friends in town for that, so yeah, that'd be sweet. So cool."
But getting there is still a long shot for Trent and Marsico. They will be among approximately 530 players to make it through local qualifying in April and May from a starting field of 9,693. Those 530 will head to final qualifying, trying to secure one of approximately 70 available spots in the U.S. Open field.
Being in that group of 530 beats the alternative, according to Rasmussen, a 24-year-old former Brigham Young player from Draper, Utah.
"I am now one step closer to the big stage," he said.
Meanwhile in Modesto, California, Fresno State junior and Las Vegas native Matthew Manganello earned one of four spots at a qualifier at Del Rio Country Club. Manganello was a four-year letterman at Tech.
Mesquite Classic
Raymond Kim fired a second-round 67 to finish at 5-under 139 and win the Mesquite Classic by one shot over Justin Penor. In the Senior division, Kelly Knievel was the only player in red figures, finishing at 1-under 143 for a one-stroke win over John Bobroski. Mark Dopheide won the Silver division at 1-over 145 by a stroke over Patrick Woerner and Dan Parkinson.
Other winners in the SNGA event were Andy Pham (Championship net), Bobroski (Senior net) and Tony Troilo (Silver net).
Greg Robertson covers golf for the Review-Journal. Reach him at grobertson@reviewjournal.com.
Pro schedule
PGA Tour
Event: Wells Fargo Championship
When: Thursday-Friday, 11 a.m.-3 p.m. (TGC); Saturday-Sunday, 10 a.m.-noon (TGC), noon-3 p.m. (CBS)
Where: Quail Hollow Club, Charlotte, North Carolina
Purse: $20 million
2022 champion: Max Homa
LPGA Tour
Event: International Crown
When: Thursday-Sunday, 3-6 p.m. (TGC)
Where: TPC Harding Park, San Francisco
Purse: $2 million
2018 champion: Team Korea
Champions Tour
Event: Mitsubishi Electric Classic
When: Friday, 9-11 a.m. (TGC); Saturday-Sunday, noon-3 p.m. (TGC)
Where: TPC Sugarloaf, Duluth, Georgia
Purse: $2 million
2022 champion: Steve Flesch