Natalie Gulbis commits to limited schedule on LPGA Tour
November 17, 2016 - 12:11 am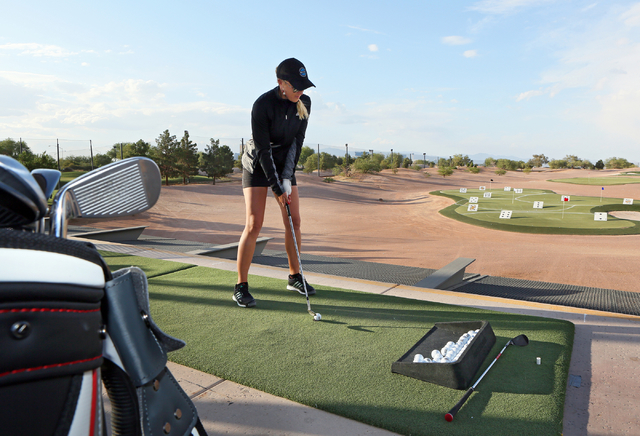 Natalie Gulbis, who has lived in Southern Nevada for more than a decade, is committed to slowing down when it comes to playing the LPGA Tour. But cutting back her schedule on the course doesn't mean easing up off it.
This year, Gulbis completed her first season of the Fox Sports show "18 Holes with Jimmy Hanlon and Natalie Gulbis" and also served as a commentator at the men and women's U.S. Opens. Plus, she continues to be an active fundraiser and mentor for the Boys and Girls Clubs.
"I'm played a limited schedule this year and will continue to play a limited schedule," Gulbis said. "I had a wonderful 2016. I finished my first season of my television show. I did have some injuries, but I'm healthy now and looking forward to playing a limited schedule again in 2017 and continuing the television work. I have balance. Playing a limited scheduled has been fun and allowed me to spend more time growing the game in different ways."
Gulbis hosts her annual golf classic Monday at Rio Secco to benefit the Natalie Gulbis Las Vegas Boys and Girls Club. She visits the kids several times a year and also takes them on outings to golf courses and other locations.
"I'm so honored to have a boys and girls club in my name, and the kids are amazing," Gulbis said. "I'm grateful for the opportunity to get to know them, and I'm so proud of them. My greatest joy is my time spent with the kids from the club. I get to share that with my husband, Josh, and there is no greater chapter in my life than that."
Even though she is a part-time player, Gulbis still has one thing in mind.
"When I do play, my goal is to win," she said.
WOLF PACK GOLFER BITES BACK
Just before winning the Nevada Open last week in Mesquite, former UNR golfer Kevin Lucas played in the qualifying tournament for the Web.com Tour and was a bogey and triple bogey from gaining status on the tour, which is one step below the PGA Tour.
"At second stage of Q-school qualifying, I was inside the number to earn a card all week, but I had a bad finish on my last two holes," Lucas said. "It was one of the toughest things I had to deal with, and to come back and get a win (in Mesquite) is the ultimate redemption. I still don't have status, but it's a nice check, and it feels good to play well, and that's the most important thing. I had a lot of support from my friends and loved ones, and they helped me get in the proper mindset to play."
Lucas won $28,000 for his Mesquite victory.
DEAL OF THE WEEK
Buy a $79 player's card at Las Vegas National and get a free guest and birthday round plus discounted rates now throughout 2017.
ARCHITECT DESIGNS WOW PAR 3
Rees "U.S. Open Doctor" Jones, the legendary course architect who designed Cascata and Rio Secco in Southern Nevada, has a new course in Loreto, Mexico. Danzante Bay Golf Club at Villa Del Palmar is a stunner and features a tantalizing par 3 that overlooks the Sea of Cortez. The hole is perched on a plateau with 100-foot cliffs on three sides.
"That spot is a major 'wow factor,'" Jones said about the hole he thinks might become one of the best in the world.
STARS ON, OFF COURSE
The notorious golf trick shot dudes, George and Wesley, aka the Bryan Bros, took their skills to new heights Monday when they used a Callaway wedge to hit from the top of the MGM Grand Signature tower to a green down below at Topgolf Las Vegas. The shot, aired on ESPN's "SportsCenter," traveled 160 yards horizontally and about 500 feet vertically. Fireworks went off when the ball hit the intended target.
The golf notebook appears Thursdays. Freelance writer Brian Hurlburt is a two-time author who has covered golf in Las Vegas for more than two decades. He can be reached at bhurlburt5@gmail.com or @LVGolfInsider.
CALENDAR
Friday, Saturday: Clark County Senior Amateur, Boulder Creek
Saturday, Sunday: Clark Country Amateur, Boulder Creek
Monday: Natalie Gulbis Golf Classic, Rio Secco
Dec. 1: SNGA Tour: Championship, Bear's Best Las Vegas
Dec. 5, 6: Southern Nevada Cup: SNGA vs. PGA
Dec. 17, 18: SNGA Championship, Cascata
Jan. 12: MLB Player's Trust Event, Bear's Best Las Vegas
Jan. 14: UNLV Rodeo tournament, Aliante