One of Henderson's elite golf courses is temporarily closed. Here's why.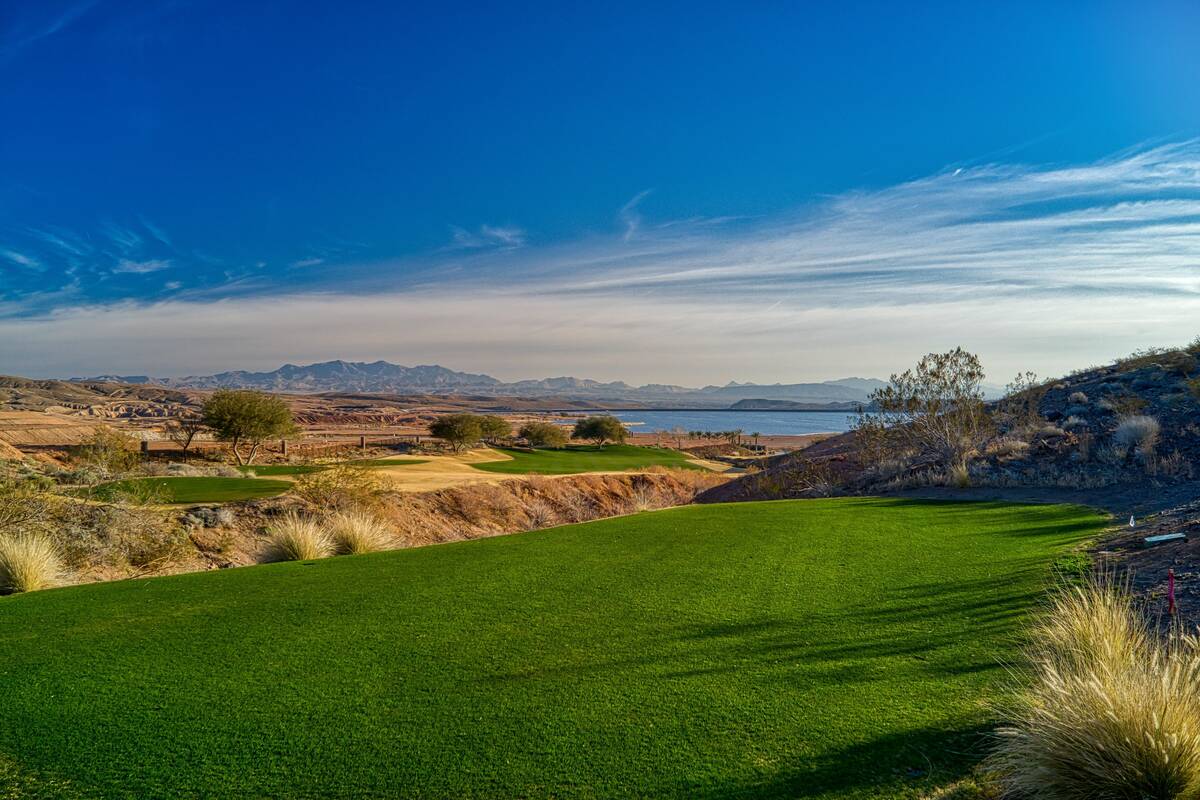 Golfers looking to play at one of the area's best courses have one less option over the coming weeks.
Reflection Bay Golf Club at Lake Las Vegas has closed while all of the grasses are changed on the greens to a more drought-resistant strain, converting the 4.5 acres of Bentgrass to paspalum in a move that will save more than 31 million gallons of water per year.
"Bentgrass is a grass that often struggles in extremely hot, humid and arid conditions," said Eric Dutt, manager of operations at the course. "Paspalum is the ideal choice for our redesign because it is salt tolerant, heat and humidity resistant, and doesn't show ball marks. Equally important is it thrives using gray water."
The move is just the latest by the course, which considers itself one of the most water conscious in Southern Nevada.
"We have used Bermuda grass for both fairways and roughs since the course opened in 1998," Dutt said. "Bermuda fairways and roughs are some of the most efficient turf types from a water conservation standpoint."
Drought conditions in the western United States have forced water agencies to impose strict regulations on use, including at golf courses. Reflection Bay officials are making this latest move despite being in compliance with all rules.
"This renovation has taken a lot of preparation and planning, not only with finding efficient ways to conserve water, but also making sure the course provides our members and visiting golfers with a superior golfing experience," Dutt said.
The course closed May 1 to begin the work. Officials expect it to reopen at an unknown date later this summer.
"We look forward to not only offering our members and guests a refreshed and renovated golfing experience, but a course that has gone above and beyond to save water in our community," Dutt said.
More local Open qualifiers
Local qualifying for this year's U.S. Open is continuing, and two more players with Las Vegas ties have made it through. And one did so in some crazy conditions.
Brandon Bauman, who graduated from Palo Verde in 2014 before moving on to play at UC Santa Barbara, shared medalist honors at Glen Oaks Country Club in West Des Moines, Iowa. The conditions were so brutal, with winds blowing between 30 and 40 mph on qualifying day, that Bauman was co-medalist despite shooting a 2-over 73.
The average score was 82.24 among the 70 players who finished and posted scores, with just 21 players shooting in the 70s. There were eight scores in the 90s, and one player posted a 100. Keep in mind, in order to play in a qualifier, all golfers must have a verified handicap no higher than 1.4.
Meanwhile, former UNR player Grant Booth earned the fourth and final spot at a qualifier at Ak-Chin Southern Dunes Golf Club in Maricopa, Arizona. The Australia native plays out of Scottsdale, Arizona, but lists Las Vegas as his residence on the USGA entry form.
Honors for Huynh
UNLV's Thienna Huynh has earned two awards with Mountain West Confrerence coaches naming her Freshman of the Year as well as second-team all conference.
Huynh came to UNLV from Lilburn, Georgia, with high acclaim and has lived up to her reputation. As a high school senior, Huynh teamed with another Georgia prep star, Sara Im, to win the prestigious 2022 U.S. Women's Amateur Four-Ball title.
Huynh led all freshmen in the Mountain West with a 73.80 scoring average and was the only freshman to rank in the conference's top 15 in scoring average, finishing the year at 14th. During the season, Huynh had three top-20 finishes and seven top-25 finishes.
"Thienna has had a great year," said UNLV coach Amy Bush-Herzer. "Thienna has an incredible golf game and is a joy to have on the course, so I couldn't be more proud of her."
Greg Robertson covers golf for the Review-Journal. Reach him at grobertson@reviewjournal.com.