Pajaree Anannarukarn outlasts Linn Grant in LPGA semifinal match
Updated May 28, 2023 - 8:04 pm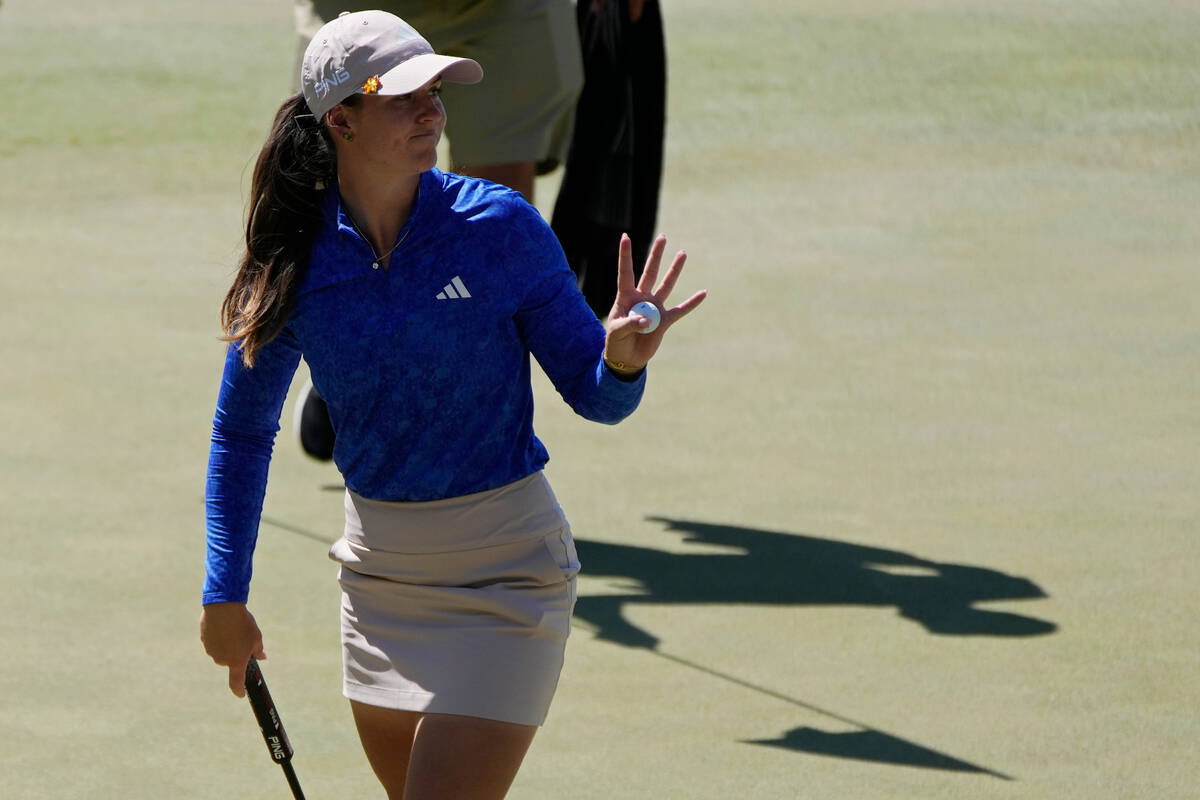 Linn Grant played the best nine holes of her week during the semifinals of the Bank of Hope LPGA Match Play on Sunday at Shadow Creek, shooting 6-under 31 on the front nine against Pajaree Anannarukarn. They made the turn all square.
It was the best match of the week, with Anannarukarn making birdie on six of the first seven holes on a scorecard that featured six 3s on the front nine and 10 over the 17 holes they played, as she walked away a 3-and-1 winner. They combined for 13 birdies and an eagle.
"Today's match was so good," Grant said. "We both played very well."
Anannarukarn continued to apply pressure on the back nine. She birdied Nos. 10 and 14, and a Grant mistake on No. 12 made it a 3-up lead and forced her to attempt some riskier shots than she normally would take to try to close the gap.
"She has a solid game, and, I don't know, I just tried to hold on as long as I could," Grant said. "But, yeah, she played really good."
LPGA's next star
Stanford sophomore Rose Zhang turned professional over the weekend, ending what is arguably the best modern-day amateur career by a woman.
Zhang won her second consecutive individual NCAA title last week to go with wins at the U.S. Amateur, Augusta Women's National and U.S. Women's Public Links. Her 12 victories in 20 starts at Stanford are the most in school history, surpassing Tiger Woods and Maverick McNealy for that record.
And now the 20-year-old will tee it up on a sponsor's invitation this week at the LPGA's Mizuho Americas Open and in July at the U.S. Women's Open.
LPGA players expect nothing short of greatness for Zhang.
"What she did as an amateur is remarkable, spectacular. I don't think there are enough good words to describe what she did," said Albane Valenzuela, a fellow Stanford alum. "She's just an incredible player, but I think an even better person. All the people that know her know how humble she is and just has such a great attitude and demeanor out there."
Leona Maguire knows a little bit what Zhang is going through, having won the Annika Award twice at Duke as the best college player.
"She's had an incredible amateur career. She's basically done everything there was to do," Maguire said. "I wish her the best of luck, but I'm sure she'll have lots of people giving her advice and speculating, so I don't think I should add to that."
Greg Robertson covers golf for the Review-Journal. He can be reached at grobertson@reviewjournal.com.