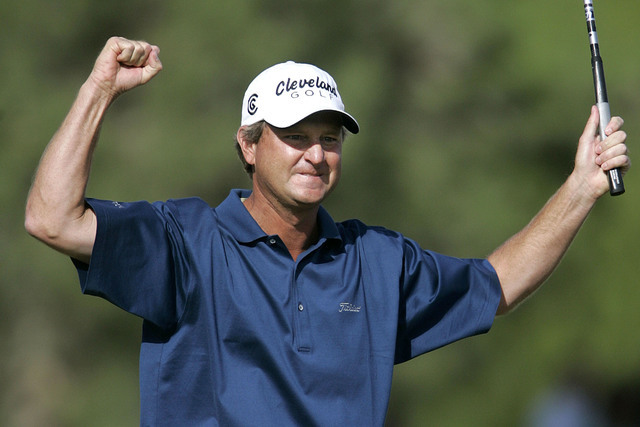 When Wes Short Jr., the 2005 Michelin Championship at Las Vegas champion, made the field for this week's U.S. Open, he did it with a little World Series of Poker style.
He seemingly drew the card he needed on the flop, the turn and the river, and is scheduled to be in the field of America's golf championship after attempting to qualify for more than three decades.
Short, 52, first tried to make the U.S. Open as an 18-year-old in his native Texas. This year, he began his journey at a local qualifier in May in Austin, Texas, where he survived a playoff and then advanced to sectional qualifying in Ohio. He then shot rounds of 69 and 66 to earn his spot at the historic and difficult Oakmont Country Club outside of Pittsburgh this week.
Short has hit his fair share of golf jackpots over the years, but he also has busted out a few times, many of the tough days caused by ongoing back problems. His Las Vegas victory ranks as the best win of his career and came at age 41. Since turning 50, he also has won on the PGA Tour Champions.
His breakthrough in the Las Vegas event occurred after years of playing the mini tours, including a year on the Hooters Tour when he had to borrow $5,000 to make ends meet.
Through all of the ups and downs, Short never lost faith.
"You can't ever give up on a dream," Short said after his Las Vegas win. "If it's in your heart and you believe it, you can do it. I may have chased a little longer than I should've, but I never gave up on my dreams."
His quote rings as true today as it did after winning the $720,000 first-place check in Las Vegas.
GM WILL MISS SHADOW CREEK
Mark Brenneman, who served as the general manager of Shadow Creek for 16 years and has "seen it all" during that time, is leaving the prestigious course to take the same position at Silo Ridge Field Club in upstate New York.
Brenneman said the decision was difficult, but is a great opportunity at a new Discovery Land course, plus a chance to be closer to family, including his 85-year-old mother, Patricia.
"My 16 years at Shadow Creek have been phenomenal, and I feel very fortunate to have had this great experience," Brenneman said. "I guess what I will remember most is how golf humanizes everyone, especially at Shadow Creek. It really doesn't matter if they're presidents or Academy Award-winning actors, or other high-profile professions, the game, and all that surrounds it, turns serious people into playful little kids for a while.
"For people like that at a place like this, all the outside issues don't make their way inside the gates of Shadow Creek. I don't know why it's so, but I've just seen and experienced it too many times to discount this."
STATE AMATEUR REUNION
Former Nevada State Amateur champions Eric Dutt and Brady Exber are organizing a reunion for fellow champs that is open to the public.
The event, July 8 at Cascata, will raise funds for the Southern Nevada Golf Association and Southern Nevada Junior Golf Association. Teams of three will include a former champion.
Go to http://goo.gl/3ltKfg to register.
HOSPITALITY INDUSTRY WELCOME
Members of the hospitality industry can play any course at Golf Summerlin for $25 anytime on Wednesdays. Plus, summer rates for all locals are as low as $25 for twilight each day.
DAD'S DAY DEALS OF THE WEEK
• Check out the Southern Nevada Golf Association Dad's Day auction for some unique items. Proceeds benefit amateur and junior golf in Southern Nevada. Visit SNGA.org.
• Play the Rhodes Ranch Dad's Day Open on Sunday for $69 for adults and $35 for juniors.
The golf notebook appears each Thursday. Freelance writer Brian Hurlburt is a two-time author who has covered golf in Las Vegas for more than two decades. He can be reached at bhurlburt5@gmail.com or @LVGolfInsider