Shriners offering special ticket deals for PGA Tour event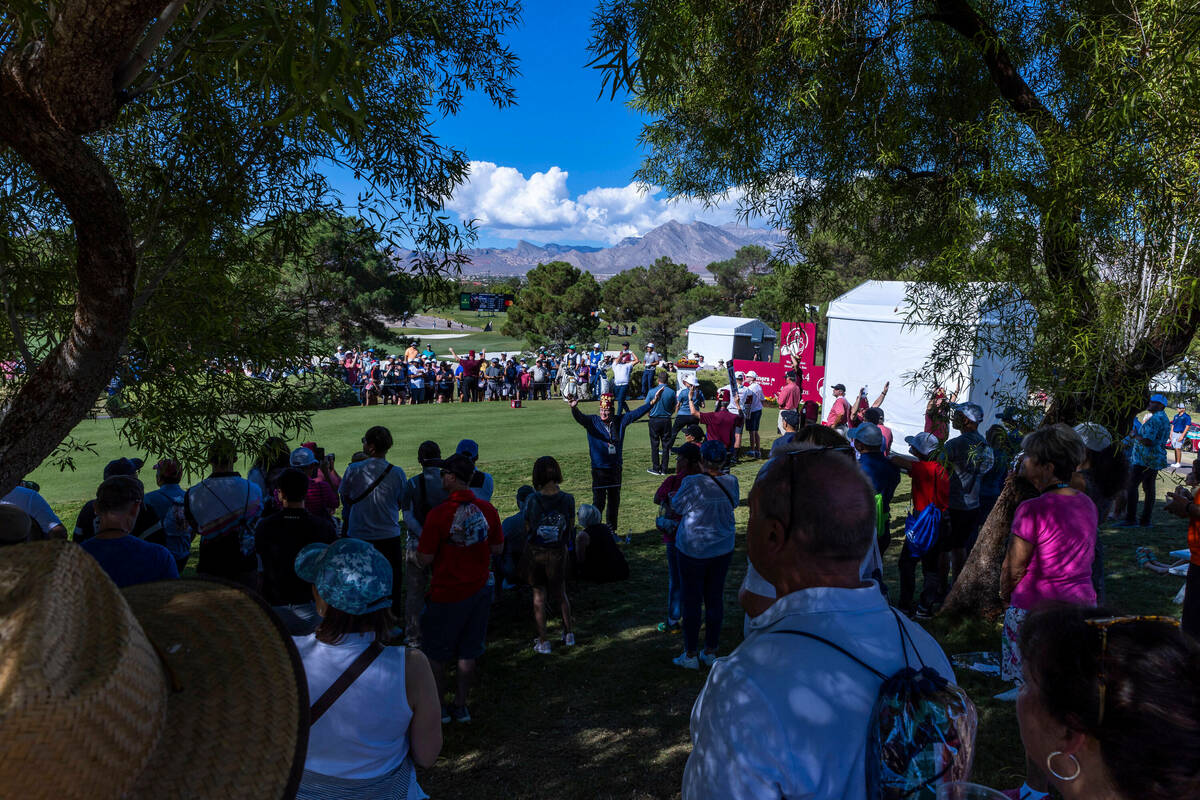 With just two weeks until the PGA Tour arrives in Las Vegas, Shriners Children's Open officials have unveiled a pair of deals for fans hoping to experience the tournament at TPC Summerlin.
The tournament has partnered with Mastercard to offer half-price tickets for the tournament for anyone using its credit card for the purchase.
General admission tickets will be good for any day of the tournament, which runs Oct. 12-15, and provide access to the grounds as well as The Hill, a special viewing area near the 16th, 17th and 18th holes with lounges, TVs and food and beverages.
Tickets must be purchased by Oct. 6 and will be sent by email via SeatGeek by Oct. 9. Through the deal, tickets will cost $32.50 per person.
"We look forward to welcoming Mastercard cardholders to the 2023 Shriners Children's Open," said Patrick Lindsey, executive director of the Shriners Children's Open. "Those who attend can count on an elevated experience, all while supporting the mission of Shriners Children's."
In addition, the tournament will once again offer free admission for all active and retired military personnel along with first responders. Those with a valid ID can show it at will call at the tournament entrance to receive complimentary admission.
First responders and military personnel and their families can also access Patriot's Outpost above the 16th green, offering views of the 16th green, 17th hole and 18th green. During Thursday's opening round, Patriot's Outpost guests will receive complimentary food and beverages.
National Putting Tour
You can put your putting skills to the test with money on the line this week when the National Putting Tour comes to Angel Park Golf Course for the latest stop in its national competitions.
Players can enter one of four divisions: beginner ($10 entry fee), amateur ($20), professional ($50) and elite professional ($100). The beginner division will be winner take all, while the other three will pay the top 33 percent of finishers.
As of Monday, there were 38 amateurs and 13 beginners entered. Players can register in advance at nationalputtingtour.com.
The competition will take place on a nine-hole course on the practice putting green just northeast of the pro shop. Registration is at 5:30 p.m., with the first two rounds starting at 6:30 p.m. Rounds three and four will take place under the lights at 8:15 p.m., with playoffs to follow if necessary.
Chip shots
* Raymond Kim and Preston Harris combined to win the SNGA Team Championship Sunday at Mountain Falls Golf Club in Pahrump, shooting a gross 12-under 132 in both alternate shot and fourballs for a two-shot win over Josh Goldstein and Kamden Ganir. Other winners included Todd Roberts and Brady Exber (Senior gross and Senior net), James Hill and John Garrett (Silver gross and Silver net), and Joseph Noya and Charlie Berydas (Championship net).
* Grant McKay and Kevin McEvoy teamed up to win the Four-Ball Stableford Championship last week at Coyote Springs in Moapa. Other winners were Gordon Schiring and David Koch (Senior), Patrick Woerner and John Kelley (Silver), and Robert Golden and Dave Golder (All-Ages net).
* Painted Desert will hold an evening Oktoberfest two-person scramble Oct. 7. The nine-hole event will have a 5 p.m. shotgun start and costs $70 per team.
Greg Robertson covers golf for the Review-Journal. Reach him at grobertson@reviewjournal.com.