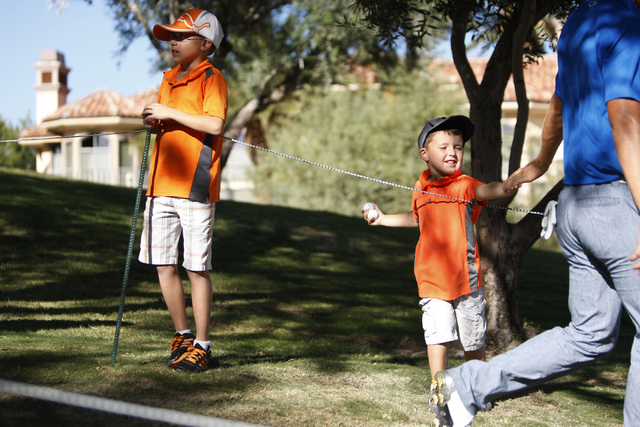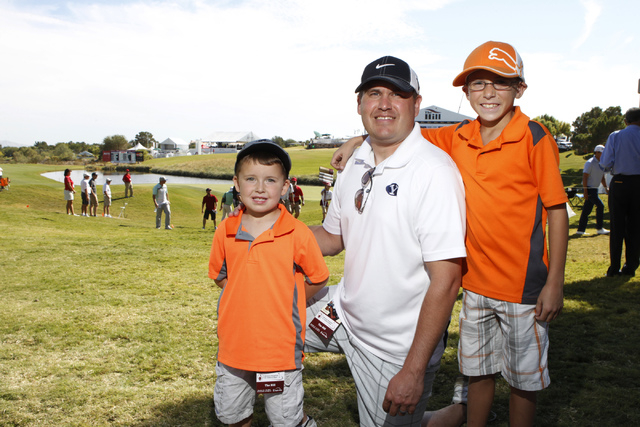 Yard work or go to Las Vegas?
For Derek and Kellie Nelson, the decision was easy.
The young couple from Salem, Utah, packed up their two boys — Cooper, 9, and Jack, 4 — and headed down Interstate 15, making the five-hour trek to attend the Shriners Hospitals for Children Open at TPC Summerlin.
"It's the closest PGA tournament we have to us, and the kids love seeing the players and interacting with them and getting souvenirs," Derek Nelson said. "The players are really good at giving their golf balls; last year we got a signed glove, and us as parents, we love seeing that interaction with the kids."
This year, the highlight for young Cooper was fellow Utah native Drew Summerhays signing a souvenir flag after the seventh-year pro fired a 3-under 68 on Friday.
"I like everything about golf," Cooper Nelson said. "I like giving the players high-fives and them giving us their golf balls and getting autographs."
Said Summerhays: "That's the future of the game. If we act like we're above and beyond the kids, for sure, then the game won't survive. It's just hard to resist a little fan, putting out his hand giving a high-five or throwing a signed ball to."
And it's the fondness the PGA Tour has for families and its young fans that has made the Nelsons big golf fans, and why they can appreciate Family Fun Day, which is being presented by the Las Vegas Review-Journal today at TPC Summerlin.
"It does help that they're trying to attract more families, and maybe people that aren't as much interested in golf as they are the experience," Derek Nelson said. "My 9-year-old kind of has that dream, like many kids probably do, in becoming a professional player. So it's really fun for him to come out and see what it's like."
Nelson said his boys hit the links with him, as Cooper has already played in a couple of junior tournaments, while Jack just enjoys taking his hacks wherever dad's drives end up on the fairway. And because they visited the Shriners Open last year and have spent time on the golf course, they know proper etiquette while watching someone tee off or line up a 20-foot putt.
"I don't have a problem bringing them, they behave pretty well, and any other kid I think would do the same," Nelson said. "My 4-year-old is not the quietest kid in the world, and we don't really have any problems here. In fact, I almost think that some of the adults are noisier than the kids."
With the excitement of the football season well underway and the World Series set to start Tuesday, father-son trips to packed stadiums are still a popular outing. But the refreshing sight of families — small and large, moms with strollers and exuberant young fans — has graced TPC Summerlin's walkways all week.
Nelson said he has nothing against the major sports, but thinks golf is the perfect sport that teaches many quality lessons off the course.
"It teaches you a lot of personal traits that maybe other sports don't, and it's a sport you can play your entire life," Nelson said. "It's been really awesome for me and my kids. I get to spend a lot of time with them while they're young, and they enjoy going and playing with me."
Said Summerhays: "Family, that's the most important thing in life, and I think the PGA Tour does a good job of creating a good atmosphere for families. At this event, and most events, they'll have a lot of things. This is the first time I've seen a pool, which is really cool. Most tournaments, I think they realize how important having that young fan base is to grow the game."
Today's events and booths are tailored specifically toward families. For $44.44, a family of four can get into the event, receive four hot dogs or hamburgers with four drinks while enjoying all amenities and attractions on site.
"I think there's pretty good value there," tournament director Adam Sperling said. "You got the best golfers in the world out here. Most of the time you can't buy two tickets to an event for $44.44, sometimes one ticket. Family is important. I think family is a core for so much of what you're trying to build within a community that it's nice to have one day focused on the family out here.
"Obviously, every day could be family day, but there's work and there's school, so it's pretty easy to identify a day and make it affordable for everybody to come out and enjoy themselves and be together."
Sperling said because of the Zappos.com Fan Experience and the numerous other corporate partners that families are not just able to watch the tournament, but can enjoy a nine-hole miniature golf course, a 40-foot long putt challenge, four hitting bays, kiosks offering giveaways and souvenirs and the spotlight attraction — six swimming pools, the first public pools to be featured on the PGA Tour. The Fan Experience is located between the 17th and 18th holes and is open to the public while offering a picturesque vantage point to see the tournament.
"We love the opportunity to partner on a family-friendly activation to get more of the community involved in the great work that Shriners do all over the world," said Daniel Earl, events and sponsorship coordinator for Zappos.com. "Having pools and a putt-putt in a PGA tournament fits well with the Zappos third core value, create fun and a little weirdness."
Said Sperling: "How you spend your time when you're not working is usually dictated by your kids. So we've got to become an event where 'Tommy' and 'Suzie' are pulling on Mom and Dad's arm and saying I want to go to the golf tournament."
The Review Journal Family Four Pack must be purchased in advance: athttp://www.shrinershospitalsopen.com/Tickets with the promo code: LVRJ44.