Jordan Spieth enters Shriners Open looking to free roll this year
October 30, 2018 - 7:19 pm
Updated October 30, 2018 - 8:31 pm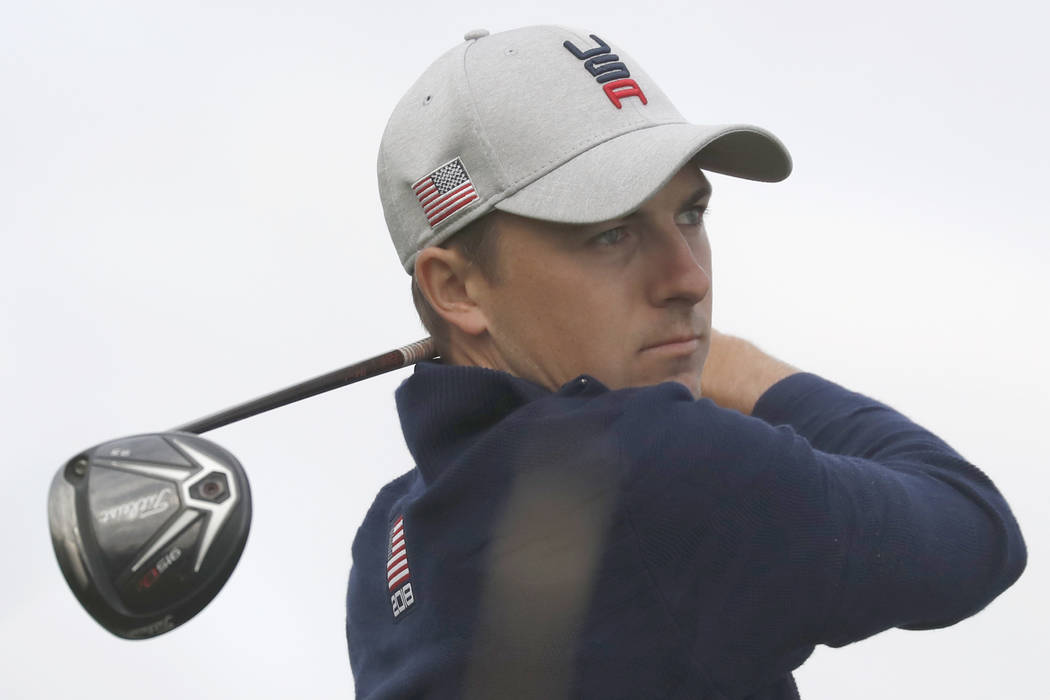 Jordan Spieth was stung by his near-miss to end last season when he finished 31st in the FedEx Cup Playoffs.
Only the top 30 advanced to the Tour Championship, and Spieth officially was edged out by Patton Kizzire.
In the ultra competitive mind of Jordan Spieth, though, his idol Tiger Woods — who at 42 had defied his medical chart and roared into the playoffs on a hot streak that carried him to victory in a season-finale Tour Championship — was to blame.
"I really felt like I played like I was 30th, but Tiger played healthier than everyone thought," Spieth quipped Tuesday. "He just kind of took my spot there and went on and won."
Spieth, 25, marks his PGA Tour season-debut with his first appearance at the Shriners Hospitals for Children Open beginning Thursday at TPC Summerlin. He's coming off what he called a "building year, something that I think will be beneficial for me in the long run. I know that's an easy thing to say looking at kind of the positive rather than negative, but there were tangible, mechanical things that I needed to address."
Asked what those tweaks entailed, he smiled and said, "I can't, that's a competitive advantage for myself."
Spieth's optimism and enthusiasm runs rampant every time he tees it up in a tournament. He always sees the cup as half full — even when his golf ball refuses to drop in one.
The putter proved his nemesis during a winless 2017-18 season, when he ranked a woeful 136th in shots gained putting. He couldn't crack the top 20 in the other shots gained statistical categories, either, and posted two third places as his best finishes.
He owns three major titles, but the last of his 11 PGA Tour victories came at the 2017 British Open. That's a 16-month drought that clearly doesn't measure up in an era of instant gratification.
Spieth understands those expectations can be unrealistic. "I get people are caught up in a what-have-you- done-for-me-lately perspective," he said. "I'll be honest, for a little while that kind of stuff got to me."
The new generation of golf stars includes Spieth, of course, and invites what seems like weekly comparisons to Brooks Koepka, Rory McIlroy, Dustin Johnson, Rickie Fowler and Justin Thomas among others atop the game right now.
"If Jordan doesn't win 10 tournaments a year, something's wrong," Davis Love III said Tuesday. "They want guys to be perfect, but it's going to be up and down.
"It's like Jack and Arnie, like Tiger versus Phil. You're not going to win every week. It's the same with Rory. But they all can't be No. 1."
Told what Love had to say about the expectations of 10 wins a year, Spieth offered a quick response.
"Been a rough go for me then, huh?"
Spieth insisted he's found a better balance and no longer playing the comparison game.
"I'm trying," he said. "I feel like I'm free rolling this year."
He's brought a new driver to TPC Summerlin and figures if he can hit 65 percent of the fairways the rest of his game will elevate and put him in position to win the Shriners Open and notch his first victory since July, 2017.
A simple plan, to be sure. One that's sure to be scrutinized, too.
Tom Spousta can be reached at tspousta@reviewjournal.com or 702-387-2505. Follow on Twitter at @TheRealTSpou.