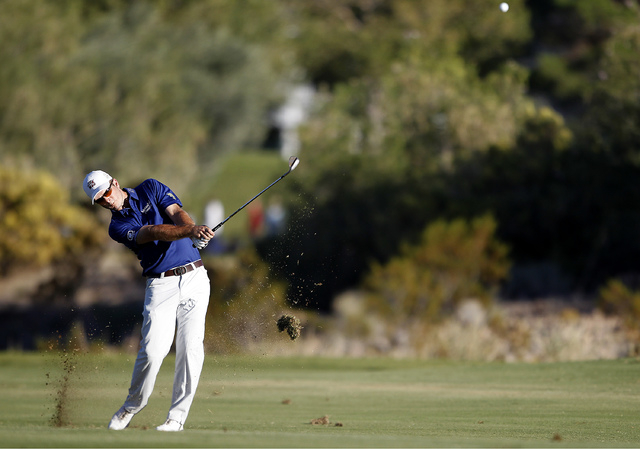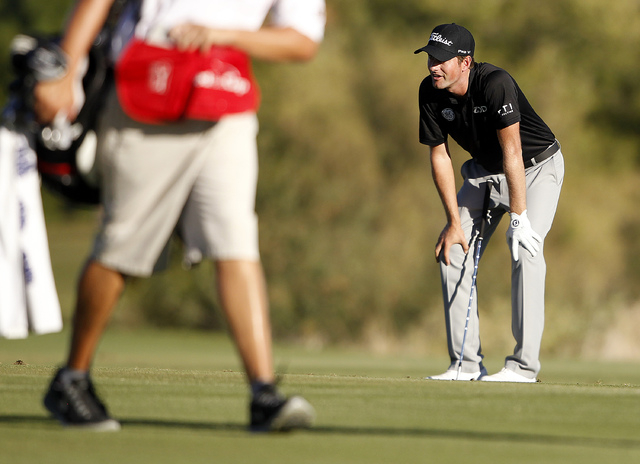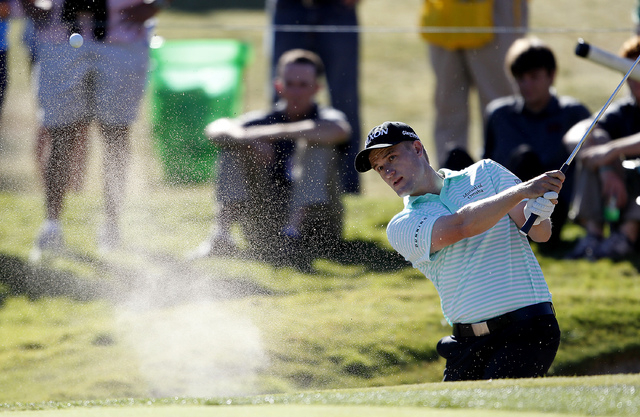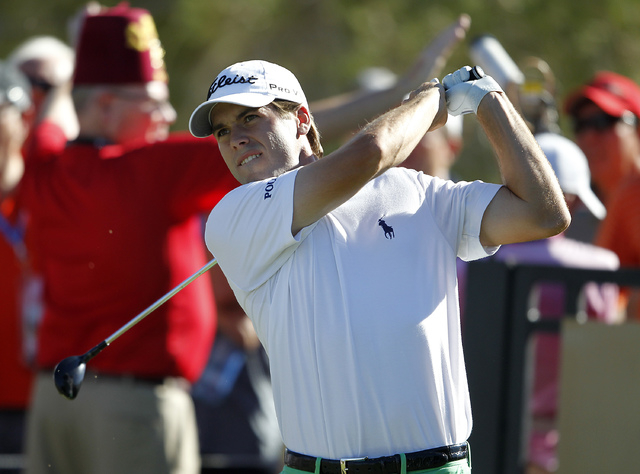 It came down to one long putt that snaked in and one short putt that refused to drop.
That's how the championship of the $6.2 million Shriners Hospitals for Children Open was ultimately determined Sunday. Ben Martin, who was limping to the finish line, found some gold dust in his putter as he made a 46-foot, 5-inch eagle putt at the par-5 16th hole at TPC Summerlin, while Kevin Streelman was unable to get a 5-foot birdie putt to drop at the par-4 18th.
The two players swapped spots on the leaderboard and Martin, who still had two holes to play, held on for a two-shot win at 20-under-par 264 and earn his first career victory on the PGA Tour along with a two-year exemption and a spot in next April's Masters.
"I just kept my head down and kept plugging along," said the 27-year-old from Greenwood, S.C., who played at Clemson and pocketed $1,116,000 for his week's work. "Obviously, the putt at 16 was huge. I hadn't had a lot go in all day."
Martin capped his win with a 20-foot birdie putt at No. 18. Streelman was already in the clubhouse hoping for a miracle, but Martin made sure there would be no additional drama as he calmly made birdie to seal the victory.
"That was a nice way to finish," said Martin, who played his final four holes to 4-under par. "To make a 20-footer for birdie to seal it up was special. It takes the stress out of the rest of the season. Hopefully, I won't get too comfortable."
Streelman, who had scorched the back nine Saturday with six consecutive birdies, used the same formula to get to the top Sunday. He made birdie at five of six holes, including three straight as he got to 18-under par. And with Martin struggling to stay in it, it appeared Streelman was on his way to the winner's circle. But Martin righted the ship with a a birdie at the par-4 15th, then hit an excellent shot at 16 to give himself a chance to at least make birdie and get even.
He did one better. He obviously did a good job of reading the break on the long putt, and as it stayed on line, the gallery surrounding the green let out arguably the day's biggest roar.
"I always tell myself to finish strong," Martin said. "To win tournaments, you have to finish, so it was cool to be able to do that."
For Streelman, who earned $669,600 as the runner-up, it was a frustrating way to end.
"I just knew I needed to make as many as quickly as possible, and fortunately I was able to do that," Streelman said. "I wish I could have hit that putt at 18 a little harder. But I tried my best. It was still a great way to start the year."
Martin had started the final round with a two-shot lead over Russell Knox. Knox, however, encountered trouble late on the front side, carding a bogey at the par-3 No. 8 and a double-bogey 7 at the par-5 ninth. At that point, he was five shots out of the lead and appeared to be through.
But he did a nice job of regrouping, going 4-under on his back nine to finish in third place at 268 with his final-round of 1-under 70.
Defending champion Webb Simpson made a belated charge but came up a bit short, finishing tied for fourth at 269. At one point, he was six shots behind Martin and pulled within one, but he was unable to get any closer as he finished with a bogey at 18.
"Honestly, through 12 holes, I wasn't even thinking about winning or even being in contention," Simpson said. "But it's a sour way to finish after making that run on the back nine."
TPC Summerlin wasn't giving anything away Sunday. The pins were tucked in places that were virtually impossible to shoot at, and players had to improvise and rethink their strategy.
Martin, however, managed to find a way to do enough things right at the most opportune times, and he was rewarded for his patience. He also became the fourth straight champion to win the Shriners Open after having the lead going into the final round.
"I tried to take the same mindset as I did all week," Martin said. "But the course was playing tougher, and I think I was a little more conservative than I should've been. But when I made that birdie at 15, it relaxed me. Then the eagle putt at 16 got me back to the way I was earlier, and I got my confidence back."
Contact reporter Steve Carp at scarp@reviewjournal.com or 702-387-2913. Follow him on Twitter: @stevecarprj.
Shriners Open leaderboard
At TPC Summerlin
Purse: $6.2 million
Yardage: 7,255; par: 71
Final round
Ben Martin 68-66-62-68 — 264 -20
Kevin Streelman 71-67-63-65 — 266 -18
Russell Knox 65-67-66-70 — 268 -16
Brooks Koepka 69-68-64-68 — 269 -15
Webb Simpson 69-65-67-68 — 269 -15
Jimmy Walker 69-69-62-69 — 269 -15