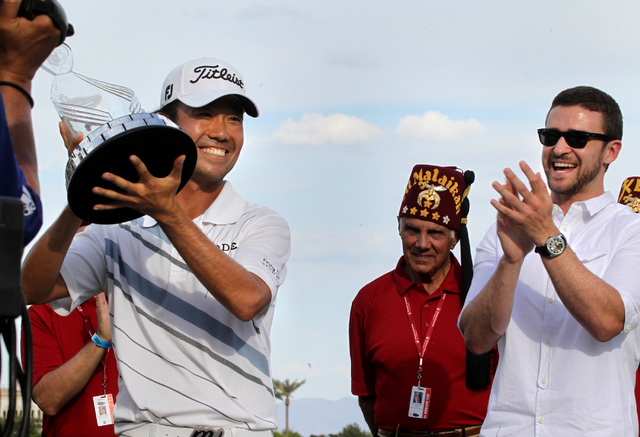 There's a sign in Freddie Roach's boxing gym in Hollywood that has a simple three-word message:
"It ain't easy."
And while golf isn't boxing, winning on the PGA Tour requires a fair amount of fight, a willingness to battle and grind it out, of putting a bad shot behind you quickly and moving on, much like a boxer might try to forget about a bad round.
The Shriners Hospitals for Children open tees off Thursday and seven former champions are competing in the 144-player field. Of the seven, only two — Stuart Appleby and Martin Laird — have won more than once since holding the Waterford crystal trophy on the 18th green at TPC Summerlin.
And if winning on the Tour isn't tough enough, try repeating as Shriners Open champion, which is what Webb Simpson will attempt to do this week. Jim Furyk is the last person to go back-to-back, having won in 1998 and again in 1999. He also won in 1995.
George McNeill, who won in 2007, has won only once since. Jonathan Byrd, who won in 2010 in dramatic fashion with a hole-in-one in sudden death, also has just one win since his victory in Vegas. Same for Ryan Moore, the former UNLV All-American who won the 2012 Shriners Open. Las Vegas' Kevin Na, the 2011 champion, hasn't won since.
"Winning in general isn't easy," Moore said Monday while on the practice range. "Everyone out here is talented and doing their best to win. You may have days where you play great but someone just plays better."
Na said: "You have to play well but you alo need to have some luck (to win). It's so competitive out here. Nobody gives anything away."
Those who have won the Shriners Open say that the memories will stay with them long after they're done with competitive golf.
"There were so many things that week that made winning special," Moore said. "One was being the first UNLV player to win the tournament. It's pretty awesome that I'm the first from UNLV to win and that's something to be proud of given all the great players that have come out of the program.
"The other thing was my wife's and my anniversary is always during the tournament week and my son was born right after the tournament. So there's a lot of personal factors that come with playing and winning here."
McNeill remembers the pressure he was under as a rookie and how winning allowed him to stay on the Tour.
"I was in danger of losing my card," McNeill said. "There were a lot of things I was thinking about. But it was a big relief to get that first one.
"Winning is probably the hardest thing to do out here. The second-hardest thing is keeping your card out here every year."
McNeill said sometimes it just comes down to who is hot at the right time. When he won in 2007, he was draining putts from everywhere and he wound up winning by four shots.
"There's so many birdies out here (at TPC Summerlin) that it essentially becomes a putting contest," he said. "Everybody out here has a chance to win every week. Even if you're ranked 1,oooth in the world, you have a chance."
Na remembers one putt in particular which helped seal his victory in 2011.
"When I made that 42-footer on 17 to give me a two-shot lead with one to play is what I'll always remember," Na said. "Of course, being my first win will always make it special and hopefully there'll be many more to come. You just have to stay patient."
NOTES — Former UNLV star Bill Lunde made it into the field thanks to a sponsor's exemption. Lunde recently got his PGA Tour card back after a strong season on the Web.com Tour where he finished 22nd. … Alex Prugh also joined the field off the alternates list after Scott Langley withdrew.
Contact reporter Steve Carp at scarp@reviewjournal.com or 702-387-2913. Follow him on Twitter: @stevecarprj.
PAST CHAMPIONS
Seven past champions are entered in this year's Shriners Hospitals for Children Open at TPC Summerlin.
Stuart Appleby, 2003
George McNeill, 2007
Martin Laird, 2009
Jonathan Byrd, 2010
Kevin Na, the 2011
Ryan Moore, 2012
Webb Simpson, 2013