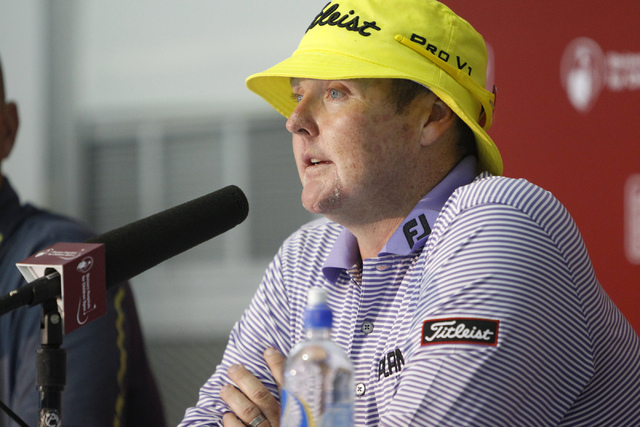 Jarrod Lyle says he would be fine if he never played another competitive round of golf. But the fighter in him probably wouldn't have accepted that idea.
The 33-year-old from Australia has survived his latest battle with leukemia, which sidelined him for 2½ years, and is back on the PGA Tour. Lyle first was diagnosed with cancer at age 19 and beat it. But when it returned in March 2012, the fight was much longer.
"I said to my wife (Briony) and a lot of people that if I never play golf again, I'm happy with that," Lyle said. "I'd sort of made that decision early on that if golf weren't part of my future, then I could step away from the game and be happy.
"But with a few kicks in the pants from my wife, it was easy to get back and play and do what I love doing. With her support and help, I'm back playing again."
Lyle finished tied for 31st last weekend at the Frys.com Open, his first action on the PGA Tour since February 2012 (he played in four Web.com Tour events in July and August). He said his stamina was good considering his inactivity.
"I get very tired at nighttime," he said. "But when I'm on the course, touch wood, everything is OK."
Emotionally dealing with cancer was every bit as taxing as the physical fight.
"The whole process was very tough on me," Lyle said. "But I think it was a lot tougher on my wife. I guess in a way I was lucky in that I had been through it once before and I knew what was to come. I knew what was the whole protocol of the treatment and that kind of stuff. So for me, it was a little bit easy to deal with it.
"Obviously, I had good days and bad days in there, and there were days where I was so sick I didn't ever think I was going to get out of there. But I'm back, I'm playing golf and I can now put that part of it behind me."
Lyle is supporting an effort to raise money to fight leukemia by being an ambassador of Challenge, an organization dedicated to helping children with leukemia. Challenge's mascot, a duck named "Leuk," has produced a pin and also a head cover to raise money.
The pins, which cost $5, and the head cover, priced at $30, are available at the Pro Shop at TPC Summerlin this week. They can be ordered online, in addition to other "Leuk" items, through the organization's website — challenge.org.au.
■ PRO-AM RESULTS — Carl Pettersson's team posted a score of 17-under-par 54 to win Wednesday's pro-am by one shot. Pettersson's amateur partners were Sean Harney, Ed Taney and Aaron Taylor.
Pro Kevin Streelman's team of Bob Kenney, Mike Lee and Kevin Szura finished second at 55.
The Pro-Am "Dream Team" trio of R.J. Wren, Jared Brentz and Kim Moore, all of whom had been treated at a Shriners Hospital during their lives, played with Jonathan Byrd. They finished at 61, tied for 22nd.
Among individual pros, Jason Bohn had the day's best score, a 7-under 64, one shot ahead of John Senden and two ahead of Billy Horschel and Kevin Stadler.
■ GRAHAM BACKS OUT — Canadian pro Graham DeLaet pulled out of the tournament because of a back problem. He will be replaced by Byron Smith.
Contact reporter Steve Carp at scarp@reviewjournal.com or 702-387-2913. Follow him on Twitter: @stevecarprj.