'Stress free' Peter Uihlein stays atop Shriners Open in Las Vegas
November 2, 2018 - 12:58 pm
Updated November 2, 2018 - 7:47 pm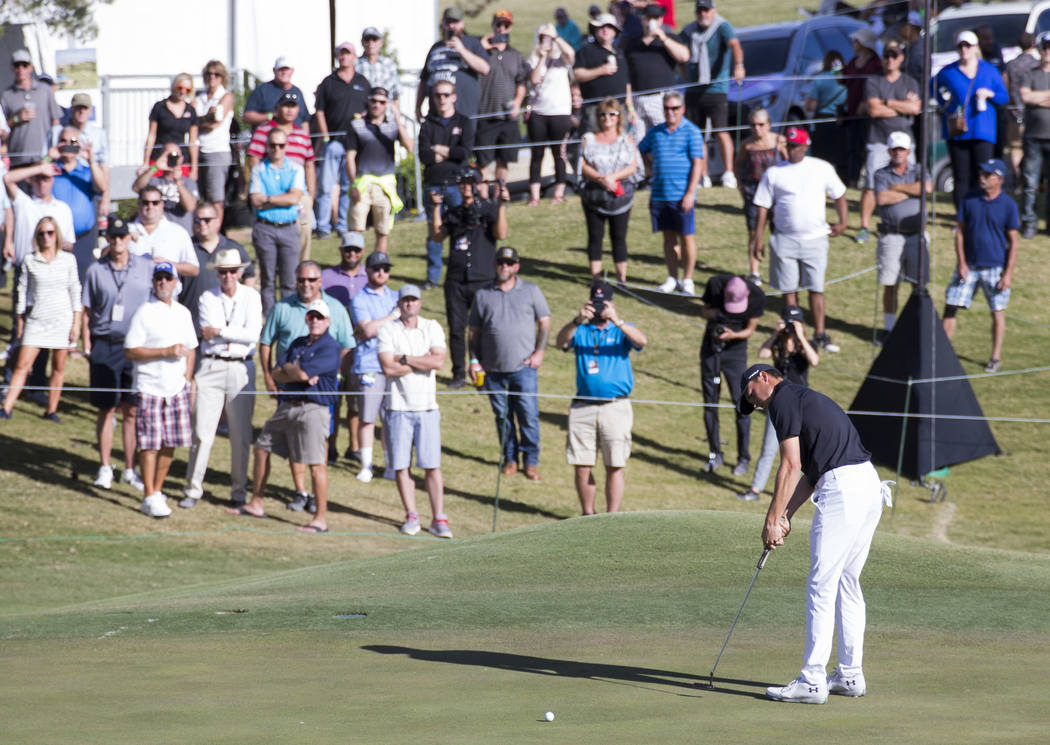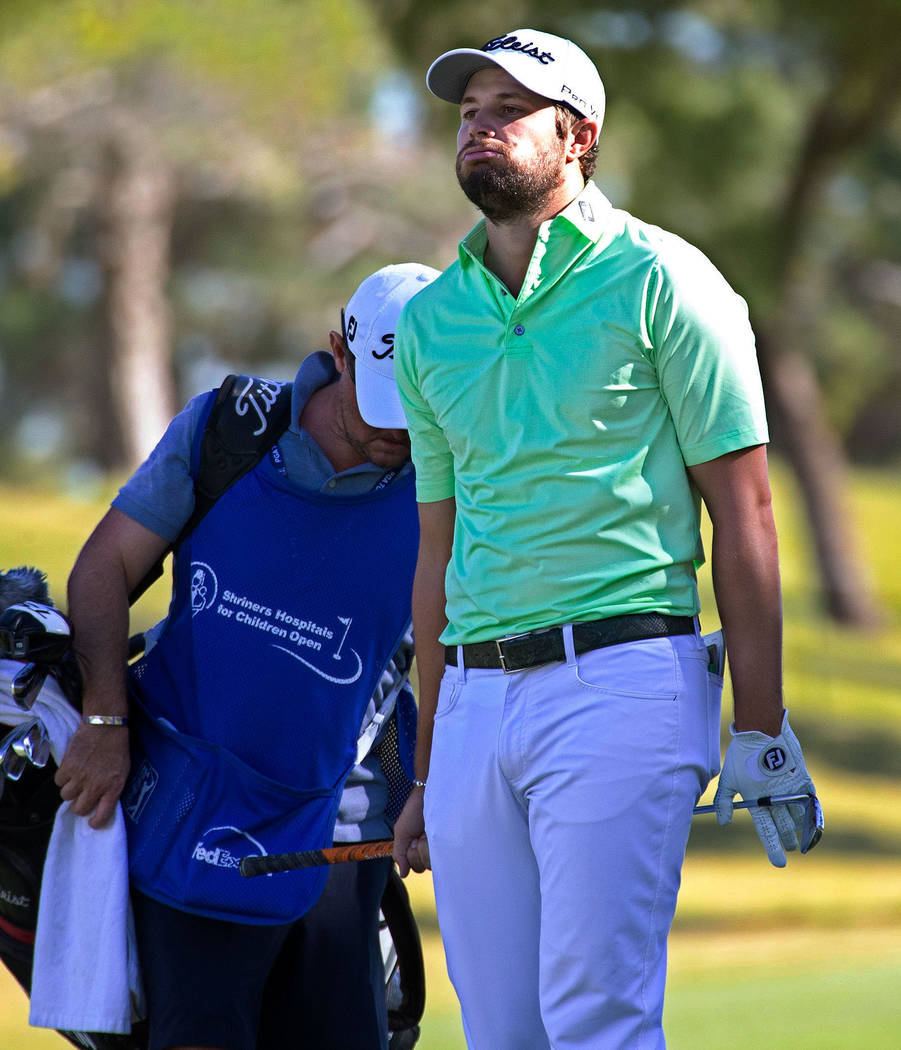 Peter Uihlein never led after any round in 59 career starts on the PGA Tour, so to hear him use the phrase "stress free" to describe his ride to the top of the Shriners Hospitals for Children Open leader board was a revelation of sorts.
The numbers backed up his tale of two rounds at TPC Summerlin. He's hit 32 of 36 greens, setting up 15 birdies. He's made only two bogeys, one in each round. The mallet-style putter he switched to for Las Vegas has proved straight and true.
Yet after seven consecutive pars mid-round Friday he was about to be caught in a traffic jam akin to morning rush hour at the Spaghetti Bowl.
"I just didn't hole anything," Uihlein said. "But I kept giving myself chances. That's all you can really do. I felt like eventually the ball would go in as long as I just kept giving myself chances and staying patient I had a chance."
Uihlein promptly buried five birdies over his last seven holes to shoot 66 and retain the lead for the second time in his 60th tournament. His 5-under-par score put him at 13 under — a 129 total that marks his career-best for 36 holes — good for a two-stroke lead over Robert Streb (66) and last year's runner-up Whee Kim (65).
Fourteen players fell within six shots of Uihlein, who if he looks in the rearview mirror will see Bryson DeChambeau, Jordan Spieth and Rickie Fowler among those in hot pursuit heading into what's expected to be tougher conditions with winds in the 10-15 mph range throughout Saturday's third round.
"I'm not sure this course was meant to be super difficult," Streb said. "The wind can make it tough. It's kind of one of those places you just have to keep after it. Everybody is making birdies here and you've just got to try to keep it going."
DeChambeau was stuck in neutral through nine holes, before blasting through the back nine with five birdies for a 66 that put him three behind at 10 under with Abraham Ancer (66) and Harold Varner III (67).
Spieth opened with five consecutive pars and finished with four birdies and a bogey to card 68. He was in a four-way tie for eighth at 8 under.
Fowler's steady 67 included six birdies and two bogeys and kept him within six shots of Uihlein at 7 under par.
"I put myself in some good positions," Fowler said. "I felt like we had better control on numbers today and controlling our distances. There was a few spots where I was able to take advantage and be aggressive, but you do have to play smart at times. There are a few holes if you get out of position they can jump up and get you pretty quickly."
Uihlein's game has looked unflappable throughout both sides of TPC Summerlin. Thursday, he lit up the front nine with six birdies to shoot 30; Friday, he turned up the heat on the back nine with those five birdies to card 31.
He's spread his scoring around, too. He's 3 under on the par 5 holes, 8 under on the par 4s and 2 under on the par 3s.
The soft-spoken Uihlein doesn't see himself as a streaky player, but knows he'll need to shoot two more "stress free" scores to notch his first PGA Tour victory in his first appearance at the Shriners Open.
"I can get it going," he said. "I can shoot some low scores. But everybody out here can. I don't think that it's really going to matter here until Sunday afternoon really on the back nine."
Contact Tom Spousta at tspousta@reviewjournal.com or 702-387-2505. Follow@TheRealTSpou on Twitter.