SNSHOF inductee helped found two youth organizations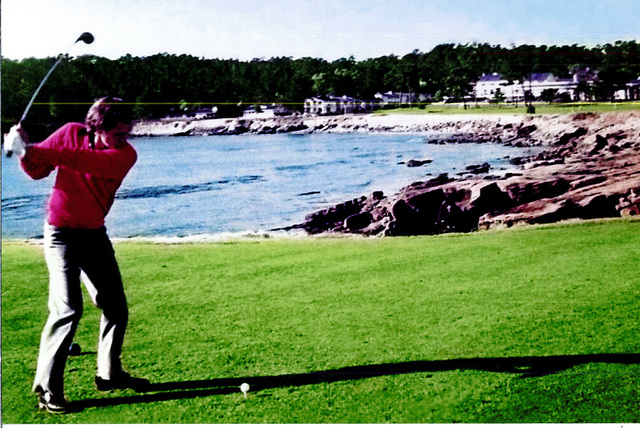 If something happened in Las Vegas golf in the past five decades, there's a good chance Joe Kelly had a hand in it.
Whether it was being the host club professional at a PGA Tour event or seeing local boys and girls get started in the sport or helping UNLV launch its pro golf management program, Kelly has been involved.
For those achievements, Kelly will be inducted into the Southern Nevada Sports Hall of Fame on Friday at Orleans Arena, joining boxer Mike Tyson, NASCAR driver Kurt Busch, former UNLV and NFL quarterback Glenn Carano and longtime rodeo coach Ric Griffith in the Class of 2015.
"I've seen the golf business really change over the years," Kelly said. "Las Vegas has become a golf destination with people coming from all over the world to play some of the high-end courses. But it also is a great time for locals to be able to go out and play. We have such a variety of courses. There's something for everyone."
Kelly, 64, has been instrumental in promoting the game for young people. He helped found the Southern Nevada Junior Golf Association in 1977 and the First Tee of Southern Nevada in 2000.
As someone who made his living teaching people how to play, what better way than to develop a steady, lifelong clientele.
"It's a great game," Kelly said. "You learn a lot of life skills and sportsmanship through golf, and when these kids travel all over the country to play in tournaments, they're great ambassadors for Las Vegas."
Kelly learned the game growing up in Brigham City, Utah. He wasn't big enough to play Pop Warner football, and even though he was a good athlete, he fell in love with golf.
"My father was an avid golfer, and it was a way for us to do something together," Kelly said. "I loved being outdoors, and I loved the fact it was just you out there competing."
Kelly also was realistic. He was a pretty good player, but the idea of playing on the PGA Tour was one he quickly dismissed.
He could, though, remain an active participant in the sport by teaching others how to play.
"I was working in the pro shop (at Brigham City municipal) when I was 16, and my dream was to be a club pro," Kelly said. "I could be around people and help them learn to enjoy the game."
He came to Las Vegas in 1977 and landed a job as the assistant club pro at the prestigious Desert Inn Country Club. When the PGA Tour played the Panasonic Las Vegas Invitational in 1983, Kelly was the host pro. He went on to serve as host for six PGA Tour events and two LPGA events.
Meanwhile, golf course construction was starting to pick up in the late 1980s and early 1990s. Steve Wynn was building Shadow Creek. Bill Walters was building Desert Pines, Royal Links and Bali Hai.
Other courses were springing up all over the valley. Kelly helped oversee the building and running of Walters Golf, and it was then that the city began to thrive as a golf destination.
"That's when everything changed," he said. "Las Vegas had become more than just gambling and the shows. Golfers had a reason to bring their clubs to town."
But to Kelly, the real way to grow the game locally was through kids. Each year, local high school players are earning golf scholarships. At UNLV, students who might not be good enough to play for the Rebels can still launch a career in the sport through the golf management program.
"That is my greatest satisfaction," said Kelly, who currently serves as director of operations for Duncan Golf Management and oversees six courses in Reno and Lake Tahoe. "We've given these kids a foundation for having a quality life through golf."
Contact reporter Steve Carp at scarp@reviewjournal.com or 702-387-2913. Follow him on Twitter: @stevecarprj.