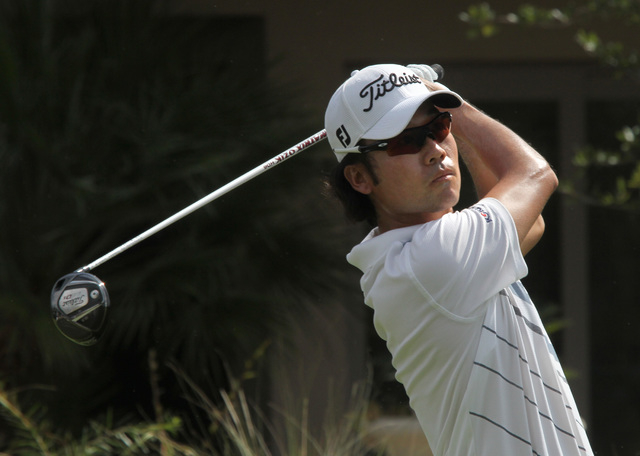 UNIVERSITY PLACE, Wash. — More than 150 golfers in the U.S. Open field are preparing for a unique challenge at Chambers Bay Golf Club, but not all of them are happy about it.
Include Summerlin resident Kevin Na among the course's naysayers.
"It's really firm, just dried out," Na said Tuesday. "Really baked out. It's a little over the top."
Arguably the closest setup to a links-style course in the United States, Chambers Bay is playing more like a British Open than a U.S. Open, he said. "I've never played anything like this in the States."
With fine fescue grass greens, elevated and banked fairways, deep bunkers and multiple tee boxes to choose from on several holes, USGA executive director Mike Davis can essentially make the course as difficult as he wants, the 31-year-old South Korea native said.
And if pins aren't placed in the right spots, it could make the course unplayable, Na said.
Na wasn't the only player to voice concern about potentially unfair conditions for the year's second major, which begins Thursday.
Tiger Woods said the course's many variables make the U.S. Open one of the most difficult majors he has prepared for.
"You're going to see some different things this week than you have at probably any other major championship," Woods said.
Graeme McDowell, who won the 2010 U.S. Open at Pebble Beach, said fescue green surfaces of "average" quality could make long putts even more challenging.
"It requires a huge amount of patience and a lot of discipline," he said.
But Na, who finished 12th at last year's U.S. Open and was fifth after three rounds of this year's Masters before finishing 12th, says his first major title might not be that out of reach despite his gripes about the course.
"I have high hopes, and I'm really striking the ball well," he said. "I'm confident with how I'm playing."
Na, who spent most of his practice time on the greens, said adjusting to the fescue grass will be the difference between cracking the top 10 and missing the cut. He also wouldn't mind if Davis showed a little mercy.
"Difficult is OK, as long as it's fair," Na said. "Sometimes the USGA likes to flirt with that borderline."
Na tees off at 8:50 a.m. Thursday. Former UNLV golfer Adam Scott will tee off at 8:17 a.m., and former Rebels Ryan Moore and Charley Hoffman will begin their rounds at 2:50 p.m.
Contact Chris Kudialis at ckudialis@reviewjournal.com or 702-383-0283. Find him on Twitter: @kudialisrj.