The 18 most interesting golf holes in Las Vegas Valley
Updated August 21, 2023 - 12:13 pm
Southern Nevada is truly a golfer's paradise. With more than three dozen public courses in the Las Vegas Valley, there is no shortage of places to play and different layouts to experience.
And no matter the course, there always seems to be something memorable about it. Which got us thinking: What are the area's most interesting holes?
We called golf experts, regular players and took our own personal assessments into account in compiling this list of the 18 most interesting holes in the region.
There were some ground rules. With so many options, we limited each course to a single choice. We know certain layouts have multiple holes that belong, but we wanted to touch as many different courses as possible.
We also limited it to public courses, while excluding those that come with green fees higher than a monthly car payment (we're looking at you Shadow Creek, Wynn and Cascata). These are holes that the general public can play without examining their monthly budget in advance. We also kept it to the Las Vegas Valley, so all those great courses in Mesquite and others in Laughlin are not here.
Selected holes are based on having something interesting to offer, either in having multiple ways to approach them, challenges that aren't found on other holes, or the sheer beauty of the surroundings.
Holes are listed with their yardage from blue, white and red tees, although some layouts offer more than three choices.
So, debate away. Next up on the tee …
Angel Park (Mountain)
■ Par 3 4th
■ Yardage: 136 (blue); 114 (white); 97 (red)
An innocent hole to complete a great three-hole strategic stretch. Green has two distinct tiers, and when the pin is on the back shelf landing short leaves a massive uphill putt. Long forces players to hit an exact chip that can catch the slope and end up 50 feet away.
Bali Hai
■ Par 3 16th
■ Yardage: 141 (blue); 123 (white); 98 (red)
Island green is lined with palm trees and surrounded by pure white sand. But your work isn't done after hitting the green. Ridges and slopes make two-putting a challenge depending upon pin placement.
Boulder Creek (Coyote Run)
■ Par 4 9th
■ Yardage: 404 (blue); 375 (white); 347 (red)
There's trouble everywhere on this hole, and multiple ways to try to play it. It features a penalty area down the left, desert down the right, and a creek crossing the middle of the fairway. A classic hole where you must determine where you want to land your shot, pull the right club and execute.
Desert Pines
■ Par 4 12th
■ Yardage: 382 (blue); 343 (white); 309 (red)
One of the most daunting tee shots visually in Las Vegas, with a narrow chute lined with pine trees giving less than a 10-yard-wide gap. Once in the fairway, you'll get a visual treat as bunkers guarded by railroad ties line the fairway. There are plenty of difficult holes and lots of water at Desert Pines, but No. 12 is something you won't find at any other course in the region.
Highland Falls
■ Par 3 14th
■ Yardage: 206 (blue); 172 (white); 126 (red)
This is a good hole that plays differently with every trip as the tee boxes can be moved and distances altered considerably. The green is large with plenty of slopes, but that's the golf part. This hole is memorable for having one of the best views of Las Vegas from the tee box at any public course in the area.
Las Vegas Golf Club
■ Par 3 3rd
■ Yardage: 98 (blue); 96 (white); 83 (red)
One of the shortest holes you'll find anywhere, this innocent hole early in the round will play mind games with you. A wedge or 9-iron seems easy enough, but the green is very narrow. Hit it heavy and you'll find a front pond. Hit it slightly long and you're chipping back at the water. More often than not, you walk off wondering how you could screw up your round so early on such a simple hole.
Las Vegas National
■ Par 4 13th
■ Yardage: 326 (blue); 304 (white); 278 (red)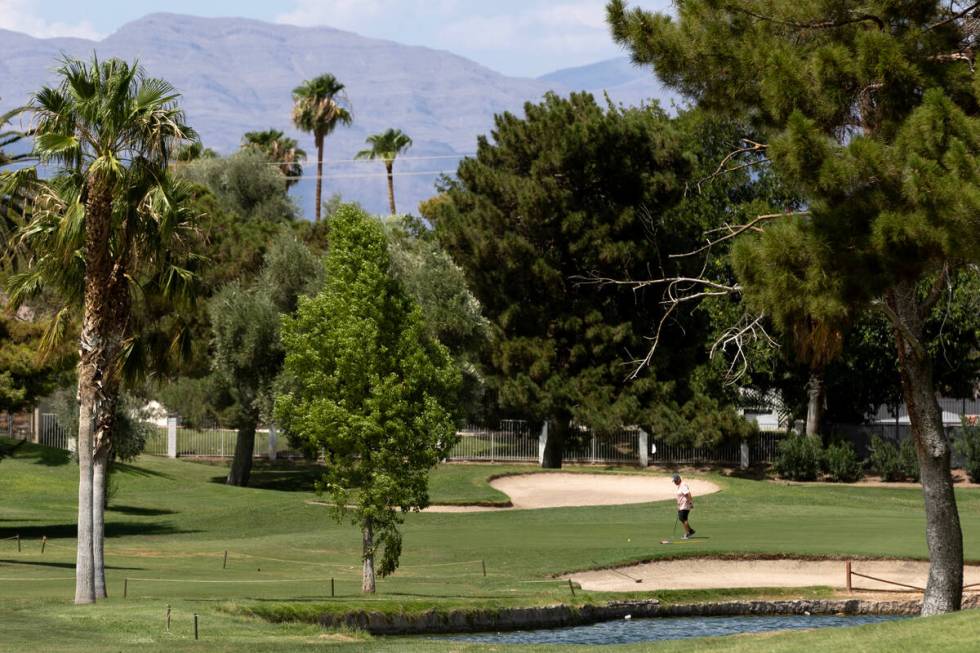 Logical players will put their ball in play, hit a short iron into the green and walk away with an easy par. But most players think this hole next to Dionne Warwick's former home is the time to take a chance and rip a driver as far as they can. It usually ends up in the lake guarding the right and front of the green, or it goes left into trees and they walk off with a 6 or higher on their card.
Painted Desert
■ Par 4 14th
■ Yardage: 299 yards (blue); 277 (white); 251 (red)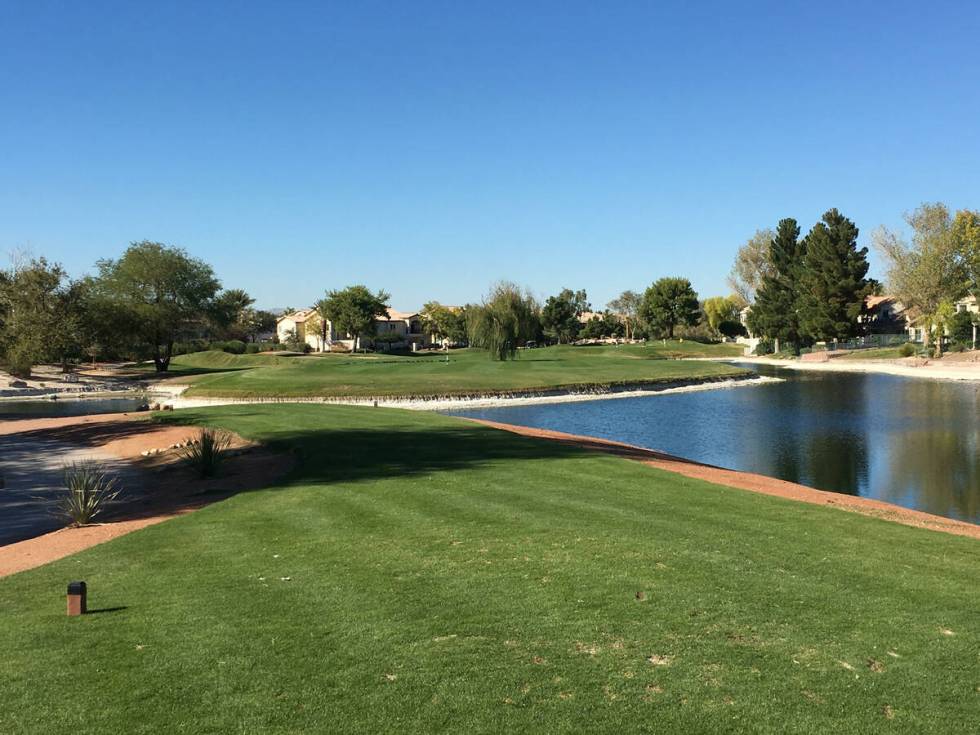 Much like the 13th at Las Vegas National, the key to this hole is laying up off the tee and avoiding all the water on the right and a low-hanging tree on the right edge of the fairway. But players take too much club and get in trouble long and left, or find the water. It's also later in the round when logic tends to go out the window.
Paiute (Snow Mountain)
■ Par 4 18th
■ Yardage: 418 (blue); 387 (white); 348 (red)
One of the signature holes at this three-course resort has water all down the left, and it's long enough – and usually into the wind – that playing safe is not an option. Go left, and it's water. Go right, and you get a long second shot over the edge of water from some gnarly rough. It's visually stunning, a great finishing hole, and the stadium-like green usually has spectators above watching you putt, which can be quite intimidating.
Paiute (The Wolf)
■ Par 3 15th
■ Yardage: 162 (blue); 110 (white); 98 (red)

Possibly the best par 3 in Southern Nevada with its island green. Already visually intimidating, players are completely exposed to Paiute's traditional winds, making pulling the right club challenging. And it's no bargain once you're on the putting surface, with a three-tiered green that is one of the hardest at the resort to read.
Palm Valley
■ Par 4 9th
■ Yardage: 350 (blue); 327 (white); 287 (red)
Another short par 4 where danger lurks for those who just won't play it safe off the tee. Playing down the left — but not too far left — gives a safe angle to the green guarded by water to the front right. But don't get too aggressive with huge drop-offs behind the green.
Reflection Bay
■ Par 5 9th
■ Yardage: 531 (blue); 502 (white); 488 (red)
So many holes at Reflection Bay run along the shores of Lake Las Vegas, and this is one of the most visually stunning. It's not a hard hole if you can hit your targets; if not, the drive, layup and approach are all terrifying. A handful of palm trees around the green can give players second thoughts on their approach shots.
Revere (Lexington)
■ Par 4 15th
■ Yardage: 361 (blue); 342 (white); 308 (red)
The downhill tee shot over desert is a challenge with bunkers placed right in your target line. Players must also cross a creek and more natural turf to reach the green, where pins can be tucked into difficult spots to reach.
Rhodes Ranch
■ Par 3 3rd
■ Yardage: 160 (blue); 112 (white); 107 (red)
A difficult hole to play early in the round as players are trying to figure out what's working for them that day. The hole plays over a pond to the right fed by a waterfall. It's the best of a great set of par-3s on the course.
Rio Secco
■ Par 4 2nd
■ Yardage: 452 (blue); 432 (white); 265 (red)
One of the most spectacular desert holes anywhere, the drive comes from elevated tees with views of The Strip and much of the Valley. Drives seem to hang in the air forever before plummeting to the fairway below. The hole doglegs to the right to a green guarded by difficult bunkers.
Sienna
■ Par 4 11th
■ Yardage: 334 (blue); 289 (white); 263 (red)
This short par 4 has two defenses, mainly bunkers seemingly everywhere when trying to place your tee shot. The approach is made difficult by a steep slope in front of the green that will catch anything hit slightly short of the target.
TPC Las Vegas
■ Par 4 14th
■ Yardage: 356 (blue); 339 (white); 275 (red)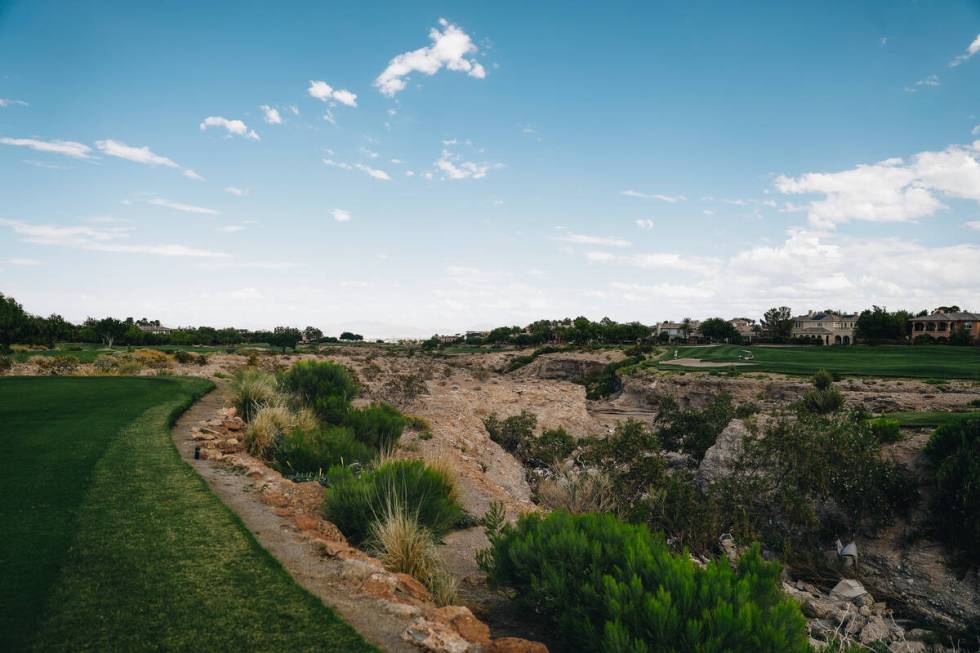 This hole explains why the course was originally known as TPC Canyons. The blind drive goes over one desert canyon that requires trust in aiming at the correct target. The approach then goes down to a small green guarded by another canyon in front. This is a hole where almost any number is possible if shots are off target or distances are off.
Wildhorse
■ Par 4 18th
■ Yardage: 371 (blue); 345 (white); 296 (red)
Not the hole you want to see at the end if you're not playing well. It features five separate water features, undulating mounds, large trees and trouble in every direction. Putting the ball in the fairway off the tee solves most of the issues, but that's an uncommon accomplishment among many double-digit handicappers.
Greg Robertson covers golf for the Review-Journal. Reach him at grobertson@reviewjournal.com.