UNLV golf alum Adam Scott reaches career milestone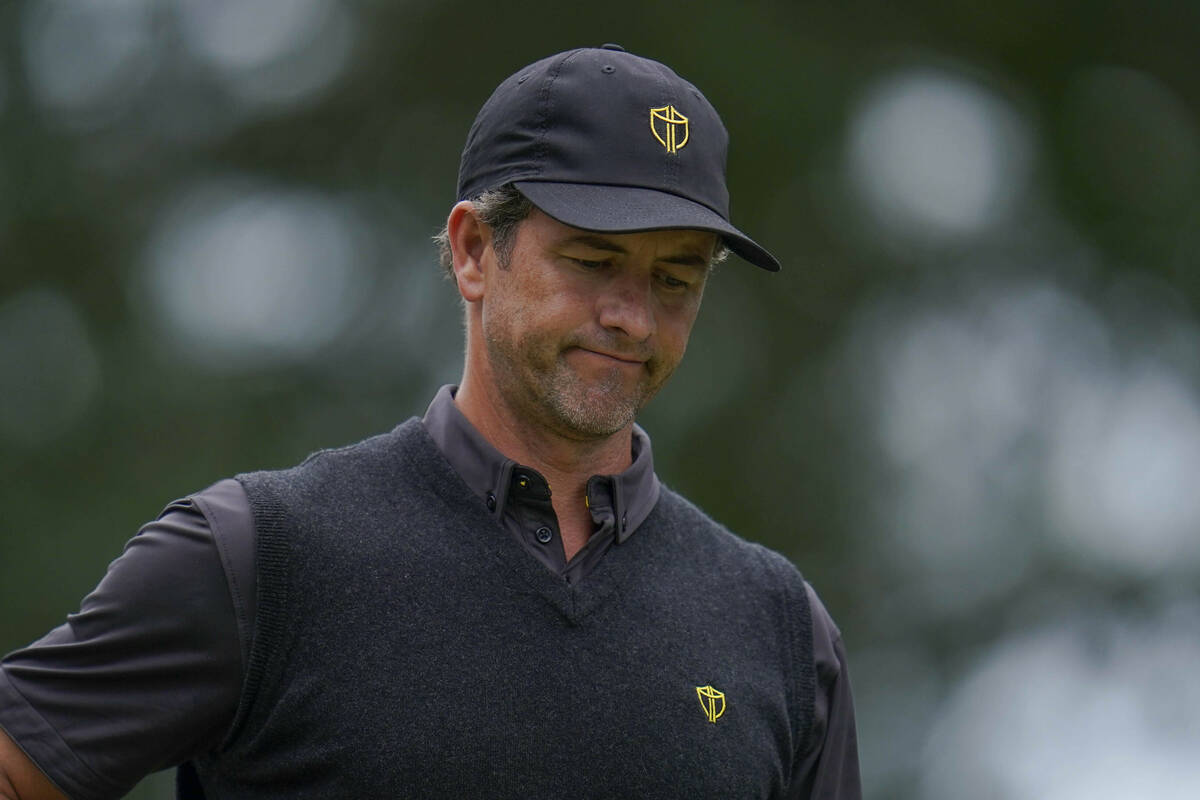 Adam Scott has come a long way since he was playing golf at UNLV: Masters champion. World No. 1. Thirty-one professional wins, including 14 on the PGA Tour.
This month, Scott reached a career milestone when he became the seventh player to cross $60 million in career earnings on the PGA Tour. For Scott, lists like that are not that big of a deal.
"You know, they're kind of meaningless," he said from Hawaii last week, where he was starting his 2023 season. "I think on all the lists No. 1 is a cool spot to be. The rest is whatever."
Scott said more than anything else the figure is more of a testament to being out on tour more than 20 years.
"I think it speaks to probably more longevity," he said of the $60 million plateau. "If I try to find positives in stuff about myself these day, longevity. I've been out here a long time, generally played at a high level, so it adds up."
Just 42, Scott is still very competitive on tour and has many years left to add to that total. But the realist in Scott knows he won't be climbing the all-time money list much longer.
"I think I'm going to plummet quickly in a few years time if I play a bit less and these young guys continue to play for these kind of numbers," he said.
These numbers, as he put it, are the massive increases in purses. Exhibit A is the Players Championship, which Scott won in 2002 with its $1.44 million first prize. That same tournament will offer a $4.5 million check to the winner this March.
Money, however, was never the goal for Scott when he left UNLV in 1999.
"When I first came out … I don't think I had a career money goal at all," he said. "I think it was more about I would win majors goal, and honestly, I don't know if my goals were any more complicated than that."
Reaching No. 1 in the world was a goal when he was a junior player, but even after several big wins on tour he felt that probably wouldn't happen.
"After a few years on tour, like maybe many others if we're all being honest, felt like they were going to be unattainable because Tiger was so dominate at No. 1 and he was winning about two majors a year," Scott said.
But eventually, injuries and scandal caught up to Woods and the door opened to others, including Scott, who made it to the pinnacle for 11 weeks in 2014.
His emphasis now is to make the PGA Tour as good as it can be as it works to stave off a threat from LIV Golf. The rival league reportedly made a big play for Scott, but he's committed to the PGA Tour, so much so that this week he became a member of the Player Advisory Council for the first time. For Scott, the key word is advisory.
"I think we (players) could probably have an input as to what the end goal is, but how to get there, I don't think we have the overall skill set to do that," he said. "Just because we're good golfers doesn't mean we know how to run the world rankings or a business or anything like that."
Kang defends
The LPGA Tour season begins this week with the Tournament of Champions where Las Vegas resident Danielle Kang will defend. But 2023 will have a different look for Kang, who has parted ways with longtime caddie Olly Brett.
Golf Digest first reported the separation, but Kang has not said who will be carrying her bag this week in Orlando, Florida.
One of the most familiar teams on the LPGA Tour, Kang and Brett have been together for more than five years and for five of Kang's six wins on tour.
Chip shots
* Strong weeks in Hawaii moved two Las Vegas players to their highest ever places in the world rankings. Maverick McNealy jumped to No. 57 with his tie for seventh at the Sony Open, while Taylor Montgomery reached No. 61 with a tie for 12th.
* Las Vegas Golf Club is hosting the Big Game Parlay on Saturday. Two-player teams will play six holes each of alternate shot, best ball and scramble. Cost is $159 per team.
Greg Robertson covers golf for the Review-Journal. Reach him at grobertson@reviewjournal.com.
Pro schedule
PGA Tour
Event: The American Express
When: Thursday-Sunday, noon-4 p.m. (TGC)
Where: Stadium Course, La Quinta, California
Purse: $8 million
2022 champion: Hudson Swafford
LPGA Tour
Event: Hilton Grand Vacations Tournament of Champions
When: Thursday-Friday, 9 a.m.-noon (TGC); Saturday-Sunday, 11 a.m.-noon (TGC), noon-2 p.m. (NBC)
Where: Lake Nona G&CC, Orlando, Florida
Purse: $1.5 million
2022 champion: Danielle Kang
Champions Tour
Event: Mitsubishi Electric Championship
When: Thursday-Saturday, 4-7 p.m. (TGC)
Where: Hualalai GC, Ka'upulehu-Kona, Hawaii
Purse: $2 million
2022 champion: Miguel Angel Jimenez