UNLV induction ups golf ante for Southern Nevada Sports Hall of Fame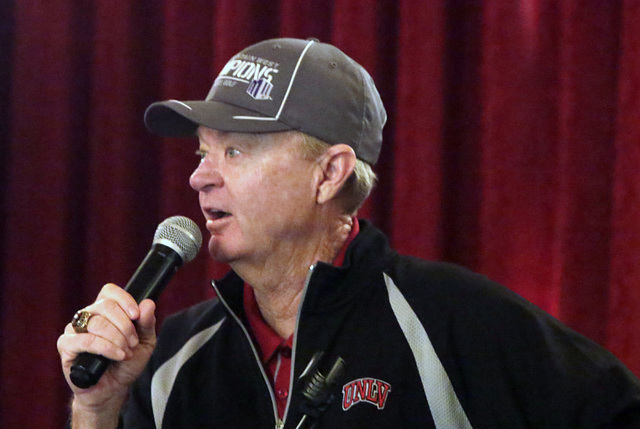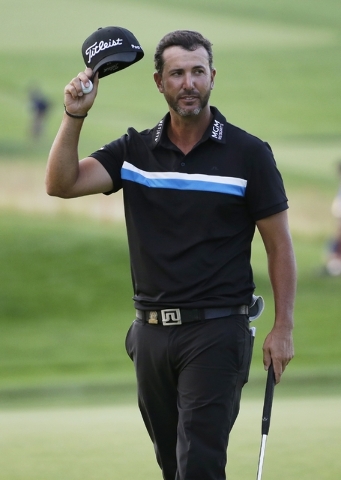 When the 1998 NCAA-title winning UNLV golf team is inducted into the Southern Nevada Sports Hall of Fame on Friday at Orleans Arena, the group will become the eighth golfer or group to receive the honor.
The players will join previous inductees Chris Riley, Stephanie Louden, Robert Gamez, Jim Colbert, Joe Kelly and UNLV coach Dwaine Knight, who was inducted individually in 2004. The Las Vegas Founders Club also was inducted.
The sport has played a major role in the organization and the lives of many inductees. A fundraising golf tournament, this year at Siena, is part of the annual induction festivities, and while golf isn't the main reason most have been inducted, the sport was an important part of several bios.
Physical therapist/trainer Keith Kleven, a 2005 inductee, continues to work closely with the UNLV golf team and trained Tiger Woods for many years.
Dick Calvert, a 2010 inductee and the voice of UNLV basketball and other sports, has been a huge supporter of the UNLV golf team.
Christina Hixson, a 2011 inductee, manages the Ernst F. Leid trust and made one of the largest donations to the UNLV golf team.
Many other inductees love the game, including Don Logan, Greg Anthony, Tina Kunzer-Murphy, Greg Maddux, Mike Maddux and Pat Christenson.
"Golf is an important part of Southern Nevada and makes a substantial economic impact, so it is terrific to have golfers recognized, especially since they all have such deep roots in our community," PGA of America pro and 2015 inductee Joe Kelly said.
PIERCY EARNS MEDAL
Scott Piercy graduated from Bonanza High School and is a three-time PGA Tour champion. He also won the $2 million Ultimate Game played at Wynn Golf and Country Club in 2007.
But his most impressive performance might have been last weekend when he won a medal after his three-way tie for second at the U.S. Open at Oakmont. Piercy, who has been working with TPC Summerlin professional Jeff Smith, shot rounds of 68-70-72-69 to finish at 1-under 279, three shots behind Dustin Johnson, who works with Las Vegas pro Butch Harmon.
"What a week!" Piercy wrote on Instagram. "So close. Oakmont was a great test and I'm proud I was able to shoot under par for the tournament."
CADDIE CUP DETERMINES BEST PLAYERS
The inaugural Caddie Cup was played Monday at Cascata and featured teams from Southern Highlands, Wynn and Cascata. Team Wynn, comprised of Ken Jarner, Brad Church, Dack Ishii, Jon Scolari, Eric McCardle and Pat Duty, won.
GOLF DEAL OF THE WEEK
Play Chimera for as low as $20 this summer.
STARS ON, OFF COURSE
Single-digit handicap and New Orleans Saints quarterback Drew Brees attended the Topgolf grand opening.
The golf notebook appears each Thursday. Freelance writer Brian Hurlburt is a two-time author who has covered golf in Las Vegas for more than two decades. He can be reached at bhurlburt5@gmail.com or @LVGolfInsider.