UNLV program produces golf management pros
August 31, 2016 - 11:09 pm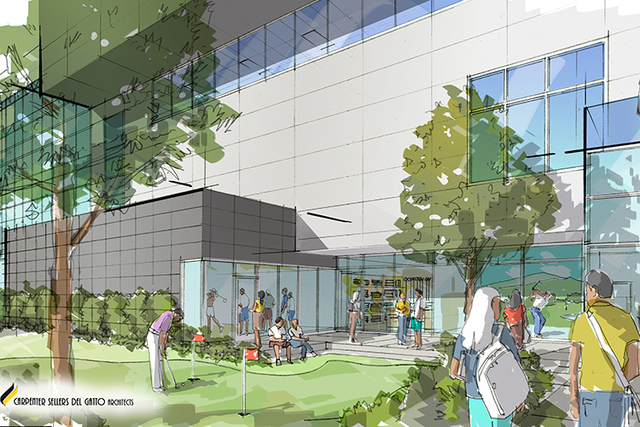 Hardly a week goes by on the PGA Tour without a former UNLV golfer showing up on the leaderboard. Last week at The Barclays it was Adam Scott, Ryan Moore and Charley Hoffman each finishing in the top 13.
Besides those stars, the school is helping launch the careers of a different kind of pro through its PGA of America Professional Golf Management program, one of only 18 in the country.
Last weekend, friends and family gathered to celebrate the past while looking ahead to a bright future for the club pro program. A tournament was played at Cascata, and a dinner was held at the Las Vegas Country Club. The evening was highlighted by a keynote speech from incoming PGA of America president Paul Levy.
"The annual event serves as a reminder of why we do what we do," said Christopher Cain, UNLV's Professional Golf Management director. "Seeing our students, alumni, parents, faculty members and industry supporters together reinforces our family values and the support for UNLV and the PGA of America. Having Paul Levy return to UNLV also signals a strong sign of respect for what UNLV does to serve an aspiring set of future leaders in the game of golf."
During the evening, UNLV senior Mitch Degruf was recognized for earning the Southwest Section PGA Scholarship, and senior Jeremy Stoks and junior Austin Snow for each earning a Mathew S. Anderson Scholarship. Program graduate Jon Horner, the director of instruction at Corde Valle Golf Club in Oregon, was named Golf Professional of the Year.
Another topic of conversation was the new Hospitality Hall on the UNLV campus. When it opens in 2018, the 93,500-square-foot building will serve the William F. Harrah Hotel of College Administration and also be the home of the golf program. Hospitality Hall plans include office space, event space overlooking the Strip, convertible and interactive classrooms, a student-run cafe, a PGM learning center, boutique golf shop, golf simulator and a putting green.
"The new building will serve the hotel college in unique ways, not the least of which, providing the opportunity for points of collision among faculty, students and the golf industry," Cain said. "We will also use our research space to collaborate with colleagues and other research institutions to better understand the golf swing through bio-mechanic screening, which will be a huge benefit to our student's player development and instruction."
Several benefactors have made sizable financial gifts, but additional funding is being sought. Interested donors can call Cain at 702-895-2932.
BUCKHOLZ RALLIES FOR WIN
Jason Buckholz won the Nevada State Net Match Play Championship at Falcon Ridge Golf Club in Mesquite. Buckholz defeated defending champion Arturo Estrada 3 & 2.
ROYAL LINKS TO STAY GREEN
The turf pigmentation experiment at Royal Links is over, and because of its success, the course will not be overseeded this year. According to course superintendent Michael Donahue, the course not only won't shut down for any amount of time, but conditions also will improve.
"Not overseeding works for us because it's been a natural progression over the last few years with the pigmentation process, and we've been successful limiting our overseed," Donahue said. "Now we are taking the next step."
The process is popular in other parts of the country but is fairly new to Southern Nevada.
DEAL OF THE WEEK
Save throughout the end of 2016 and all of 2017 with the Las Vegas Paiute Golf Resort Players Advantage Club Card. The membership features discounted green fees. If purchased in September, golfers will earn 20 percent of the purchase price back in green fees credit. The cost is $249. An additional range membership is also available.
STARS ON, OFF COURSE
An edition of "18 Holes with Natalie Gulbis and Jimmy Hanlin," which airs on Fox Sports Network, was recently filmed at Reflection Bay Golf Club. The two highlighted the 18 holes designed by Jack Nicklaus, and Gulbis also entertained members of her Las Vegas Boys and Girls Club.
The golf notebook appears each Thursday. Freelance writer Brian Hurlburt is a two-time author who has covered golf in Las Vegas for more than two decades. He can be reached at bhurlburt5@gmail.com or @LVGolfInsider.