'We knew we were the best': UNLV golfers remember NCAA championship
Updated July 9, 2023 - 10:59 am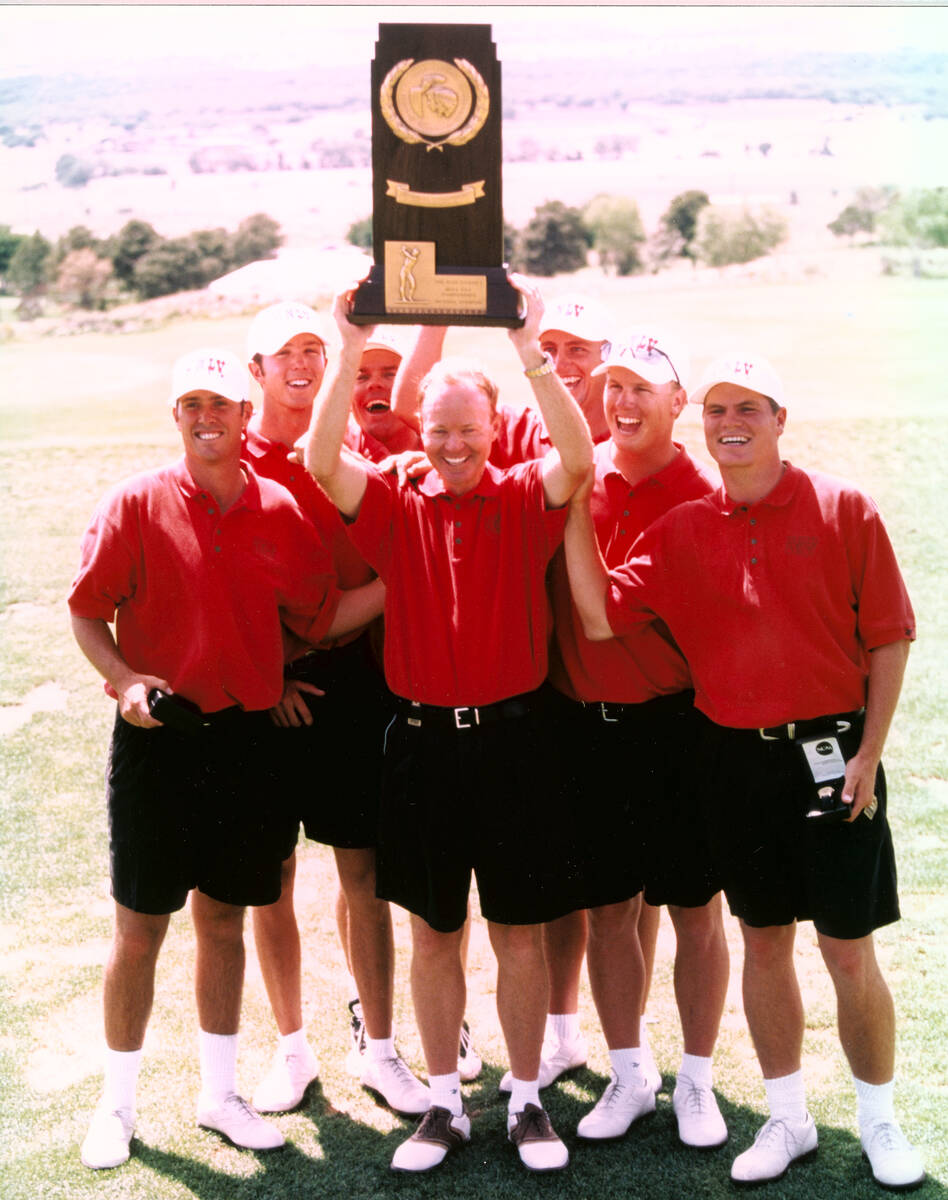 Only two teams in UNLV history have ever won a national championship. This summer, one marks its silver anniversary with its players still bonded, still competitive and still telling their story of redemption.
Redemption for a team that easily could have won the title the previous two seasons but came up short.
Redemption for a player who took personal blame for the loss in 1996 but came back two years later as the unlikely hero.
And redemption for a coach who left his alma mater a decade earlier to build a powerhouse program in Las Vegas and add the cherry on top of his Hall of Fame career.
It's been 25 years since UNLV won the NCAA men's golf championship, joining Jerry Tarkanian's 1990 Runnin' Rebels basketball team as the school's only teams to accomplish the feat. A quarter century since Jeremy Anderson, Chris Berry, Charley Hoffman, Scott Lander and Bill Lunde reached college golf's pinnacle.
"It's hard to believe it's been 25 years because the memories are so vivid," Anderson said. "There's a lot of rounds of golf that I don't remember, but I still remember the vast majority of pretty much every shot I hit that final day."
The preamble
To understand what happened on the Championship Course at the University of New Mexico in 1998, one must go back two years to Tennessee on the Honors Course outside Chattanooga.
While the world focused on Stanford freshman Tiger Woods chasing down his individual NCAA title, UNLV was in the thick of the team competition. The Rebels ultimately finished runners-up by three shots to Arizona State.
Berry took the blame after shooting 56-over for his four rounds in Tennessee.
"I absolutely played the worst golf of my career. I cost the team the national championship," Berry recalled. "If I had just had a heartbeat and played halfway decent just one day, we would have won the national championship."
Fast forward one year, and the Rebels had put the disappointment behind them. They steamrolled through the season and headed to the NCAA regionals in Chicago as the No. 1 team in the country. But they left Illinois three days later after missing the cut, bounced a week before even getting to the championship tournament.
"It was the shock of the world," Lunde said.
That championship season
The 1997-98 season got off to a shaky start. Stalwarts Chad Campbell and Chris Riley had graduated, and the Rebels weren't quite sure what the season had in store.
They won their opening tournament, but later in the fall traveled to Birmingham, Alabama, for the Jerry Pate Invitational, where they finished in a tie for last.
Coach Dwaine Knight had seen enough. So upset at their play — or maybe as a psychological ploy — he told the team he was skipping the next tournament in Miami so he could go recruiting for "some real players," as every member of the team vividly recalls.
"I don't know if it was a motivational thing," Berry said. "He was so mad, he was beside himself."
Players said Knight called them "a good 295 team," meaning the four scores that count on any day in a tournament would add up to 7-over 295.
"We'll never live that one down," Anderson said.
"That may be getting embellished a bit," Knight said while confirming the facts.
So Knight went off to recruit, and assistant coach Casey Whalen took the team to Miami.
"That moment coming back from Birmingham was sort of the trigger," Anderson said. "Whether he meant it or not didn't matter, because our personalities were so much of the 'expletive you, watch us.' We just looked at each and said if he doesn't want to go to the next tournament, we'll just win without him, and that's exactly what we did."
And kept doing. The Rebels won seven times in 15 events that season, including three straight at one point.
Championship week
The Rebels were the top team in the country when the NCAAs rolled around, even after they failed to win either the conference tournament or the regionals. It didn't matter to the team.
"We knew we were the best. We wanted to prove we were the best," Anderson said. "We weren't afraid to puff our chests out and say we were the best. And we couldn't wait to go prove it."
When they arrived in Albuquerque at Knight's alma mater, they faced a stacked field of schools and future PGA Tour players: Georgia Tech (Matt Kuchar, Bryce Molder), Oklahoma State (Charles Howell III, Bo Van Pelt), Clemson (Jonathan Byrd, Charles Warren) and Arizona State (Paul Casey) were just some of the teams standing in the way.
"I was so nervous on the first tee," recalled Lander, the team's youngest player. "I had never played in front of big crowds like that."
It didn't matter. UNLV got off to a solid start on Day 1 before catching fire in the second and third rounds to build a comfortable lead. But things weren't so easy in the final round. Whether it was nerves or just the way golf goes sometimes, things began to tighten.
These were the days before instant scoring and automated scoreboards, so players weren't quite sure where things stood.
"It's a strange dynamic," Lunde recalled. "You're on the course, but you're not fully aware of what's going on."
Lunde could feel things slipping away, until the coach of the Rebels' closest pursuer, Larry Penley of Clemson, approached him on the back nine.
"He said, 'Chin up, Lunde, Chris Berry's playing really well, and he's going to pull it off for you guys,' " Lunde said.
Yes, that Chris Berry. The one who played so poorly two years earlier. This time around, he was 16 under, in second place in the individual standings, and the hero the Rebels needed.
"I was 72 shots better. That's a whole round of golf," Berry said. "In 1996, I lost coach Knight a national championship, and in 1998 I kind of won one for him."
But it wasn't just Berry. The team's 34-under finish shattered the NCAA scoring record, and the Rebels became the first program in history to have more than two individuals ranked in the MasterCard Top 25. They had four: Anderson (ninth), Lunde (10th), Hoffman (21st) and Berry (23rd).
Knight kissed the 18th green as players celebrated nearby. The mission had been accomplished. They returned home to celebrations and events all over Southern Nevada. This was an era when UNLV athletics was everything to the region.
"The excitement and fulfillment that ensued not just in the moment, but in the weeks following with all the different celebrations, it really gave us a clear understanding of what our national championship meant not just for us, but really the entire community," Anderson said.
Team bond
Championship or not, this was a group that was as tight and competitive as they come. It didn't matter if it was golf, cards or something else, nobody on the Rebels wanted to lose. Lander recalls a moment in an airport when thing got heated between him and Hoffman in a contest tossing pennies and dimes against the wall to see who could land the coins closest.
"We were so ridiculously competitive that we didn't want to get beat by each other," Anderson said. "That was in everything. We were so competitive it made competing in golf tournaments easier. We knew if we could beat each other, the other teams weren't going to beat us."
The bond lives on 25 years later. The players keep in touch via text and social media and meet up when possible at Rebel events or Hoffman's foundation tournament. The title season was an experience that forever has joined them as a single unit.
"We don't get to see each other all that much," Anderson said. "We all have our own lives. We'll always be connected by what we accomplished back in 1998. We're all Rebels through and through."
Greg Robertson covers golf for the Review-Journal. Reach him at grobertson@reviewjournal.com.