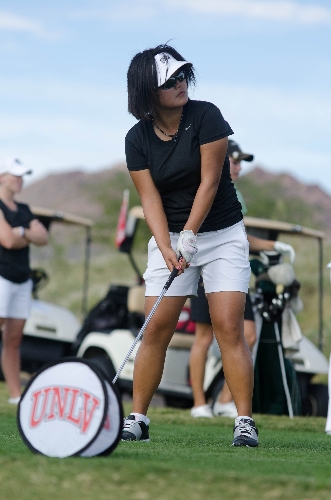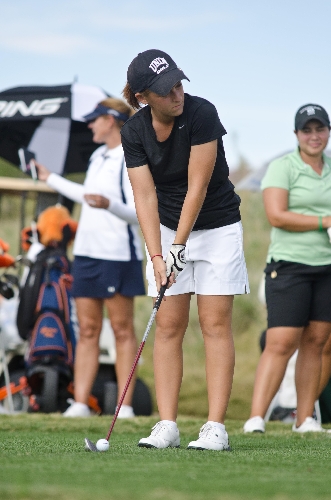 UNLV women's golf coach Amy Bush lost her top golfer, Therese Koelbaek, to graduation last spring. Now she's got a roster dotted with young players. And those players hail not only from the United States, but a host of other nations around the world.
So one might think Bush would be having a difficult time overseeing such a transition. One would be wrong, though.
"It's a whole new dynamic for this team," said Bush, in her second year since stepping up from assistant coach when Missy Ringler moved on from the University of Nevada, Las Vegas. "They're really close and really just enjoying spending time together. We're creating really good memories and having a great time out here."
Despite Koelbaek moving on to play professionally, Bush has senior leadership in Kristen Schelling, a two-time letter winner for the Rebels out of Mesa, Ariz., and Bethany Calvo, also a two-time letter earner who grew up in Franklin, Tenn., before moving to Henderson and attending Coronado High School.
She's got two more American players in freshmen Dana Finkelstein (Chandler, Ariz.) and Marguerite Swearingen (Livermore, Calif.). From there, Bush's roster reads like a United Nations convention: freshmen Mayko Chwen Wang (Taiwan) and Hee Jeong Lim (South Korea); sophomores Charlotte Brooks (New Zealand) and Katerina Prorokova (Czech Republic); and junior Ellis Keenan (England).
"It is interesting, because you have to understand people's cultures are different," Bush said. "Even some words in English are not interpreted the same way in other English-speaking countries. We do have a lot of interesting kids."
And interesting cultures enter the dynamic, too.
"You learn a lot about other people's countries — the food, the holidays. That's what's great about this team," Bush said.
Wang finished high school in Southern California but still hasn't been in the United States that long, and her mother lives here in Las Vegas with her.
"She really fits in well," Bush said of her Taiwanese player. "It's actually fun, because she's brought her culture to the team. Her mother lives here with her, and she is so giving. … I'm so impressed with the young lady."
Wang and Finkelstein have made a speedy adjustment to the college game. Wang played in all five fall tournaments for the Rebels, and Finkelstein cracked the starting lineup in four of the five events. The two led UNLV by tying for 12th at the Edean Ihlandfeldt Invitational in Seattle, and Finkelstein took eighth in the Rebels' Las Vegas Collegiate Showdown.
"We have two players fighting for Mountain West Conference freshman of the year, going back and forth," Bush said. "On the course, they're battling, but off the course, they're really good friends. And that's great, because sometimes you don't see that, where they have that on/off switch.
"Mayko has the best composure I've seen. She always has a smile on her face, and you try to get the whole team to see that. She really brings a lot of energy to this program."
Brooks has also been a nice surprise. She transferred from Tulsa and immediately bolstered the lineup, on and off the course.
"She's been a huge difference maker, showing leadership skills in the classroom and on the golf course," Bush said. "It's been a great transfer for her, and she's helped to make our team stronger."
Brooks posted her best finish and led UNLV by taking sixth in the Showdown, and her transition to Las Vegas from London via Tulsa has been seamless.
"Her adjustment was a little different," Bush said. "Tulsa and Las Vegas, those are pretty different cultures. But she loves the city and what it has to offer. The seniors have brought her in and made her feel welcome."
With the mix of newcomers and veterans blending so well, UNLV finished the fall with three straight top-10 finishes, and the players haven't made it easy for Bush to choose which five will compete in each tournament.
"It's still up for grabs, and it's been a really fun experience for us. We had five different starting lineups in the fall, just figuring out who wants to be in the lineup," said Bush, noting the team qualifiers get pretty interesting. "We have a team where any time, anybody could be the top player in a qualifier."
Bush noted she expects Swearingen and Keenan to have an impact on the spring tournaments.
"Marguerite worked really hard in the offseason and could come out of the chute fast this spring. And Ellis had a top-five finish in the Mountain West Conference Championships last spring," Bush said.
Indeed, while Koelbaek won the MWC title, Keenan was the second-best Rebel, taking fifth as UNLV finished second in the tournament and earned an NCAA regional berth.
Bush said there are two key areas her team needs to address for success, and neither involves taking a club to a golf ball: the mental game and physical conditioning.
"The mental aspect of the game, we're gonna do a lot of things in practice that will be a little different. We're gonna work a lot on the mental game," Bush said.
As for the conditioning, Bush said her team has developed a strong ethic for hitting the weight room — something that has rubbed off on the coach — and that was before being selected among the teams to work out at the newly christened Mendenhall Center on campus.
"Three times a week, with state-of-the-art equipment," she said of the routine, while noting her players have been full of zeal in doing weight work all year. "It's been such a new experience. They can't wait to get in the weight room. It's really been fun, and they've actually brought me back into the weight room. I'm working out with them. That's how much fun it's been."
Bush expects that fun to push her team further this spring, starting with the UNLV Invitational on Feb. 20-21 at the prestigious Cascata course in Boulder City.
UNLV fell short of two goals it set last year — winning the conference and advancing from regionals to the NCAA Championships. Bush said those two points are driving forces for the entire team, particularly for seniors Schelling and Calvo.
"Our seniors, we were so close last year to winning the Mountain West. We want to bring home that trophy this year. That's our first step," Bush said. "The second is to make it to the NCAA regionals."
And the overall goal — a berth in the NCAA Championships — has an extra source of motivation for the team. The tournament will be held in Franklin, Tenn., Calvo's hometown.
"Bethany wants to get home, and it would be a really great deal to bring her home," Bush said. "All the girls want to help her get back to Tennessee and play in the NCAA Championships. It's a great motivator for these student-athletes to see that and say, 'Let's get her there together.' "
Despite the varied backgrounds of her players and the strong play from underclassmen, Bush said egos and attitudes won't be roadblocks to achieving that goal. The veterans will see to that.
"The veterans are really concerned about the team and how we do overall," she said. "If we had different people in the upper class, it could be different. But these three (Schelling, Calvo, Keenan) have been impressive. Their true characters are shining through."