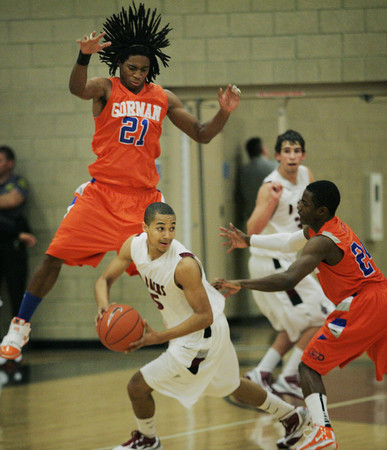 Bishop Gorman's boys basketball team made a national reputation by winning two holiday tournaments without sophomore star Shabazz Muhammad, who was out with a hip injury.
And with Muhammad back on the floor, area teams are proving to be no match for the defending Class 4A state champions.
Muhammad had 18 points and nine rebounds Friday as the Gaels, ranked 13th nationally by USA Today, rolled to a 90-47 road win over Desert Oasis to improve to 17-1 and 8-0 in the Southwest League.
"Shabazz is so dynamic out there, so it gives us a lift offensively and rebounding the ball," Gorman coach Grant Rice said. "Shabazz really rebounds. He hits the glass on the offensive and defensive end. And then he gives us 20 points a game."
Muhammad was one of five Gorman scorers in double figures. Anson Winder had 14 points, Ryan Parks and Johnathan Loyd each scored 12 and Taylor Spencer 10. Loyd also had nine assists and seven rebounds.
"Ryan Parks came off the bench and hit four 3s tonight, so the good thing about our team is we've got several different guys who can score," Rice said.
Gorman rolled through the first half of league play without being challenged. The Gaels' closest game was an 81-71 win over Western, and Gorman has outscored league opponents by an average of 32 points.
"We're happy to be undefeated through the first half of league play, but the second time around's a little tougher," Rice said. "We've seen those teams once, but they've also seen us."
Desert Oasis (9-7, 5-3) saw a team talented enough to bring Winder, a Brigham Young signee, off the bench. Rice said Muhammad's injury might have helped in the long run, as it forced Gorman to use younger players in key situations.
"You never want one of your main guys to be down, but it definitely gave some other guys some confidence," Rice said. "It gave them some real experience at the varsity level that they might not have gotten."
Anthony Lianzo had 13 points to lead the Diamondbacks, who lost for the third time this week.
Contact prep sports editor Damon Seiters at dseiters@reviewjournal.com or 702-380-4587.
In-depth high school sports coverage
FRIDAY'S HIGHLIGHTS
BOYS
Desert Pines' Tyler Larson had 35 points and 11 rebounds to lead the Jaguars to an 81-69 home win over Rancho.
Canyon Springs' Jeremy Alexander had 19 points, nine rebounds and eight assists in an 88-73 home victory over Las Vegas.
Legacy's Ira Haywood had 29 points in a 71-68 road victory over Centennial.
GIRLS
Desert Pines' LaBrea Walker had 22 points, 12 assists and seven rebounds in the Jaguars' 70-28 rout of visiting Rancho.
Shadow Ridge's Elisha Hensey shot 7-for-10 on free throws in overtime of the Mustangs' 53-47 win over visiting Cimarron-Memorial.
Virgin Valley's Rachel Morris registered 22 points and 17 rebounds in the Bulldogs' 43-38 home win over Moapa Valley.