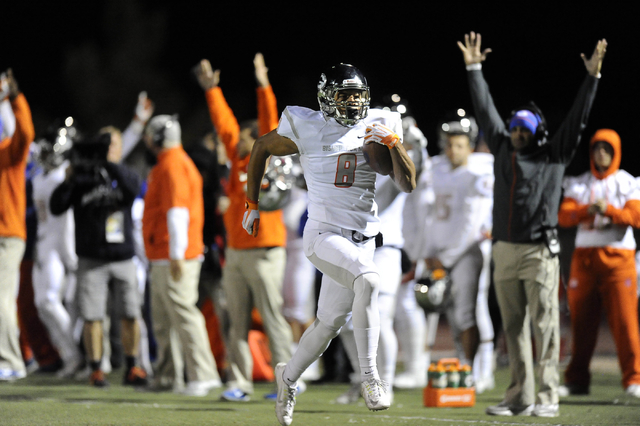 Bishop Gorman senior tight end Alize Jones announced Thursday on Twitter that he has orally committed to Notre Dame, a change of heart that comes less than three weeks before national signing day.
The 6-foot-4-inch, 226-pound Jones, regarded as one of the top prospects in the country at his position, originally pledged to UCLA in November 2013. Notre Dame tight ends coach Scott Booker visited Jones at Gorman on Thursday morning, the first day of the recruiting contact period.
Oral commitments are nonbinding, and the first day Jones can sign a letter of intent is Feb. 4. College coaches cannot comment until that time.
"I am officially decommitting from UCLA," Jones wrote on Twitter. "Thank you to the coaches and all the fans for your love and support! God has another plan for me!"
Jones later posted a picture of himself in a Notre Dame uniform on the social media site and changed his profile to read "Committed to the University of Notre Dame." He is the second Gorman senior to commit to the Fighting Irish, joining defensive back Nicco Fertitta.
Jones could not be reached for comment.
"He's struggled with this decision for a while now. It wasn't something he made overnight," Gorman coach Kenny Sanchez said. "He and his parents decided last night the best decision for him was to go to Notre Dame.
"I think it will be a great fit for him, especially playing tight end. Notre Dame and Stanford are the two schools I think of for producing tight ends. … I wish him luck, and I think he'll do great there."
Jones led the Gaels with 41 receptions for 930 yards last season and was a first-team all-state selection for the second straight year. He was second on the team in touchdown receptions with 13 as Gorman finished 15-0 and won USA Today's mythical national championship.
Jones, who made an official visit to Notre Dame last month, is a five-star recruit (No. 32 overall) and the nation's No. 2 tight end prospect by Scout.com. He is a four-star recruit (No. 70 overall) and the No. 2 tight end by Rivals.com, while 247sports.com ranks Jones as the top prospect at his position.