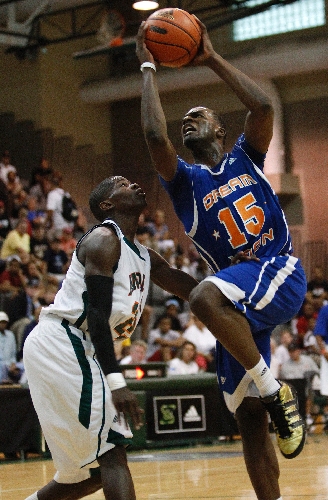 With a right ankle that had swollen to the size of a baseball, Shabazz Muhammad took the basketball court with a steely will to win Tuesday night.
"I'm just a competitor. The only thing that would have stopped me from playing is probably if my foot was broken," he said.
Muhammad, who will be a senior swingman at Bishop Gorman next season, didn't have the storybook ending to the adidas Super 64 tournament that he hoped for.
But by scoring 22 points for Dream Vision 17s (Calif.) in a 93-78 loss to Texas Assault in the title game, Muhammad said he "absolutely" showed toughness to big-name college coaches in the capacity crowd at Rancho High School.
"I really wanted to play, and I tried my hardest out there to win," he said.
Muhammad, a 6-foot-6-inch wing widely considered the nation's top 2012 recruit, suffered an apparent high right ankle sprain in Dream Vision's 67-56 semifinal win over Indiana Elite in Tuesday morning's semifinals.
Muhammad took a spill after a collision in transition with 14:22 to play, limped off the court and had his right ankle wrapped in ice on the bench for the rest of the game.
But the chance to play for a tournament title in what probably will be the final summer showcase of his storied prep career was important to Muhammad.
Muhammad said his ankle was "pretty sore" after the championship game, and he could have an X-ray taken today.
"I'll take some Advil. I just wanted to win," he said.
UNLV coach Dave Rice watched the title game from the stands with assistants Justin Hutson and Heath Schroyer. Even UNLV senior center Brice Massamba was on hand.
Fame isn't easily given to high school stars, but Muhammad is already a household name with many basketball fans.
His games at the tournament were often filled to capacity, with many fans wearing UNLV apparel to cheer for the scoring machine with the gold-colored shoes they would love to see on the Thomas & Mack Center floor.
Even No. 1 NBA draft picks John Wall and Kyrie Irving stopped by Rancho earlier in the week to watch their friend Muhammad play.
Muhammad's fame has grown beyond the heap of No. 1 national rankings from recruiting services.
He was recently featured in the Los Angeles Times, he's currently writing a diary for SLAM Magazine and he has more than 8,200 followers on Twitter.
Type the words "Shabazz Muhammad" into YouTube, and more than 2,200 videos display highlights that have college basketball boosters drooling over keyboards.
But on top of the NBA-caliber dunks and finishes in transition, Muhammad sent a buzz through press row this week with his defensive intensity. He gets some of that from film study of Los Angeles Lakers star Kobe Bryant.
"I model my game after Kobe. I watch a lot of him," Muhammad said. "People say I play like Kobe and (Oklahoma City Thunder guard) James Harden mixed together, so I kind of watch them and see how they play.
"I try to guard hard and make sure my guy doesn't score. I try to not let them get any points."
Reporters followed Muhammad the entire tournament with inquiries regarding his college choice. If it's a bother, Muhammad isn't showing it.
"A lot, a lot," he said when asked how often he is asked where he will play. "But, I mean, it's what they have to do, so I just tell them the information and go from there."
With his frenzied July evaluations tour over, Muhammad said the process of narrowing his choices finally is set to begin.
"I was worried about the AAU circuit, (but) now I'm going to concentrate on colleges, talk to my family and worry about that," Muhammad said.
Asked about the list of scholarship offers he's considering, Muhammad said UNLV, Kentucky, UCLA, Duke, Texas, Memphis, Texas A&M and "a lot of schools" are on the table.
"UNLV is right there and I really like them," Muhammad said. "Coach Rice has been to all my games, and obviously his brother (Grant Rice) is my coach in high school."
Muhammad is more media savvy than most of his peers, and his measured approach in dealing with the countless questions from the press has made his father proud.
"He's done a good job with that," said Ron Holmes, himself a basketball star, at Southern California in the 1980s. "He's a mature kid, he knows what he wants and he's focused. I expect that from him."
Muhammad is on course to be a McDonald's All-American and will graduate as the most heavily recruited player in Las Vegas history.
It might be a burden for some players, but Muhammad embraces going into every gym with a target on his back.
"There's a lot of pride in it," he said. "You've got to play hard, be a competitor and win every game."
n NOTES — Texas Assault guard Marcus Smart racked up 29 points, 18 rebounds, five assists and two steals Tuesday on his way to Super 64 Most Valuable Player honors. The Super 64 15s boys title went to Las Vegas Prospects, who downed Minnesota Pump N Run 54-51 in the final at Rancho. Arbor View forward Diontae Jones took bracket MVP for Las Vegas, and Palo Verde guard Darryl Gaynor and Valley guard Cameron Burton scored 10 points each for Las Vegas. UNLV's Hutson watched the performance. Texas D1 Ambassadors upset Houston Hoops in the Las Vegas Live Platinum Division title game at Durango.
Contact reporter Tristan Aird at (702) 387-5203 or taird@reviewjournal.com.
In-depth high school sports coverage