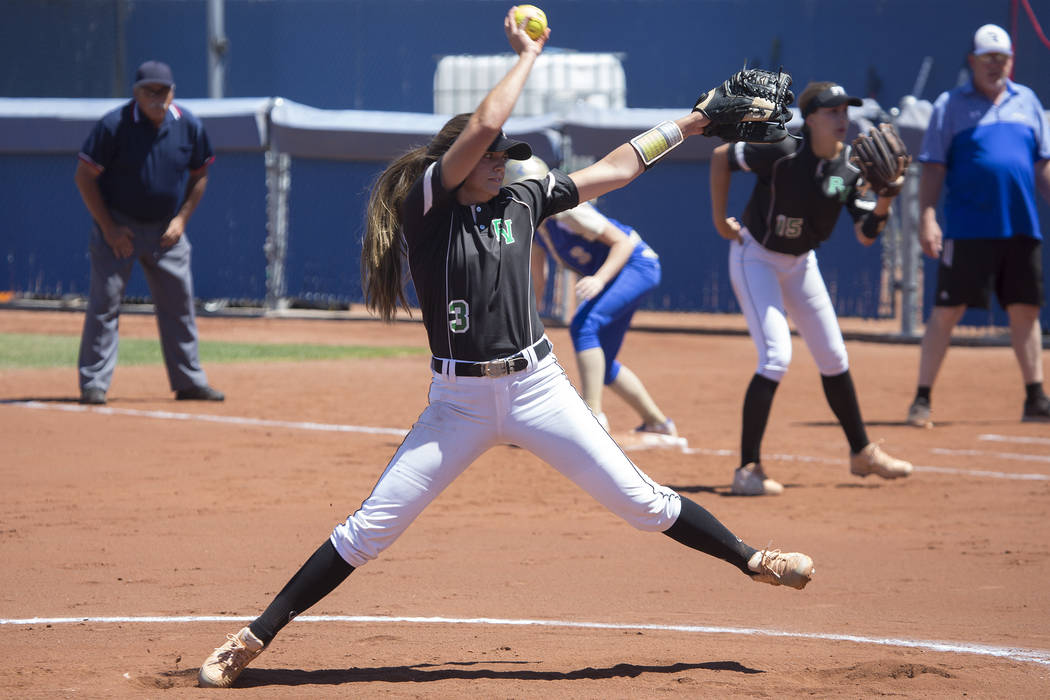 Grace Chavez gave herself the perfect 17th birthday present on Friday.
Taylor Askland made sure it didn't go to waste.
Chavez lined a two-run homer in the bottom of the fourth for the game's only runs, and Askland fired a six-hitter to lead Palo Verde to a 2-0 win over Reed in the winners' bracket final of the Class 4A state softball tournament at Bishop Gorman.
The Panthers (36-5) and Reed (34-3-1) square off again at 10 a.m. Saturday at Gorman for the championship, and Palo Verde must be defeated twice.
"It was my day," Chavez said. "My day to step up."
Palo Verde managed two baserunners in the first three innings against Raiders pitcher Julia Jensen before Cara Beatty's one-out single in the fourth.
After Ally Snelling struck out looking, Chavez connected on a 2-and-0 changeup and sent a missile over the wall in left field to break the scoreless tie.
"I got in there looking to drive an outside pitch," Chavez said. "I felt it right as I got in that box for that pitch. I was like, 'I'm going to hit this one out.' And I just drilled it."
Askland outdueled Jensen, a UNR signee and the two-time state player of the year, striking out five and walking one thanks to an effective changeup.
"I felt really good warming up," Askland said. "We wanted to beat her as a team. We came in ready."
Askland escaped a two-on, two-out jam with a strikeout to end the first and got Jensen to ground out with a runner on third to end the third inning.
Askland allowed only one runner to reach second base the rest of the way and retired 11 of the final 13 batters.
"She was on fire," said Chavez, the Panthers' catcher. "She kept it low in the zone, which she needs to do because they'll just roll over and give us ground balls all day. Her changeup was on. When she's on, no one can touch her."
Beatty went 1-for-3, and Lauryn Barker had the other hit for the Panthers, who have won 18 straight games.
"We just got to come out hitting strong and make sure we have our timely hits we've been doing," Askland said. "And our defense needs to stay strong and consistent like we've been."
■ Reed 9, Coronado 3 — Erica Hardy's two-run single in the bottom of the fifth tied the game for the Cougars (32-7), but the Raiders scored six runs in the 10th inning to advance.
Jensen hit two home runs, including a solo shot to lead off the 10th, and struck out 21 batters in her complete game. The strikeout total is No. 3 all time, according to the Nevada Interscholastic Activities Association record book.
Dayton's Mackenzie Cole fanned 24 in 15 innings vs. Yerington in 2010, and Missy McCormick of Palo Verde recorded 22 strikeouts in a 14-inning game against Cimarron-Memorial in 2009.
Jessica Sellers hit a three-run homer, and Rheanna Smith added a solo homer in the 10th for the Raiders. Coronado's Tatum Spangler pitched the distance and struck out 17.
Alexis Okamura was 2-for-2, and her bunt single with one out in the fifth put runners on first and second for the Cougars. Marissa Kopp followed with a sacrifice bunt, and a throwing error on the play allowed Jillian James to score, cutting Reed's lead to 3-1.
Jensen went 2-for-3 with four RBIs, and Aliya Lange was 3-for-5 for the Raiders.
■ Coronado 2, Rancho 1 — Kopp scored the winning run on a passed ball with two outs in the bottom of the seventh inning, and the Cougars rallied to eliminate the Rams.
Kopp reached on a two-out bunt single and went to third on Dylan Underwood's double down the third-base line. When the first pitch to Hardy got away, Kopp raced home and slid in safely without a throw.
It was Coronado's fifth win in five games against the Rams this season.
Underwood went 2-for-3, and Hardy also was 2-for-3, including a bloop, run-scoring single in the sixth to tie the score at 1.
Spangler pitched the distance for Coronado and finished with 15 strikeouts while allowing four hits.
Rancho starter Sam Pochop struck out 10 in the final high school game of her standout career.
Gianna Carosone was 2-for-4 with a double off the wall in the fifth inning to put the Rams ahead 1-0, and teammate Katerina Anthony was 2-for-4 with a run scored.
Contact David Schoen at dschoen@reviewjournal.com or 702-387-5203. Follow @DavidSchoenLVRJ on Twitter.