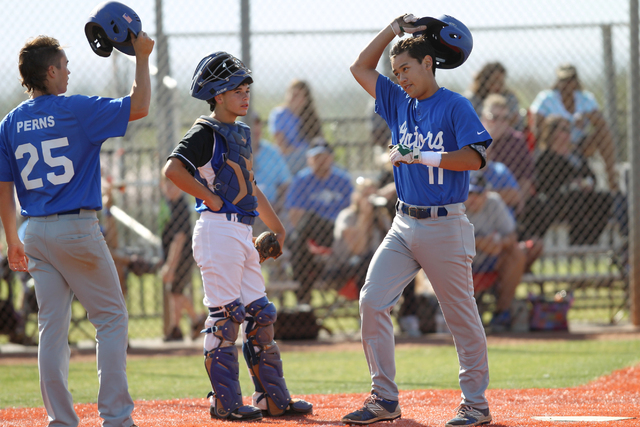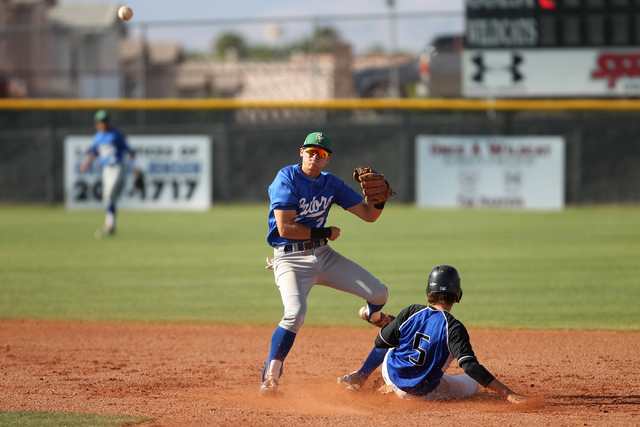 State tournaments usually mean close games.
That's just fine with Green Valley's baseball team.
The Gators (28-6) have won nine one-run games this season, giving the team confidence it can close out the tough wins as the Division I state tournament begins today at Durango.
"The more situations you're in, the better you're going to be because you're not going to panic when you're in those situations again," Green Valley coach Corey Gehlken said. "Especially when it's worked out and gone our way. Hopefully, that gives them the confidence that's necessary."
The Sunrise Region champion Gators play Arbor View (26-10) at 7 p.m. today. Sunset champ Bishop Gorman (29-3) plays Northern champion Reno (25-5) in the other game at 4 p.m.
Not only have the Gators gone 9-1 in one-run games, but the team has won six games in its last at-bat.
"It's a tribute to the kids," Gehlken said. "They don't quit, and they keep going. As long as we have a swing left, they feel that we have a chance."
The Gators haven't won a state baseball title since 2003 and are making their first appearance at state since 2011.
"It's kind of surreal," senior Blake Inouye said. "It feels really, really good, though, that we finally got here. Hopefully we just keep it rolling and get ourselves a state championship."
For the Gators to do that, Inouye and the team's other three returning senior starters — Jarrett Perns, Jarod Penniman and Ty Burger — will have to lead the way as they have down the stretch.
"When you have those older guys, they have to take on more of the weight so the younger guys can just play," Gehlken said.
Inouye thinks the team is peaking at the right time.
"Right now everybody's playing for each other," Inouye said. "Our hitting has really come together these past few games. Everybody's been hitting really, really good. And our defense has been pretty sound, too."
That offense might be key for Green Valley. While the Gators don't feature a big home run hitter like some of the other teams at state, they don't have a dead out in their lineup, either.
Leadoff man Perns leads the team with a .474 average and 39 RBIs. But the entire lineup is dangerous, right down to No. 9 hitter Eric Samson, who is batting .418. No starter is hitting below .337.
"There are no holes in our lineup, which helps a lot," Perns said. "Everyone can come through in clutch situations."
The Gators also don't feature a big power arm, but Inouye has gone 7-0 with a 0.98 ERA this season and will lead a staff that pitches to contact and relies on its defense.
"Our arms are pretty solid," Gehlken said. "They pound the strike zone, and they pitch. We don't have anyone that's going to go up there and blow it by you and just dominate you. They're going to dominate you by hitting their spots and using their defense."
Gorman is No. 4 in the nation in the latest USA Today rankings, and Arbor View has been ranked ahead of Green Valley locally for most of the season. But the Gators are just fine flying under the radar.
"Teams have doubted us the whole season," Perns said. "But we knew what we had at the beginning of the year."
Contact prep sports editor Damon Seiters at dseiters@reviewjournal.com or 702-380-4587. Follow him on Twitter: @DamonSeiters.