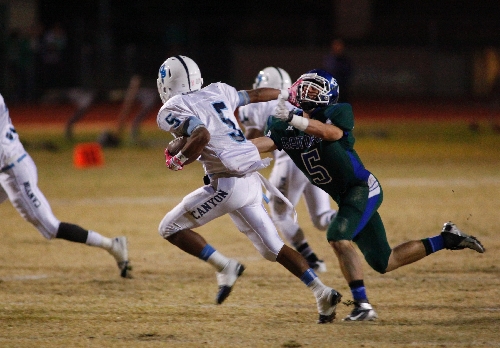 After watching Canyon Springs score 32 unanswered points to erase Green Valley's 17-0 lead, Gators quarterback Christian Lopez still believed.
Even when the Pioneers had the ball in the red zone with the just three minutes left, Lopez still believed his team could find a way to win.
So when the Gators got the ball back with 1:47 left and Lopez drove them 50 yards, then spiked the ball to stop the clock with 3.6 seconds left, Lopez had no doubt kicker Conor Perkins would deliver the winning points for Green Valley.
"I was going crazy. I knew he was going to make it," Lopez said.
Perkins rewarded Lopez's faith by drilling the game-winning 37-yard field goal as time expired to give the No. 4-ranked Gators a stunning 33-32 victory Thursday over No. 6-ranked Canyon Springs.
"Coach always tells us to never give up. We always come back as a team," said Lopez, who capped a pair of Gators drives in the final 8:14 with touchdown runs of 1 and 23 yards. "Nobody doubts each other; we pick each other up. At the end we just came together as a team and just pulled it out."
Perkins, who was mobbed and lifted on his teammates' shoulders at midfield after booting home the game-winner – which also clinched the Northeast Division title for the Gators (7-1, 4-0) – said he too had faith that the team could come back when it was down, and that they would get him an opportunity.
"I trust my team. They did a great job," said Perkins, adding it was the first time he kicked a game-winning field goal as time expired. "Since the spring we have been saying we want to go far. So this is great."
Lopez, who threw for a score and rushed for three others, put Perkins in position for the kick by connecting on 5 of 6 passes on the final drive, then rushing for 4 and 13 yards.
The final run of 13 came on fourth-and-1, and the clock stopped while the chains were set with five seconds left, and Lopez then spiked the ball to set up the game-winner.
"I was just like 'Thank God,'" Lopez said. "I just wanted to stay calm and keep my composure (on the final drive), and we pulled it out."
Green Valley started the game like there would be no need for late-game heroics, seizing a 17-0 lead on a 1-yard TD run by Lopez with 4:41 left in the second quarter. But on the ensuing kickoff, Donnel Pumphrey had a 96-yard return for a score that seemed to ignite the Pioneers (5-3, 3-1).
Pumphrey, who rushed for 159 yards on 25 carries, went on to score five straight touchdowns as Canyon Springs scored 32 unanswered points.
But Lopez capped a long drive with a 1-yard TD run, and after a turnover, capped the ensuing drive with a 23-yard scramble to the end zone to give the Gators as chance to win it in the end.
■ Las Vegas 33, Valley 14 – At Las Vegas, Andrew Moreland ran for 203 yards on 19 carries and iced the game for the Wildcats (6-2, 3-1 Northeast) with a 55-yard touchdown in the fourth quarter against the Vikings (1-7, 0-4).
Las Vegas overcame nine penalties and seven dropped passes.
Trevor Swenson completed 50 percent of his passes for 136 yards and two touchdowns. Joshua Mayfield caught five passes for 86 yards and one touchdown.
Valley's Kennedy Williams completed 13 of 17 passes for 127 yards and two touchdowns, including a 29-yarder to Dillard Davis.
– Zac Alexander
■ Silverado 37, Rancho 9 – At Rancho, Alex Cater ran for 247 yards and three touchdowns to lead the Skyhawks (5-3, 2-2 Northeast) past the Rams (0-8, 0-4).
Cater scored on runs of 4, 16 and 10 yards. Alek Aragon added 70 yards and a touchdown for Silverado.
– Brian Danise
■ Foothill 46, Eldorado 17 – At Foothill, Rickey Dixon had 216 total yards and scored six touchdowns to help the Falcons (3-5, 2-2 Southeast) beat the Sundevils (1-7, 0-4).
Dixon scored on runs of 49, 19, 35 and 5 yards. He also hauled in touchdown passes of 73 and 13 yards.
Foothill quarterback Jalen Shepard threw for 191 yards and three scores. Jordan Primo caught a 51-yard TD pass for the Falcons. Justin Brown scored on a 50-yard run, and Joshua Brown connected with Malcolm Fletcher on a 68-yard touchdown pass for Eldorado.
– Mike Sloan
■ Coronado 42, Del Sol 32 – At Del Sol, Derrick Keller's 57-yard touchdown run with 4:28 remaining helped the No. 9 Cougars (6-2, 3-1 Southeast) outlast the Dragons (1-7, 0-4).
Keller tallied 144 yards on 14 carries, including a 4-yard scoring dive in the first quarter.
Kevin Lucero completed 20 of 31 passes for 241 yards for Coronado, which took a 28-10 halftime lead. The senior connected on scoring strikes of 54, 40 and 4 yards, all in the first half.
Del Sol cut the deficit to 35-32 with
5:18 left in the fourth quarter on a Dylan Greer 16-yard TD toss to Tyrone Rouse. Rouse had 82 yards on nine carries and a TD run. He also threw a 27-yard TD pass to Romance Oliver.
– John W. Scafetta
■ Durango 34, Shadow Ridge 21 – At Shadow Ridge, Brett Neighbors tossed three touchdown passes, and the Trailblazers (5-4, 3-2 Northwest) forced six turnovers in their win over the Mustangs (2-7, 2-3).
Arie McQuaig scored on a 10-yard pass from Neighbors that capped a 16-play, 64-yard opening drive for Durango. Anthony Collins pulled down a 20-yard TD pass from Neighbors at the end of the first quarter and scored again on a 48-yard reception on their following possession.
Marcus Sanders-Williams scored on a 14-yard run, and Kameron Gillis returned an interception 75 yards for a touchdown as time expired in the second quarter to give the Trailblazers a 34-0 halftime lead.
Shadow Ridge scored three consecutive touchdowns to close the gap in the third quarter but didn't draw any closer.
– Adam Berchin
■ Spring Valley 14, Sierra Vista 10 – At Sierra Vista, senior Brant Berglund threw two touchdown passes to Christian Tasi to lead the Grizzlies (3-7, 1-4 Northwest) past the Mountain Lions (1-8, 0-5).
Sierra Vista took a 7-0 lead on a 58-yard run up the middle by Octavius Payne in the first quarter.
After a total of five turnovers by both teams, Spring Valley capitalized on a roughing the punter penalty, as Tasi hauled in a 34-yard strike down the right sideline on the ensuing play to make it 7-7 at halftime.
The Grizzlies later took advantage of a 21-yard loss on a high snap to Sierra Vista punter Sebastian Reyes, and Berglund found a wide-open Tasi over the middle for a 25-yard TD pass on the next play.
Reyes connected on a 30-yard field goal to cut the lead to 14-10 in the fourth quarter, but Sierra Vista's final possession ended in Grizzlies territory with a turnover on downs.
Berglund finished with 137 yards passing, and Tyree Berry rushed for 87 yards.
Maliek Broady finished with 99 yards rushing on 18 carries, and Payne had 93 yards rushing for the Mountain Lions.
– Brennan Karle
■ Bishop Gorman 72, Desert Oasis 21 – At Gorman, seven players reached the end zone for the No. 1 Gaels (8-1, 5-0 Southwest) as they finished off their league slate with a win over the Diamondbacks (2-7, 1-4).
Jarrett Solomon completed 6 of 7 passes for 104 yards and two touchdowns early on, while Nathan Starks ran for 91 yards and two touchdowns to pace Gorman to a 44-0 halftime lead.
Randall Cunningham showcased his talents in relief of Solomon, throwing a 39-yard scoring strike to Keenan Smith to open the second half and racking up a game-high 125 yards and two more scores on the ground.
The Gaels defense stifled the Diamondbacks in the first half, allowing no rushing yards and forcing two turnovers. Robert Stanley had two sacks and an interception in the end zone for the Gaels, while also contributing a touchdown catch on offense.
Mark Fredericks led Desert Oasis with 115 yards receiving.
– Tim Flanagan
■ Bonanza 31, Cimarron-Memorial 14 – At Bonanza, Jayveon Taylor had a rushing and a receiving touchdown and Brett Doyle threw for 218 yards and two touchdowns as the Bengals (2-7, 1-4 Southwest) defeated the Spartans (3-6, 1-4).
Scott Dore also had rushing (48 yards) and receiving (20) touchdowns for Bonanza. Justin Davis ran for 236 yards and two touchdowns on 21 attempts for Cimarron.
– Jamie Bichelman
■ Centennial 21, Legacy 14 – At Legacy, Brandt Honda hauled in a 7-yard touchdown pass with 6:26 to play to lift the No. 5 Bulldogs (7-2, 4-1 Southwest) over the Longhorns (5-4, 3-2).
Honda and quarterback Austin Turley hooked up on touchdown passes of 24, 35 and 7 yards.
Charles Julian ran for 167 yards and a touchdown on 31 carries for Legacy.
– Sam Leeper
■ Mountain View 48, Calvary Chapel 14 – At Mountain View, Matthew Larson rushed for five touchdowns and caught another as the Saints (9-1, 8-0 Division III Southern) beat the Lions (3-6, 3-5) to clinch their first undefeated league season since rising to 11-man play in 2008.
Larson rushed for 270 yards on 21 carries, including TDs of 42, 9, 39, 28 and 3 yards. The junior also caught a 36-yard TD pass from Travis Wallace to help the Saints build a 21-8 halftime lead.
Mountain View's Jacob Duldulao ran for 87 yards on eight carries, and Trenton Van Kempen scored on a 27-yard interception return.
– Tristan Aird
■ Lincoln County 23, Agassi Prep 20 – At Calvary Chapel, Devyn Smith returned a kickoff 72 yards for a touchdown with 1:28 remaining to lift the Lynx (8-2, 7-1 Division III Southern) over the Stars (3-5, 3-5).
Down 15-14 with 9:56 to go in the fourth quarter, Agassi Prep stopped Lincoln County at the 1-yard line to regain possession. The Stars then went on an eight-minute drive, capped by a 21-yard pass from Matthew Duty to Kendrick Glinton with 1:46 to go, to take the lead.
However, on the ensuing kickoff, Smith weaved through blockers and slipped tackles for the winning score.
– Jesse Vineyard
■ Tonopah 55, Sandy Valley 10 – At Sandy Valley, Seth Littlefield rushed for 179 yards and five touchdowns on 12 carries, completed eight of nine passes for 122 yards and made an interception to lead the Muckers (6-3, 3-3 Division IV Southern) past the Sidewinders (1-7, 0-6).
■ Round Mountain 56, Indian Springs 41 – At Indian Springs, Devin Jackson returned kickoffs 99 and 80 yards for touchdowns, but the Knights (6-3, 4-2 Division IV Southern) outlasted the Thunderbirds (3-6, 2-4) to clinch a postseason berth.
In-depth high school sports coverage