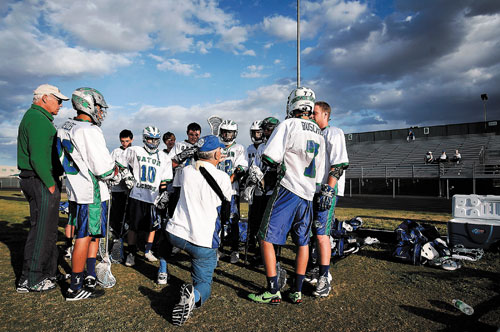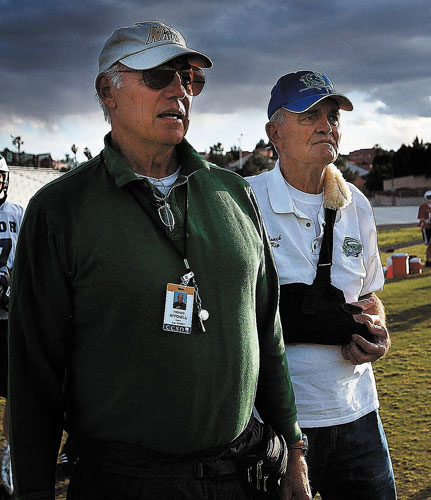 Gary Wills was not optimistic about his new Green Valley High School lacrosse team two years ago after seeing a couple of "old codgers" in charge of the first practice.
While generation gaps are the norm between players and coaches in youth sports, Wills wasn't expecting a chasm wider than the Grand Canyon presented by co-coaches Tom Mitchell and Karl Rippelmeyer.
"At the first meeting I thought they might have coached Little League and decided to help out with our team because they had a lot of time on their hands," says Wills, now a senior.
Mitchell, 71, and Rippelmeyer, 73, are old enough to be great-grandfathers. Instead of playing pinochle and taking afternoon naps, the robust septuagenarians devote four hours a day, five days a week from January to late May to the lacrosse team.
Mitchell smiles and acknowledges, "We really are just a couple of old codgers. Yeah, there were a couple kids who just looked at us as a couple of old guys."
After just a few practices, Wills, like teammate Oakley Erickson, had a better perspective of the gray-haired duo.
"They'd play on the field with us, and they'd show up half the team," says Erickson, 17. "They've taught us all the right things. We got a whole new respect for them."
That respect has been well-earned over the past half century. Coach Rip and Coach Mitch bring hall-of-fame credentials to the Gators.
Rippelmeyer is in the National Lacrosse Hall of Fame, and both are in the Naval Academy Athletic Hall of Fame; Mitchell is in the U.S. Lacrosse Greater Los Angeles Chapter Hall of Fame for his work organizing officials in that area.
"Yeah, but he's in the biggest one in the country," Mitchell says of his buddy's 2007 induction into the National Lacrosse Hall of Fame.
Rippelmeyer interrupts to add, "He should be in it, too."
They have been finishing each other's sentences for much of the past 50 years, since trying to beat up each other during a high school lacrosse game in Baltimore, a hotbed for the sport where they grew up.
"We went to different prep schools," Rippelmeyer says, chuckling about the incident. "Mitch played defense, and I played attack. I caught what we called a 'bloody pass.' He creamed me on the sideline. We came up swinging, but we've been best friends ever since."
As teammates at the U.S. Naval Academy in 1960, Mitchell, a junior, and Rippelmeyer, a senior, led the Midshipmen to the first of eight consecutive collegiate national championships. Each was an All-American; Rippelmeyer three times and Mitchell twice.
Sports Illustrated chronicled Navy's upset of Army for the 1960 national championship in a June 13 story that mentioned Mitchell's and Rippelmeyer's key roles in the victory.
When Rippelmeyer graduated in 1960, he left with nine varsity letters and the honor of being his class' top athlete. He served in the Marines until retiring in 1979 as a lieutenant colonel. He earned the Bronze Star with Valor during the 1968 Tet offensive in Vietnam.
"I didn't receive the Bronze Star for heroism. I received it for meritorious service," Rippelmeyer explains, not wanting to slight those honored for specific acts of bravery.
Mitchell served in the Navy for four years with two tours in Vietnam.
The Mitchell-Rippelmeyer alliance was born out of the game some call "ice hockey" on grass, which is unfair because lacrosse dates to much earlier days. Native Americans created the basics of the game in the 17th century.
Not even the Green Valley coaches were around then.
Throughout the years they stayed in contact, especially when they lived in Long Beach, Calif., in the 1970s. They grew apart for six years when Rippelmeyer moved to Minnesota in 1991, but Mitchell convinced his buddy three years ago to leave the cold winters for Henderson.
Each had an epiphany that led them back to the lacrosse sidelines.
For Mitchell, it was after a successful battle with cancer three years ago. For Rippelmeyer, it was induction into the sport's ultimate hall.
"Coaching was just the right thing to do after that," Rippelmeyer says. "It was time to get back into the saddle."
But breaking a bunch of wild colts took some adjusting.
"High school players are tougher to coach because they're always challenging you," Mitchell says. "They have that testosterone flowing."
That evaluation comes from the self-described "good cop" of the duo.
Rippelmeyer occasionally refers to his players as "troops."
"I'm the bad cop, the hard-ass," Rippelmeyer says. "I take no jive from any of them. I'm not abusive, but if they don't do what they're supposed to, there is remedial action."
That "action" is running, push-ups or other physical activity.
"Some (parents) think I can be too tough, but they don't know what tough is. You chew (players) out in private and praise them in public."
Wills and Erickson, two of the team's top players, appreciate the demands of their coaches.
"If we're not running hard, then Rip steps in," Wills says. Erickson adds, "They only make us work as hard as we should be working."
In its second season, Green Valley won its first tournament game last week in Division 2 for second-level varsity teams. The Gators take a 9-1 record in D2 into today's 6 p.m. semifinals against Faith Lutheran at Green Valley. The winner advances to the Southern Nevada Lacrosse Association championship game to face the winner of Wednesday's Bishop Gorman-Arbor View game at 6 p.m. Friday at Viper Park.
Their general philosophies could be a blueprint for all youth coaches. They stress sportsmanship and proper treatment of people, including their teammates.
"Their influence on the kids is more a signature of their character than their accomplishments on the field" as players, said Don Krueger, a Southern Nevada Lacrosse Association board member for seven years. "It's about their ability to mentor."
Rippelmeyer agrees.
"One of our goals is to teach them life's lessons as we go. We're not going to win every game. We're not going to win every argument. Everything in life is not a golden penny. You have to take the good with the bad."
"They will tell us stories about their lives and then relate it to lacrosse," Erickson says. "They've taught us all about the right things."
The duo's first foray into coaching youngsters was at Bob Miller Middle School for one year after which they were asked by the Henderson Lacrosse Association to start the program at Green Valley.
They each have three grown children, but none played lacrosse growing up in Southern California because there were no organized programs.
High school lacrosse in Southern Nevada is not a varsity-level sport nor part of the Nevada Interscholastic Athletics Association.
There are 15 scholastic lacrosse programs for boys in the Southern Nevada Lacrosse Association, including eight girls teams. About six years ago there were four programs.
According to LaxPower.com, a national website, about 3,245 high school boys teams competed this year nationally compared to a listing of about 1,400 in 2000.
Locally, programs rely on self funding and volunteer coaches.
"Rip and I truly are the newcomers to helping lacrosse here," Mitchell says. "There have been a lot of people before us that helped Las Vegas lacrosse develop. We don't want to be looked at as pioneers."
The local lacrosse association and most other youth sports groups hope to mine more silver like Green Valley found in coaches Mitchell and Rippelmeyer.
Contact reporter Jeff Wolf at jwolf@review journal.com or 702-383-0247.
In-depth high school sports coverage
Navy old-timers coach lacrosse