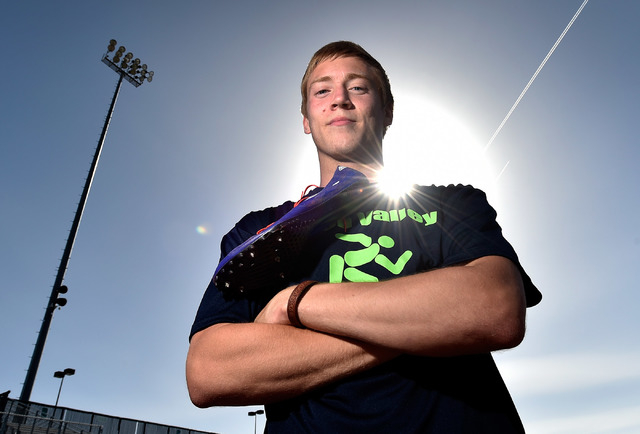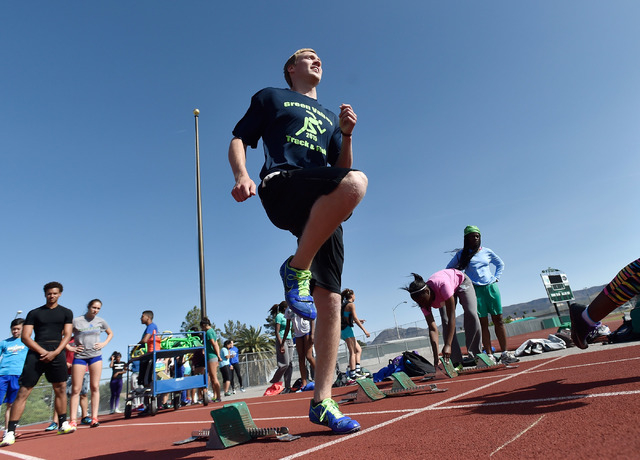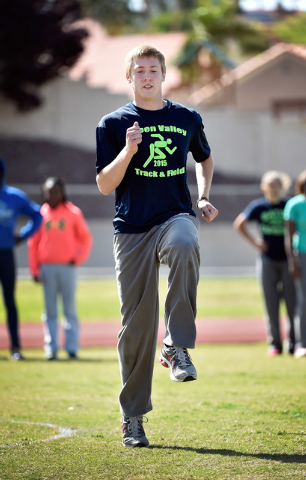 Ian Mack doesn't look like a sprinter.
Forget the racial undertones for a moment. And if that's what came to mind, don't worry. Mack is used to it.
"Ever since I used to race kids in third grade, and I used to beat them, I was always 'that fast white kid,' " Mack said. "I get it all the time."
No, the reason the senior standout for Green Valley's boys track and field team doesn't look like a sprinter is not about stereotypes. It's about his body.
Quite frankly, Mack is a bit skinny. And not very muscular, either. Until this year, he thrived on a diet largely consisting of candy, Taco Bell and Slurpees.
And in a sport traditionally dominated by shorter, powerful runners, it's Mack's physique that truly stands out.
"If you look, all the sprinters are not really built like him," Green Valley sprints coach Vanessa Pike said. "A lot of sprinters are stocky, well-built. He's very lean, so he doesn't really fit the criteria of a sprinter, per se.
"So when they see him run, they're like, 'Whoa, what was that?' "
Mack currently owns the nation's No. 2 wind-legal time in the 100-meter dash, according to Dyestat.com. This weekend, he will compete at the prestigious Arcadia (Calif.) Invitational and has the chance to prove he can outrun some of the region's best, slender frame and all.
"Once you win Arcadia, you're like top on the west side," Mack said. "I want to show what I can do out there."
As a junior, Mack finished third at state in the 100 and 200 and was fourth in the 400 after sweeping those races at the Division I Sunrise Region meet. But Mack's accomplishments were largely overshadowed by the rivalry between seniors Ivy Dobson of Arbor View and Bonanza's Jayveon Taylor, who won four straight state titles in the 100.
"Last year, it was all about Jayveon and Ivy, and this year is kind of my year to surprise people," Mack said.
Mack's best time in the 100 as a junior was 10.71 seconds, and he lowered his personal record March 28 at the Las Vegas Track Classic with a wind-legal time of 10.46 seconds. The top legal mark in the country is 10.41 set by Ryan Clark of Banneker, Ga.
In addition, Mack ran 21.27 in the 200 during a dual meet at Coronado last month, a time that would rank No. 3 in the U.S. if it wasn't wind aided.
"I'm not surprised that it happened so early in the season," Pike said. "It was pretty much expected out of him from what he was running last year and just pushing him further, just knowing what he can achieve and believing more in himself and actually finishing his races."
Mack, who also credited coach Lance Miller of the Vegas Lightning club program for his improvement, has been getting more attention from his peers and college coaches since running his blazing time in the 100. He now is drawing interest from schools in the Big Ten Conference, along with Arizona State, North Carolina and Southern Utah.
Mack continues to work with Pike on his starts, but he has a chance to take down the state record in the 100 and 200. Garic Wharton of Valley holds the record in both events, 10.39 set in 2009 and 21.10 from 2008.
Mack also said he has drawn extra inspiration from former Gators track and field coach Blaine Thompson, who died in January.
"Working with him for four years, I've seen a whole tremendous improvement of his technique," Pike said. "You may be strong, and you may get out of the blocks fast, but the technique is the key. And his technique is up to par right now. We've still got a little bit of stuff to work on, but his technique has improved over the years."
Contact reporter David Schoen at dschoen@reviewjournal.com or 702-387-5203. Follow him on Twitter: @DavidSchoenLVRJ.