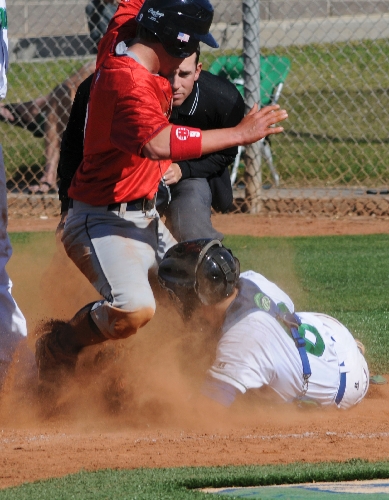 Green Valley's baseball players didn't know there was anything special about Tuesday's game against Coronado. Gators coach Nick Garritano had barely figured it out himself.
But after recently updating information for the team's program, Garritano realized he was sitting on 299 career wins.
Not anymore.
Green Valley knocked off visiting Coronado 12-3 to help Garritano notch a milestone victory.
"We had no idea it was his 300th win today," Gators shortstop Brett Harrison said. "He'd never say anything about it. He's a real humble coach, and he's always here for us. He's never here for himself."
Garritano, in his 12th season as Green Valley's coach, didn't seem to think his accomplishment was particularly important.
"Please don't make a big deal about it," said Garritano, who has won two state titles.
Maybe that's because Garritano has a long way to go to catch Rodger Fairless, his predecessor at Green Valley. Fairless won 493 games and 12 state championships in 19 seasons as a head coach.
Tuesday's win was no lock for Garritano. The Cougars (8-2-2, 2-0 Southeast League) scored twice in the first and led until the third when Bobby Shiroky hit a solo home run to left to tie the game at 3.
An inning later, Harrison hit a two-run homer to give Green Valley (14-4, 2-1) the lead for good. The Gators added seven runs in the sixth for the final margin.
"Bobby hit that long ball, which helped out a lot, and then Brett, he hit that ball out of here, which was a huge spark for us," Garritano said. "And then the kids settled in a little bit and hit the ball."
Harrison said the tough competition the team faced last week in the Mike Morrow Lions Invitational in San Diego helped the team on offense.
"Playing against California teams, it's kind of higher competition and better pitching than we see here," Harrison said. "So coming back here, I'm not saying that it's easier, but you see the ball better."
Harrison was 3-for-4 with three RBIs, Shiroky and Gabe Douglas each had two hits, and Rudy Strnad drove in three runs.
Coronado's Taylor Giordano was 2-for-3 with a double and an RBI.
Contact Prep Sports Editor Damon Seiters at dseiters@reviewjournal.com or 702-380-4587.
In-depth high school sports coverage
TUESDAY'S HIGHLIGHTS
BASEBALL
Palo Verde's Zac Benson was 2-for-4, including the game-winning single in the seventh inning, as the Panthers beat visiting Shadow Ridge, 4-3.
Moapa Valley's Lane Stringham hit a two-run double in the eighth to lift the Pirates to a 13-11 road win over Western.
Silverado's Mike Meyers was 3-for-4 with a double, a home run and seven RBIs in a 13-3 home win over Del Sol.
SOFTBALL
Durango's Nicole Herrera tossed a five-inning no-hitter and went 4-for-4 with two doubles and three RBIs in a 17-0 win over visiting Spring Valley.
Desert Oasis' Emily Heinz was 4-for-5 with a home run, three doubles and five RBIs in the Diamonbacks' 8-3 victory at Clark.
Centennial's Kassidy Merritt singled home pinch runner Alyssa Finger in the seventh as the Bulldogs beat visiting Cimarron-Memorial, 2-1.