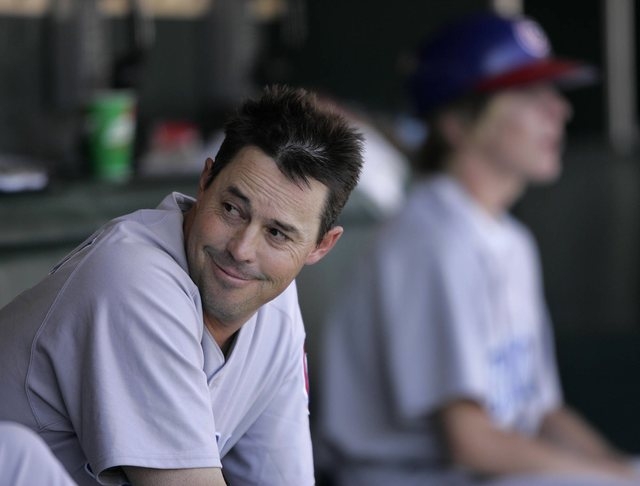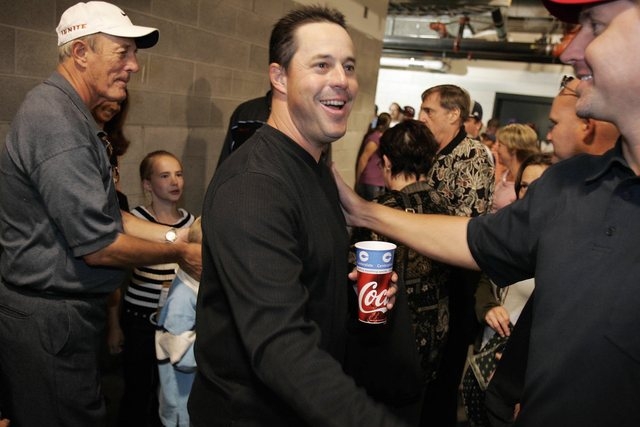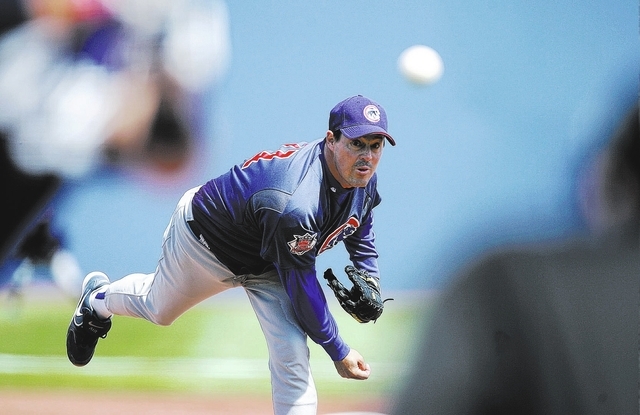 Next stop, Cooperstown.
From the moment he left the mound for the final time in 2008, Greg Maddux knew he would be getting a call from the Baseball Hall of Fame. That call came Wednesday morning, confirming that Maddux would be part of the Class of 2014.
"It's truly an honor and a privilege to be inducted into the Hall of Fame," Maddux, 46, said shortly after the official announcement. "I'm looking forward to getting there. I've been to Cooperstown a couple of times as a player and a couple of years ago when my son played in a tournament. It's a great little town."
The Las Vegas resident, who starred at Valley High School, won't be going in alone when ceremonies take place July 27 in upstate New York.
Fellow pitcher Tom Glavine, Maddux's teammate with the Atlanta Braves, and first baseman/designated hitter Frank Thomas also were elected. The three were on the ballot for the first time; the only other time three players were elected together in their first appearances was in 1999 with Nolan Ryan, George Brett and Robin Yount.
They will be inducted with managers Bobby Cox, Joe Torre and Tony La Russa, elected last month by the expansion-era committee. Maddux and Glavine, who played under Cox for most of their careers, will become the first pair of 300-game winners to be inducted in the same year. Thomas is the first Hall of Famer who spent the majority of his career as a designated hitter.
"It's almost a fairytale ending," Maddux said. "It was obvious with me and Glav because we ended at the same time. But with managers, you can never predict. So when Bobby got in, it made it even more special.
"The only thing that would have made it better was if Smoltzie (fellow Braves pitcher John Smoltz) decided not to wait a year before he retired (in 2009). But it's very humbling to be going in as part of this group. It's going to be a special day, and I get to share it with some special people."
A candidate for the Hall of Fame needs at least 75 percent of the vote to qualify for induction. Maddux was picked on 555 of 571 ballots (97.2 percent) by senior members of the Baseball Writers' Association of America. His percentage was the eighth-highest in the history of voting.
No member of the Hall ever has been a unanimous selection.
Maddux's credentials during his 23-year major league career justify the high percentage of votes.
Despite not having huge velocity on his fastball (he averaged around 92 mph during his prime), Maddux's ability to change speeds, spot his pitches and expand the strike zone baffled hitters throughout his career as he redefined the art of pitching.
The right-hander went 355-227, struck out 3,371 and won a record 18 Gold Glove Awards. He won the Cy Young Award four straight years — from 1992 to 1995 — the first pitcher to achieve that feat.
An eight-time all-star, Maddux is eighth on the career wins list and had a 3.16 ERA. He is the only pitcher to win at least 15 games for 17 straight seasons, and won at least 13 in 20 consecutive seasons.
Most of his accomplishments came during baseball's Steroid Era, which baseball historians claim to be from the late 1980s to the late 2000s.
"Staying healthy was a big part of it," Maddux said. "You try to add on and tweak things a little bit. It's a chance to get better. I learned from a lot of people, but you ultimately have to trust yourself and use your eyes and your ears.
"But in the end, it's a combination of a lot of things. Most of all if you can stay healthy and enjoy the game."
News of Maddux's enshrinement was celebrated in Las Vegas. Rodger Fairless, who coached Maddux at Valley, said: "Off the field, with his mild manner and his glasses, Greg reminds me of Clark Kent. But once he put on that uniform, he became Superman."
Mike Martin, a former Chicago Cubs catcher who owns and operates Las Vegas Baseball Academy, where Maddux is a guest instructor, said Maddux never worried about his celebrity.
"He was a ballplayer. That's all he was," Martin said. "And that was good enough for him."
Even Wednesday's news was received in typical Maddux fashion. He was home with his wife, Kathy, and his mother, Linda, watching TV when the phone rang.
It was the Hall of Fame.
"It was pretty low-key," Maddux said. "We hugged, but it wasn't a special celebration. It was my (25th wedding) anniversary Tuesday night, so we had already celebrated."
A second-round draft pick in 1984 by the Chicago Cubs, Maddux spent his career with four National League teams.
He began his run with the Cubs in 1986, went to Atlanta as a free agent in 1993, returned to the Cubs as a free agent in 2004, was traded to the Los Angeles Dodgers in 2006 and signed as a free agent with the San Diego Padres in 2007. He spent two-plus seasons with the Padres before being traded back to the Dodgers in 2008.
The Hall of Fame said an announcement would be made next week regarding what insignia will be on the cap of Maddux's plaque.
While he has a World Series ring from 1995 with the Braves, Maddux retains a soft spot in his heart for the Cubs, who, like the Braves, have retired his No. 31.
"I did everything possible to stay there after 1992," he said. "I love Chicago. I came up a Cub. Chicago's a special place, and I'd love to see them win a World Series. It would be awesome."
Glavine appeared on 525 ballots and received 91.9 percent. In 22 seasons, the first 16 in Atlanta, the left-hander was 305-203 with 2,607 strikeouts and a 3.54 ERA. After five seasons with the New York Mets, Glavine returned to the Braves in 2008 and retired during the season. He was a 10-time all-star and two-time Cy Young winner.
Glavine and Maddux are the first teammates in a starting rotation to be elected together since 1946. Add in Cox, and the induction will be dominated by Braves.
"It's fitting, given the influence those two guys had on my career," Glavine said. "The thing that would have disappointed me the most had it not happened would have been a lost opportunity to go in with Bobby and Greg."
Said Maddux: "I think we fed off each other. We kept the ball down in the strike zone, and we also had two of the best fielders behind us in (shortstop) Rafael Furcal and (center fielder) Andruw Jones. They made our jobs easier."
Thomas, nicknamed the "The Big Hurt," was on 483 ballots and received 83.7 percent. He played 19 years in the majors, 16 with the Chicago White Sox. Thomas retired in 2010 with a career batting average of .301, 2,468 hits, 521 home runs and 1,704 RBIs. His No. 35 is retired by the White Sox.
Craig Biggio fell two votes short of induction. He received 427 votes and 74.8 percent, matching Nellie Fox in 1985 and Pie Traynor in 1947 for the smallest margin to just miss. Traynor made it the following year, and Fox was elected by the old Veterans Committee in 1997.
Biggio appeared on 388 ballots last year in his initial appearance — when writers didn't elect anyone.
Mike Piazza was next with 62.2 percent, up from 57.8 last year. Jack Morris was 78 votes short at 61.5 percent in his 15th and final appearance on the writers' ballot, a drop from 67.7 percent. Morris replaces Gil Hodges (63 percent in 1983) as the player with the highest percentage of the vote not in the Hall.
Jeff Bagwell dropped to 54.3 percent from 59.6, and Tim Raines to 46.1 from 52.2.
Controversy over how to evaluate stars tainted by the Steroids Era continued to impact the vote totals of players with stellar statistics. In their second appearances on the ballot, Roger Clemens dropped from 37.6 percent to 35.4, Barry Bonds from 36.2 to 34.7 and Sammy Sosa from 12.5 to 7.2.
Bonds, baseball's career home run leader, is the only seven-time Most Valuable Player in major league history. Clemens is the only seven-time Cy Young Award winner.
Mark McGwire, appearing for the eighth time, fell from 16.9 to 11 percent — down from a peak of 25.6 in 2008. Rafael Palmeiro will be dropped from future ballots after falling to 25 votes and 4.4 percent — below the 5 percent threshold necessary to remain eligible.
"As for what they did, I don't think any of us will ever really know," Thomas said. "But I can just tell you, what I did was real, and that's why I've got this smile on my face right now, because the writers, they definitely got it right."
Columnist Ron Kantowski and The Associated Press contributed to this story. Contact reporter Steve Carp at scarp@reviewjournal or 702-387-2913. Follow him on Twitter @stevecarprj.
MADDUX BY THE NUMBERS
Baseball is a game built on statistics and Greg Maddux's stats made him a virtual lock for the Hall of Fame on his first appearance on the ballot. here's a look at some of the more significant numbers of Maddux's 23-year major league career:
1. Number of World Series rings
4. Number of consecutive Cy Young Awards won
8. Number of All-Star appearances
17. Number of consecutive seasons with at least 15 wins
18. Number of Gold Glove Awards won
35. Number of postseason appearances
76. Number of pitches thrown in a complete game in 1997
97.2 Percentage of votes he received for induction into Hall of Fame
227. Number of career losses
355. Number of career wins
3,371. Number of strikeouts