Guillen showed fiery side in Las Vegas, too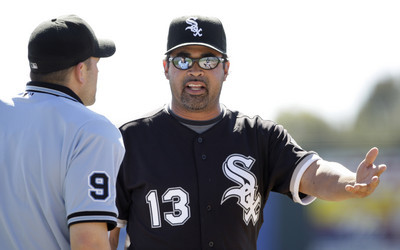 Since guiding the Chicago White Sox to their first World Series title in 88 years in 2005, manager Ozzie Guillen has gained equal notoriety for expressing his unbridled opinions.
But long before he garnered national headlines for ripping reporters, opponents and even his players, Guillen displayed the same fiery, outspoken personality as a 20-year-old shortstop for the Las Vegas Stars.
"He doesn't surprise me when he says stuff," said former Stars second baseman Jerry DeSimone, who played alongside Guillen in 1984. "Ozzie always popped off. He always spoke his mind, and sometimes he made you mad. … I think there were people who took turns hating him, because he would pop."
Guillen, who hit .296 for the Stars in his only season in Las Vegas, will lead the White Sox against the rival Chicago Cubs in exhibition games today and Thursday at Cashman Field.
"I've been pulling for this for a while," Guillen, 45, said Tuesday in Las Vegas. "There are a lot of fans from Chicago here, and there's a lot of enthusiasm for baseball because we're playing the Cubs. We should do it every year."
Las Vegas always will hold a special place in Guillen's heart, in part, because his first child, Ozzie Jr., was born here in 1984.
"That's something you never forget," Guillen said. "In Vegas, I started to take baseball seriously … (because) I had another mouth to take care of."
DeSimone said Guillen often would erupt because he was "very, very competitive" and "when he or we failed, he popped, almost like a brat, like John McEnroe. He was always trying to win and do the best he could."
Former Stars pitcher Larry Brown, now a Clark County commissioner, said Guillen "had confidence like you wouldn't believe."
"The only difference between Ozzie then and now is probably about 60 pounds," Brown said jokingly.
The White Sox acquired Guillen in 1985 from the San Diego Padres for pitcher LaMarr Hoyt, and he was named American League Rookie of the Year that year.
A three-time All-Star, Guillen won a Gold Glove in 1990 and hit .264 in a 16-year playing career that also had stops in Baltimore, Atlanta and Tampa Bay.
While he was unable to spend his entire playing career with the White Sox, Guillen — who was named American League Manager of the Year in 2005 and is entering his sixth year as Chicago skipper — said he'd like to spend his entire managerial career with Chicago.
"I've been with the White Sox for so long as a player, I kind of know everything about the city and ballpark and know what to face every day," he said. "Besides that, I don't think another team is going to put up with my stuff. I'm not an easy guy to work with. What it is, I'll say."
The 5-foot-10-inch Guillen said he talks big to compensate for his small stature.
"(Being) 5-10 and 120 pounds, I guess when you're that big, you've got to speak for yourself so people pay attention to you," he said. "It's funny, we live this life and everybody's politically correct, but I tell people the way it is.
"I get myself in trouble a lot because of that … but that's something I don't really care about. I can sleep at night."
DeSimone has remained friends with Guillen and always will be grateful for how he invited "a friend of ours in a wheelchair who was a die-hard Bo Jackson fan" to the field to meet Jackson when the White Sox played in Las Vegas in the 1990s.
"Ozzie rolled out the red carpet for this guy, and I'll never forget that," DeSimone said. "Underneath that Latin machismo, there's a good-hearted man, a very good-hearted man."
Contact reporter Todd Dewey at tdewey@ reviewjournal.com or 702-383-0354.
GAME DAY
CHICAGO CUBS VS. CHICAGO WHITE SOX
WHEN: 7:05 p.m. today
WHERE: Cashman Field
TV: WGN (16)
STARTING PITCHERS: Cubs, RHP Jeff Samardzija; White Sox, LHP John Danks