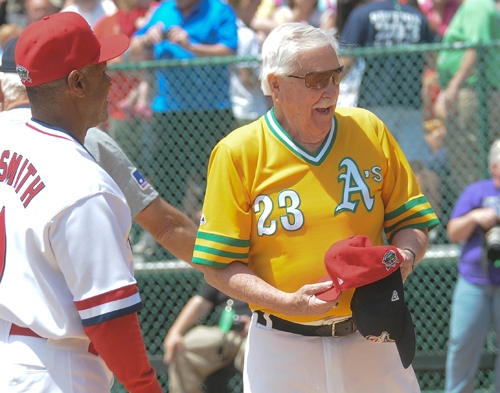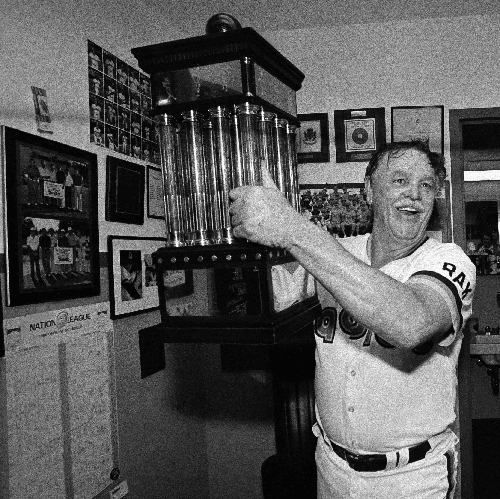 Dick Williams, the no-nonsense, sharp-tongued Hall of Fame manager who guided the Oakland Athletics to World Series titles in 1972 and 1973, died Thursday in Henderson. He was 82.
Williams, who retired to Southern Nevada in 1991, died at St. Rose Dominican Hospital from a ruptured aortic aneurysm.
During a 21-year managerial career with six teams, Williams became one of only two managers to win pennants with three teams — the Boston Red Sox, the A's and the San Diego Padres — and one of seven skippers to win pennants in both leagues.
"Dick was the epitome of a baseball guy," said 51s executive director Don Logan, one of Williams' many baseball friends at Cashman Field. "He felt like there was one way to play the game and one way to approach the game: hard-nosed. That really permeated the way he did anything.
"He had success everywhere he went, and he did it his way. You couldn't argue with it, and he finally got in the Hall of Fame because of it."
Williams managed every year in the major leagues from 1967 to 1988, except 1970, compiling a 1,571-1,451 record and .520 winning percentage with the Red Sox, A's, California Angels, Montreal Expos, Padres and Seattle Mariners.
Nearly 20 years after managing his final game, Williams was elected to the Baseball Hall of Fame by the Veterans Committee in December 2007. He was enshrined in Cooperstown the following summer.
In his first year as manager, Williams led the Red Sox to the American League pennant in Boston's "Impossible Dream" season of 1967. The team had suffered eight straight losing seasons and went 72-90 in 1966. Under Williams, who boldly predicted a winning record in 1967, Boston went 92-70 and clinched the pennant on the final day of the season.
Williams enjoyed his most success as manager from 1971 to 1973, when he led the colorful A's to three consecutive AL West titles and two straight World Series crowns.
The talent-rich team featuring Reggie Jackson, Rollie Fingers, Catfish Hunter, Vida Blue and Joe Rudi also won the World Series in 1974, but it did so without Williams. Weary of owner Charles O. Finley's meddlesome ways, he had resigned — on live television, no less — minutes after Game 7 of the 1973 World Series.
"He came to us at a very good time in our development and certainly for me as a young player full of talent …" Jackson told The Associated Press. "We were young and needed to understand how to go about winning and take the final step to become a great team. He was very important in that. He demanded excellence."
Williams, who managed the Angels from 1974 to 1976, helped turn around the Expos from 1977 to 1981 and guided the Padres to their first National League pennant in 1984. He retired as manager of the Mariners in 1988, sensing his demanding approach was not working with modern players.
"I couldn't manage these days. I wouldn't last a week. I'd blow my crock," Williams told the Review-Journal in July 2007 before broadcasting a 51s game at Cashman Field.
During a 13-year major league playing career, mainly as an outfielder, Williams batted .260 for five ballclubs (Brooklyn Dodgers, Baltimore Orioles, Cleveland Indians, Kansas City A's and Red Sox).
In 1951, as a 22-year-old rookie with Brooklyn, Williams was on the bench when the New York Giants' Bobby Thomson hit his "Shot Heard 'Round the World" and was in the depressed Dodgers clubhouse afterward, when Dodgers manager Charlie Dressen uttered the famous phrase, 'Wait 'til next year."
"I learned my baseball from the Dodgers — (Branch) Rickey baseball," Williams told the Review-Journal. "That's what I demanded my players do, and if it wasn't done, then I'd make changes."
Williams moved to Las Vegas in 1991 to be closer to his wife Norma's family. He worked intermittently for nearly 20 years as a radio color analyst at 51s home games — mostly Sunday afternoons.
"Dick was an outstanding broadcasting partner and he was really a terrific guy," said longtime 51s play-by-play man Russ Langer. "He was very sharp, very bright, warm and friendly and very accommodating to people who approached him wanting autographs or just to ask a few questions about the old days.
"On a professional level, Dick had such a rich background in the game as a manager and player, all you had to do was feed him a name, time or place and just let him go. Any of the great players of the last 50 or 60 years, or maybe even 70, Dick either saw them play or managed against them."
Langer said one of the highlights of his career was calling a 51s game with Williams and Hall of Fame manager Tommy Lasorda.
"It was an absolute carnival," Langer said. "It was before Dick got elected, and Tommy was adamant that he deserved it. It was criminally overdue.
"One thing I'm grateful for is that Dick got into the Hall of Fame while he was still alive. He gave that much to the game, and he deserved that much."
Richard Hirschfeld Williams was born May 7, 1929, in St. Louis. He attended Pasadena (Calif.) High School and signed his first professional contract in 1947 with the Dodgers. He played the outfield and three infield positions in the majors before being released by the Red Sox in 1964, when he was hired as player-coach of Boston's Triple-A team in Seattle.
Williams is survived by wife Norma, daughter Kathi and sons Rick and Mark.
Williams requested that no funeral services be held for him. At a later date, his family plans to honor his wish to scatter his ashes at Cooperstown.
Contact reporter Todd Dewey at tdewey@reviewjournal.com or 702-383-0354.