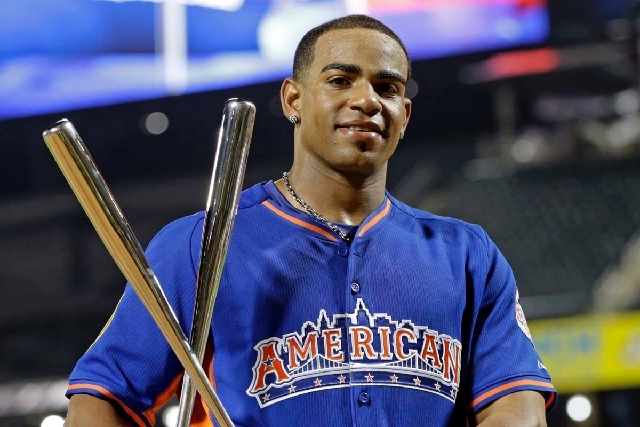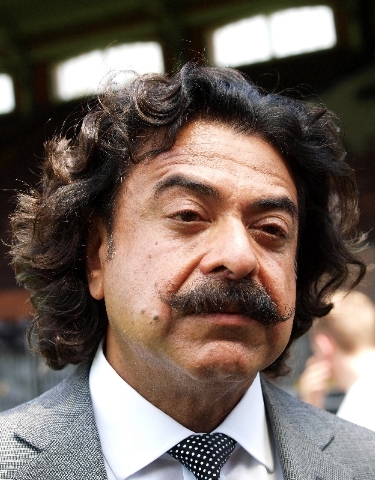 Oakland outfielder Yoenis Cespedes became the first player left out of the All-Star Game to win the Home Run Derby when he edged out Las Vegan Bryce Harper on Monday night.
But it wasn't Cespedes' sweet swing or even the meatballs served up by Athletics coach Mike Gallego that enabled the 27-year-old Cuban defector to dazzle the crowd at Citi Field in New York.
No, it was the small soul patch just below his lower lip.
Prior to Cespedes' victory Monday, six of the past 10 Home Run Derby winners sported some sort of facial hair, according to a study by STATS, whose employees apparently have too much time on their hands or felt like initiating a new intern. The study also found that players with facial hair have slugged more homers per derby (12.3 to 10.5) than clean-shaven batters.
Cespedes, who often wears a goatee, blasted 32 home runs in all on Monday, tied for third-most in the event's history. He put three balls into the third deck in left field, which never had been reached previously, and two of his shots banged off the windows of the Acela Club restaurant in the second deck.
In the opening round, the A's slugger mashed 17 homers that traveled nearly 1½ miles (6,980 feet), and he topped the scruffy-faced Harper of the Washington Nationals 9-8 in the final round. Cespedes' final blast dented a truck parked 455 feet away in center field.
All this might sound a little — pardon the pun — harebrained, but if you still don't buy in, STATS noted that the four players who failed to homer during the derby in the past decade had a face as hairless as Caillou's head.
And if that's not enough proof, consider the cases of Lance Berkman and Prince Fielder.
Berkman hit 21 homers in 2004 and advanced to the Home Run Derby final with facial hair. In 2006 and 2007, while his face was free of follicles, Berkman hit 17 home runs combined.
Fielder, meanwhile, wore facial hair in three contests prior to Monday's and averaged 20 homers in those years. In 2007, he launched only three dingers when he was, you guessed it, clean-shaven.
■ BEAT IT — Shahid Khan has owned English soccer club Fulham for less than a week, and he already is facing a big decision.
Former owner Mohamed Al-Fayed erected a statue of Michael Jackson — yes, that Michael Jackson — outside the club's Craven Cottage stadium after the "King of Pop" died in 2009, and he threatened Khan if the controversial statue is removed.
"Michael Jackson will stay. He can't go, he is here," Al-Fayed said after the approximately $300 million takeover. "It is part of the deal, it is history, it is listed. You can't change, otherwise I will come and take your mustache in public."
Khan, who also owns the Jacksonville Jaguars, sports a seriously awesome 'stache. It makes the one that Bryce Harper's brother, Bryan, had during Monday's Home Run Derby look like a malnourished caterpillar.
But as much as we'd hate to see Khan's trademark facial hair go, it'd be a worthy trade-off to end the Twitter jokes about Jacko's favorite team being Fulham's under 12s.
COMPILED BY DAVID SCHOEN
LAS VEGAS REVIEW-JOURNAL