Harper battery, bats power CSN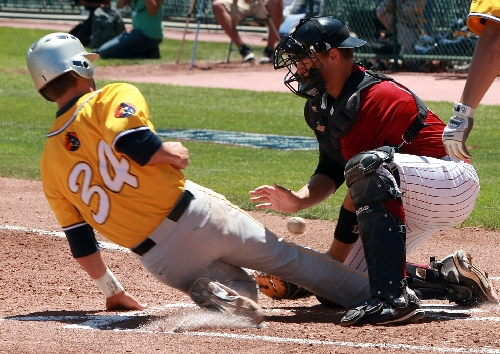 GRAND JUNCTION, Colo. — When they were kids, Bryan Harper would pitch and his younger brother Bryce was the catcher. In those practice sessions, they were alone, tossing the baseball back and forth.
It was more of the same Monday afternoon, but the stage was the Junior College World Series and 9,655 fans were watching.
Bryan Harper was so dominant, it was almost as if he was throwing to his brother with no batters getting in the way.
The 6-foot-5-inch left-hander allowed one hit in 5 1/3 innings as the College of Southern Nevada rolled to an 18-1 win over Faulkner (Ala.) State in the second round at Suplizio Field.
"Working with my brother is always fun," said Bryan Harper, a sophomore from Las Vegas High School. "A lot of people don't get to do that. It's a great experience, and I'm going to remember it for the rest of my life."
CSN (51-14) advanced to play Iowa Western (47-11) at 6:30 p.m. today in the winners' bracket of the double-elimination tournament.
Marvin Campbell's two-run homer in the third inning put the Coyotes ahead 7-1, and they ended the game by the 10-run rule after the sixth inning.
Harper (11-1) struck out six and surrendered only a second-inning homer to the Sun Chiefs' Andrew Prichard. Harper was overpowering with his fastball and mixed in changeups and sliders.
"He looked absolutely great on the bump. We couldn't have asked for a better game from him," Bryce Harper said. "He's one of the best lefties I've ever seen, and I love catching him.
"It's a one-two punch with me and my brother out there. We know what each other are thinking."
Bryce Harper went 1-for-2 with a single, two walks and a sacrifice fly. He also scored three runs. But CSN's power came from other sources.
"Everybody can play. I'm not the only guy on the team," Bryce Harper said. "I don't really care about anybody that we play. We're not going to be scared. We have the best team in the country and we know it, and we're coming out here to win."
Scott Dysinger had four of the 21 hits for the Coyotes, who scored in every inning. Trent Cook, Trevor Kirk, Daniel Higa and Gabe Weidenaar had three hits apiece.
CSN scored eight times in the sixth, when Cook and Tomo Delp hit two-run homers and Campbell added an RBI triple.
"You can never expect that, especially in a World Series game," Kirk said. "We're feeling good right now. I'm really happy with what we've done, and I think we can go farther."
Coyotes coach Tim Chambers pulled Bryan Harper after he struck out the leadoff hitter in the sixth, and Tyler Iodence struck out the final two batters.
"Bryan wasn't happy with me," Chambers said. "He said, 'Can I finish one, please?' I said, 'I'm not worried about your ego right now, kid. We're trying to get to Saturday, and we could use you a couple more times.'
"He started laughing. He threw a heck of a game."
Chambers said his starter today will be Joe Robinson, a right-hander from Green Valley High. CSN, which got a complete-game win from Donn Roach in Saturday's opener, has outscored its two opponents 31-6.
Bryan Harper, a high school senior when Bryce was a freshman, walked off to a loud ovation. He said this season is turning out "beyond expectations" he had when he decided to transfer from Cal State Northridge last summer to play with his brother.
"I really didn't sleep too much last night. But I guess I got enough sleep," Bryan Harper said. "One pitch away from a no-hitter and shutout … that would have been nice. But it's fine with me.
"It's definitely a memory."
Contact reporter Matt Youmans at myoumans@reviewjournal.com or 702-387-2907.
CSN vs. Faulkner in Junior College World Series
CSN – 18
FAULKNER STATE – 1
KEY: The Coyotes finished with 21 hits, including home runs by Marvin Campbell, Trent Cook and Tomo Delp.
NEXT: CSN vs. Iowa Western, 6:30 p.m. today, Suplizio Field, Grand Junction, Colo.