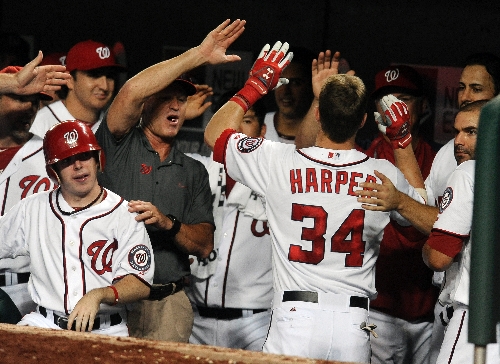 WASHINGTON – The Washington Nationals are closing in on their first postseason berth, and they're not easing up – even against one of the majors' worst teams.
For the second consecutive game, Washington tied a franchise record with six home runs Wednesday night in a 9-1 rout of the Chicago Cubs.
Bryce Harper hit two homers, and Gio Gonzalez won his 18th game. Adam LaRoche kept up his tear at the plate with three hits for the Nationals, who have won four straight and own the majors' best record at 84-52. They maintained a 7½-game lead over Atlanta in the National League East.
"Good teams take nothing for granted," Washington manager Davey Johnson said. "Guys down at the bottom, sometimes they have more energy and more to prove than guys at the top. We've been down there enough. We know what it's like; we're not letting up."
LaRoche has hit three of those 12 long balls, and a seventh-inning strikeout ended his streak of reaching base in nine consecutive plate appearances.
LaRoche also has four singles and two walks in the past two games.
"It's just one of those stretches that nobody can explain," he said. "They don't happen too often."
The 19-year-old Harper had his second multihomer game. Previously, only Mel Ott and Ken Griffey Jr. had accomplished that feat as teenagers.
With the Las Vegas native's second homer Wednesday, his 17th of the year, Harper passed Griffey for the third most by a teenager. Only Tony Conigliaro (24) and Ott (19) have more.
"I don't think anybody's satisfied where we're at right now," Harper said. "We don't want to let down to anybody. We don't want to play at that level. We want to play at our level."
Gonzalez (18-7), who shut out St. Louis on five hits in his last start, allowed three singles in seven scoreless innings to tie Mets knuckleballer R.A. Dickey for most wins in the majors.
Gonzalez struck out nine and walked none. He has yielded eight hits and no runs in his past 16 innings.
Cubs starter Chris Volstad (2-10) gave up five runs on nine hits and four walks in five innings.