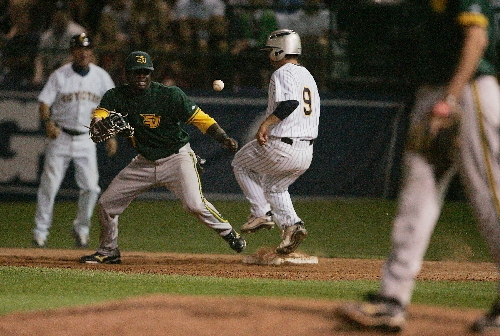 GRAND JUNCTION, Colo. — Often this season, Bryce Harper has said the College of Southern Nevada is much more than a one-man baseball team. As true as that statement is, Harper has been the leader.
"I'm not the only guy on the team," he said early this week.
The Coyotes are about to find out how far they can go without their star slugger.
Harper was ejected from Wednesday night's game in the fifth inning after protesting a called third strike. He was escorted from the stadium and driven away by his father, Ron.
It might be the last appearance for Harper, a 17-year-old freshman from Las Vegas High School, in the Junior College World Series. He is suspended for CSN's next two games by NJCAA rules.
In his absence, the second-ranked Coyotes rallied but suffered a 10-8 loss to No. 1 San Jacinto (Texas) in a winners' bracket game before 11,858 fans at Suplizio Field.
The 10-team, double-elimination tournament is down to a final four. CSN (52-15) plays Iowa Western at 2 p.m. today. San Jacinto plays Hutchinson (Kan.), which has one loss, at 6:30.
Harper, a left-handed hitter, was tossed after drawing a line in the dirt with his bat in the opposite batter's box and walking to the dugout. Plate umpire Don Gilmore made an emphatic ejection signal, and the Gators' players and coaches started celebrating.
Coyotes coach Tim Chambers cut loose in his postgame comments, contributing the situation mostly to "an umpire with an attitude."
The 0-2 pitch from San Jacinto's Chris McKenzie appeared outside, and replays showed the ball was at least 6 inches off the plate.
"Bryce was wrong for doing it, but he didn't deserve that," Chambers said. "In a situation like this, it deserves a warning. That was an awful quick trigger. Bryce didn't stand there and argue the call. He walked right back to the dugout with his head down — and bang.
"In my opinion, it was a terrible call. (Gilmore) definitely wanted to be seen. I'll defend the kid all day long."
Chambers said Harper was not "showing up" the umpire, but the consequences could be severe. Because he was ejected from a March 13 game at Western Nevada for bowing after making a throw from right field, Harper must sit two games because of the sportsmanship code, and the possibility exists that his college career has ended.
Harper is expected to be the top pick of the major league draft Monday. CSN, 3-1 in the World Series, must win either two or three consecutive games to claim the title.
An NJCAA official said Gilmore would not comment on Harper's ejection.
"I was talking to my pitcher, and I really didn't know what happened," San Jacinto catcher Ryan Hornback said. "I heard he drew a line in the dirt. I didn't hear him say a word.
"Harper's a great player. He's probably the best player in the country. I'm sure it was a big pump-up for us, but they're a great team, and they fought right back."
The Coyotes trailed 4-0 in the first inning but took a 5-4 lead on Daniel Higa's three-run homer in the second.
The Gators (51-10) led 9-5 when Harper was ejected. CSN rallied for three runs in the sixth.
With two on and two outs in the bottom of the ninth, Gilmore called the third strike on the Coyotes' Gabe Weidenaar to end the game. San Jacinto's Clay Schrader closed the game by striking out eight in 3 2/3 innings.
Bryce Harper is banned from the stadium today.
Chambers said sophomore left-hander Bryan Harper might start on two days' rest for CSN, which also has ace right-hander Donn Roach available.
Despite the dire circumstances, Chambers said the Coyotes are "fully capable" of winning the championship.
Contact reporter Matt Youmans at myoumans@reviewjournal.com or 702-387-2907.
CSN vs. San Jacinto
YouTube video of Harper ejection
SAN JACINTO — 10
CSN — 8
KEY: Clay Schrader closed the game by striking out eight in 3 2/3 innings for the Gators.
NEXT: CSN vs. Iowa Western, 2 p.m. today, Suplizio Field, Grand Junction, Colo.