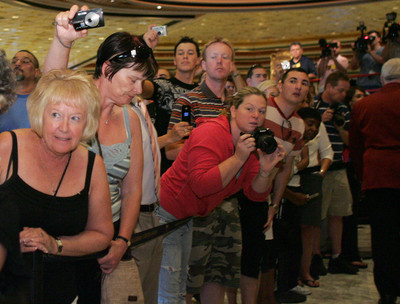 Ricky Hatton's "official" arrival to Las Vegas on Tuesday wasn't greeted with the same enthusiasm as the last time he fought at the MGM Grand.
Unlike last December when he took on Floyd Mayweather Jr., and a couple of thousand Hatton fans from the United Kingdom watched him enter the hotel, there were fewer than 200 people in the lobby of the MGM. Hatton showed up to begin preparations for Saturday's junior welterweight fight with Paulie Malignaggi — and not everyone at the MGM had a Cockney accent.
When he finally climbs into the ring at the Grand Garden Arena, Hatton will be greeted by about 8,000 of his followers. That's a good number of fans but a far cry from a year ago when 30,000 supporters invaded Las Vegas, making the 16,270 tickets a hot commodity.
The poor economy has impacted England, as the British pound, which a year ago was far superior to the American dollar, has lost a lot of value. Ticket sales have been sluggish, and the Grand Garden has been scaled down from full capacity to three-quarters, or about 12,000. The top ticket price is $1,000, with the cheapest seat going for $150.
Hatton said he knows it won't be the same as when he fought Mayweather. But he also knows he'll have enough support Saturday from those who traveled to Las Vegas.
"People are having to make hard decisions," Hatton said. "I completely understand. Times are tough back home, as they are here in the States. So I truly appreciate everyone who is coming over to watch."
Jon Dale was among the early arrivals. He came to town late last week from London with a couple of his buddies to also take in the Ultimate Fighting Championship card Saturday, and they are gearing up for Hatton-Malignaggi.
"It's not the same if you stay home and watch (on television)," Dale said. "You don't get the atmosphere the way you do if you're here live."
Dale, who owns a construction business in London, said while things may be bad, they weren't bad enough to keep him from spending about $4,000 to attend Saturday's fight.
"I could afford it," he said. "But I know a lot of people who were here the last time that can't come this time."
Robert Harnsworth also flew in from London for the fight. He's said he's using the fight as an excuse to take a vacation.
"I work in construction, and things are quiet," he said. "It took lots of hard work and saving my money to get here. But I was here the last time he fought Mayweather, and the atmosphere was unbelievable. … It probably won't be the same this time."
Noel McEvoy watched Hatton's arrival Tuesday, but that was as close as he will get to seeing the fighter. He's scheduled to fly home to Dublin, Ireland, on Saturday morning — he booked his vacation before the fight had been scheduled.
"He's my favorite fighter," McEvoy said. "I've never seen him fight in person. To be so close … I'm heartsick."
McEvoy said it's doubtful he would extend his stay. Then he looked at the casino floor.
"Maybe if I win some over there I can stay over for the fight," he said.
Contact reporter Steve Carp at scarp@reviewjournal.com or 702-387-2913.
Slideshow