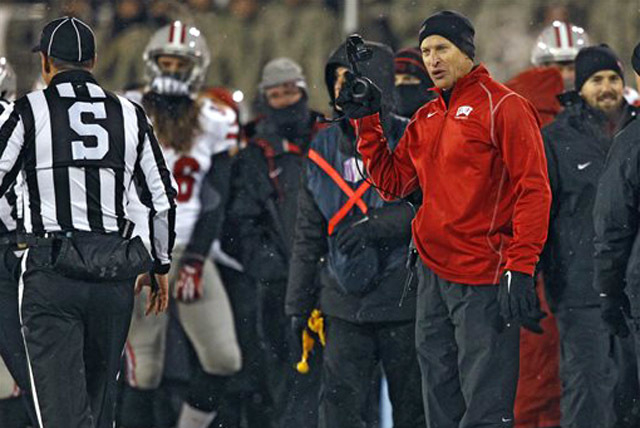 The last time UNLV came off an emotional victory, it didn't go so well for the Rebels.
They followed a 27-22 victory at UNR by falling into a 24-3 halftime hole against San Jose State before awakening in an eventual 34-24 defeat.
Now the Rebels come off a 41-21 victory at Air Force, making them bowl eligible for the first time in 13 years.
This time, however, having played on Thursday gives UNLV extra time to prepare for its next opponent. Maybe the two extra days will keep the Rebels (6-5, 4-3 Mountain West) from another slow start when they meet San Diego State (7-4, 6-1) at 7:30 p.m. Saturday at Sam Boyd Stadium.
"I think extra time this time of year helps for sure, if nothing else to get freshened up," coach Bobby Hauck said. "We've played a lot of games, and just to get an extra couple of days rest and freshened up to play the game, I think, is productive. It's really got to be about our approach this week and getting ourselves ready to go play our best game of the season because that's probably what it'll take to get a win."
The Rebels certainly gave no hint that they were still celebrating bowl eligibility at Monday's news conference, which made a Bill Belichick presser look like a Cinco de Mayo celebration.
But if the Rebels are focused only on the next opponent, one that rightfully has gained their attention by winning seven of its past eight games, the outside world can turn at least part of its focus to the potential bowl destination.
CBSSports.com and two ESPN.com writers project UNLV to play in the Hawaii Bowl; SI.com puts the Rebels in the Famous Idaho Potato Bowl; Sporting News forecasts a trip to the Armed Forces Bowl; and National Football Post has them playing in the New Mexico Bowl.
So UNLV's postseason picture is all over the map, and it won't be clear until the bowl announcements are made Dec. 8. The Rebels also must hope Fresno State defeats San Jose State on Friday and Utah State beats Wyoming on Saturday, eliminating both teams from the postseason, to ensure a spot in a Mountain West-affiliated bowl. Fresno State and Utah State are significant favorites to win each game.
As for its own game, UNLV clearly has enough to worry about in trying to beat San Diego State, which recorded a 34-31 overtime victory over Boise State on Saturday.
UNLV comes off its own big victory, yet another in a season of notable accomplishments. Among the most significant occurred Oct. 26 when the Rebels ended eight years of losses to UNR and then paraded the Fremont Cannon through campus the Monday afterward.
Their heads still appeared to be in the sky when San Jose State jumped all over them that following Saturday.
But now with the extra time following the victory at Air Force, perhaps UNLV's emotions will be more grounded this Saturday.
"We all enjoyed our win after the game Thursday and Friday, but we came back and gathered the team Saturday," linebacker Tim Hasson said. "We've got to let that one go and get ready for next week."
Some players quickly moved on.
"I felt like I was done with it the day after," running back Tim Cornett said.
NOTE — Fans who attend the UNLV men's basketball game against Tennessee-Martin at 4 p.m. Saturday can take their stub to Sam Boyd Stadium and receive a free ticket to the football game. Also, end zone tickets now are priced at $5.
Contact reporter Mark Anderson at manderson@reviewjournal.com or 702-387-2914. Follow him on Twitter: @markanderson65.