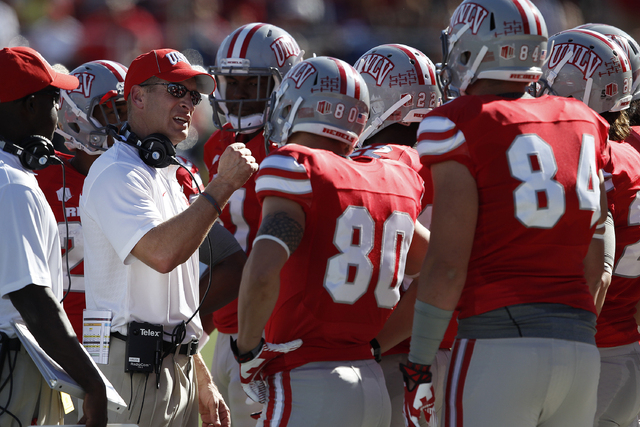 Instead of simply extending football coach Bobby Hauck's contract, UNLV will tear up the current one and award him a new three-year deal.
Terms of the new contract still are being finalized, but it has been agreed to in principle between the parties, taking Hauck through 2016 with a pay raise. He's making $350,000 this year.
The fourth-year coach has led the Rebels to a 6-5 record entering Saturday's 7:30 p.m. game against San Diego State at Sam Boyd Stadium. UNLV is bowl eligible for the first time since 2000.
"Bobby Hauck is our coach, and we're excited he is going to be with us another three years," interim athletic director Tina Kunzer-Murphy said Wednesday. "The program's heading in the right direction."
The contract agreement was not reached in time for the next Board of Regents meeting Dec. 5 and 6. Though another meeting isn't scheduled until March, Kunzer-Murphy is hopeful a special meeting will be called before then to also address hiring a new university president after Neal Smatresk decided to take the same post at North Texas. A tentative special meeting is scheduled for Jan. 24.
Hauck said he was happy with the new deal, adding that his family enjoys living in Las Vegas and the extension gives the program a chance to move forward while also creating stability.
"Continuity is a good thing," Hauck said. "The repetitive action of blowing things up and starting over is generally not the most productive. Turning a football program around is a big job. It's been compared to turning an aircraft carrier around. It takes some time to get it turned and going in the right direction, and I think we're headed the right way."
After Saturday's game, Hauck will hit the road recruiting. The contract extension gives him another selling tool.
"It's critical in recruiting," he said. "It's critical for a lot of reasons — staff retention, recruiting, peace of mind for our players, knowing what's going to happen. They're not oblivious to what goes on and what's said, even though they're pretty hard-working and pretty focused."
As for Kunzer-Murphy, Smatresk has recommended the interim tag be removed. The regents will take up the proposal next week on whether to award Kunzer-Murphy a three-year contract worth $240,000 annually.
"I'm very happy, very overwhelmed," Kunzer-Murphy said. "Neal took a chance on me by actually bringing me over as an interim, and I'm very grateful. It's very meaningful. I'm excited. I love this job. To me, it's home."
Contact reporter Mark Anderson at manderson@reviewjournal.com or 702-387-2914. Follow him on Twitter: @markanderson65.