HBO, Showtime report healthy boosts, expect more in '14
December 24, 2013 - 10:26 pm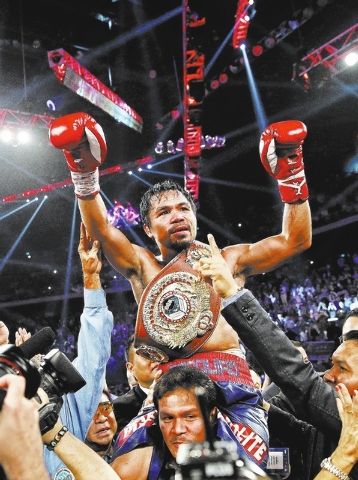 With only 16 live cards, boxing wasn't the most frequent visitor to Las Vegas in 2013. But when it came to providing content for the cable networks, the sport filled plenty of hours of programming.
Whether it was HBO, Showtime, ESPN or the NBC Sports Network, Las Vegas provided numerous opportunities to highlight the sport's reigning stars and introduce the next generation of greats to fans.
"The good news is the sport is growing," HBO Sports vice president Mark Taffet said. "Fans aren't necessarily looking for something new; they're looking for a time-tested tradition of a great style who gives the fans a great show."
Stephen Espinoza, Showtime Sports' executive vice president and general manager, said: "This year, we caught onto something almost magical. When the fighters see the great matchups, they get motivated, and they want to get involved."
Boxing had more than its fair share of performers who fit that description in 2013. Floyd Mayweather Jr. led the way with two impressive wins over Robert Guerrero and Saul "Canelo" Alvarez on Showtime Pay Per View after previously spending his entire career fighting on HBO. Gennady Golovkin, Sergey Kovalev and Adonis Stevenson carved up the opposition on HBO. Andre Ward and Manny Pacquiao came back strong on HBO, and Marcos Maidana stunned Adrien Broner on Showtime.
And that's only part of the story. Young fighters became established stars in 2013. Ruslan Provodnikov had wars with Timothy Bradley and Mike Alvarado, the latter who had battled Brandon Rios earlier in the year in another war. Mikey Garcia won world titles in two weight classes.
Future Hall of Famer Bernard Hopkins continued to defy Father Time and kept winning at age 49. Bradley survived Provodnikov and then beat the legendary Juan Manuel Marquez. And Miguel Cotto once again proved he's not through, winning big against Delvin Rodriguez Oct. 5.
"Boxing had a great 2013, and we go into 2014 with some great elements for the fans," Taffet said.
HBO, which has 28 million subscribers, and Showtime, which has 22 million signed up, reported spikes in boxing viewership. According to numbers provided by Nielsen Media Research, Showtime's audience for boxing increased 24 percent over 2012 and a whopping 64 percent from 2011.
HBO's numbers also showed its network had the five highest rated non-PPV shows in 2013, all averaging 1.3 million viewers or better during peak viewership.
The increased viewing numbers also are trending toward younger fans. Perhaps many mixed martial arts fans also have included boxing in their viewing habits because there were so many good, competitive fights, and, in the end, all they're looking for is an action-packed scrap.
"I think there's something to that," Taffett said of a possible MMA crossover. "We are seeing younger viewers tuning in to our boxing events, and we're trying to come up with wider viewing platforms to promote boxing and cater to younger fans."
Espinoza points to the increased use of social media and a wider array of digital platforms to promote fights and draw in younger audiences.
"When we're on Facebook or Twitter, we're generating traffic and reaching out to younger people who use that way to communicate," Espinoza said. "Then they watch the fights and see the great action, and that gets them coming back.
"It's a way to attract new faces to the sport that we didn't have in the past, and it's proving to be very successful. Boxing is a great sport for debate, and it's the perfect sport for social media."
Boxing's growth on cable TV came even though the promoters restrict who they do business with. Top Rank will not put its fighters on Showtime. Golden Boy Promotions refuses to do business with HBO. And while Espinoza and Taffet say they would prefer to work with anyone, both networks are willing to maintain the status quo heading into 2014.
Fortunately, there are enough quality fighters that fans want to see, even if they don't face each other. A Mayweather-Pacquiao fight remains Exhibit A. A fight that should have been made five years ago has been resurrected in terms of interest after Mayweather handled Alvarez while Pacquiao returned with a dominating performance in beating Rios.
Yet money and control likely will prevent the fight from taking place. Golden Boy CEO Richard Schaefer doesn't like Top Rank chairman Bob Arum but likes and respects president Todd duBoef. Arum refuses to do business with Al Haymon, who is Mayweather's co-manager.
But assuming for a moment that everything could be worked out for a Mayweather-Pacquiao fight in the fall and the money, the drug testing, the venue, the promotional strategies all were resolved, could HBO and Showtime work together to televise the fight on each network?
Logistically, it could be done. When Mike Tyson fought Lennox Lewis in 2002, HBO and Showtime televised the fight in a collaborative effort. But they might not have the appetite to do so for Mayweather-Pacquiao.
"We would have to follow the lead of the promoters," Taffet said. "But anything is possible."
Said Espinoza: "Assuming the fight got made, I'm sure things could be worked out."
But both networks are focusing on the fights that can be made and are looking to maintain the upward trend of 2013.
"You have so many big names to draw from that emerged on the scene and titillated the fans," Taffet said. "We want to continue to keep those fighters in the spotlight while at the same time grow our younger fighters into stars."
Said Espinoza: "We have to continue to do good fights, not just one good fight, but several good fights. That's priority number one, number two and number three.
"I'd like to see all the networks put on good, entertaining, competitive fights. That's the best way to attract new fans and keep the ones you already have. That's how you keep boxing healthy."
Contact reporter Steve Carp at scarp@reviewjournal.com or 702-387-2913. Follow him on Twitter: @stevecarprj.